First Week of #DukeTimeOff Yields 50 Photos
Snapshot from family fishing trip earns first prize pack as photo contest continues
Jake Hollenbeck waited 19 months before taking his daughter fishing. But with some nice weather over Memorial Day weekend, he decided Gwennie Mae was ready to give her first fishing trip a shot at Jordan Lake.
"She had a lot of fun," said Hollenbeck, a nurse anesthetist at Duke Regional Hospital. "If she wasn't holding her fishing pole, she was splashing in the water and eating her snacks."
Hollenbeck's wife, Kristi, snapped a photo of Jake fishing alongside Gwennie Mae. The picture, which shows Gwennie Mae casting her pink fishing pole under Jake's watchful eye, is the first winner in the #DukeTimeOff photo contest, which highlights the hobbies, celebrations and summertime adventures of staff and faculty using Duke's time off benefit. While the fishing trip yielded four fish – two catfish and two sunfish, both of which were thrown back – the photo netted Hollenbeck a Duke beach towel, water bottle and Frisbee courtesy of Duke University Stores.
Enjoy a few other notable submissions from the campaign's first week, which yielded 50 photos.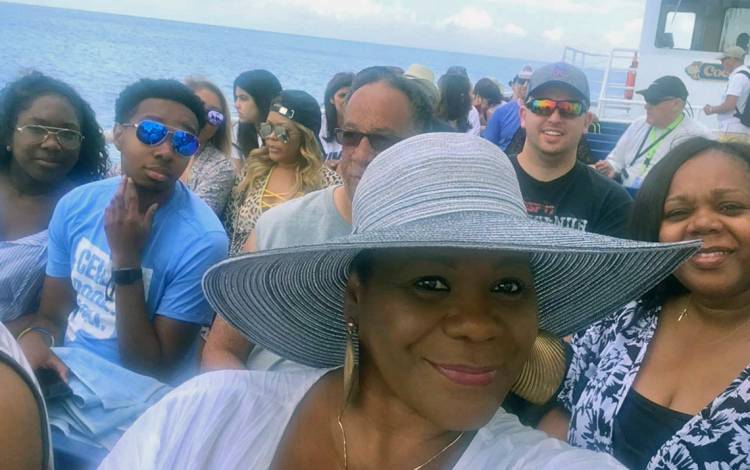 In celebration of her nephew's college graduation, Sharon Watson Evans, staff specialist with Duke Cancer Institute, joined a group of seven family members and friends on a cruise to the Bahamas. The trip included encounters with dolphins, a trip to a private beach and loads of fun on the ship. Evans reported that some of the most memorable moments came when her nephew took first in a trivia contest and she took the stage to sing karaoke to Whitney Houston.
"Overall, the songs, drinks and food were excellent," she wrote.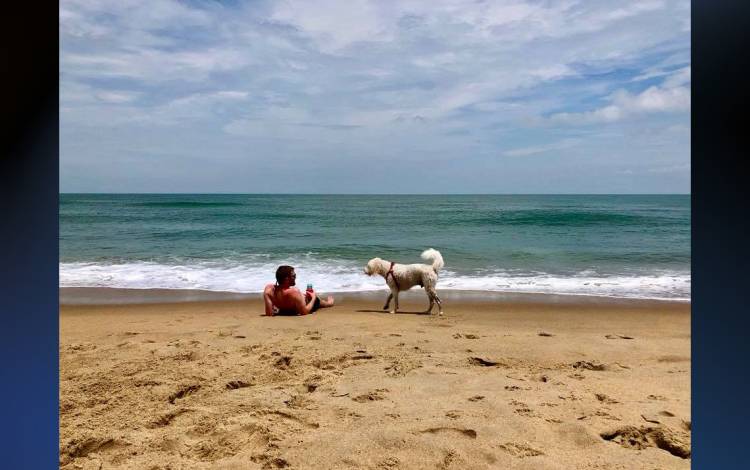 Kohl Boydston posted this photo from a trip to the Outer Banks on his Facebook page. A member of the Duke Surgery house staff, Boydston wrote that he was "getting some Vitamin D with my best friend in Duck, NC."
The Freedom Balloon Fest was held in Fuquay-Varina over Memorial Day Weekend. The free event, which featured dozens of hot air balloons, was meant to honor veterans and their families with balloon rides and patriotic fun.
Michael Palko, an informatics educator for Duke Health, caught this photo of one of the balloons in flight.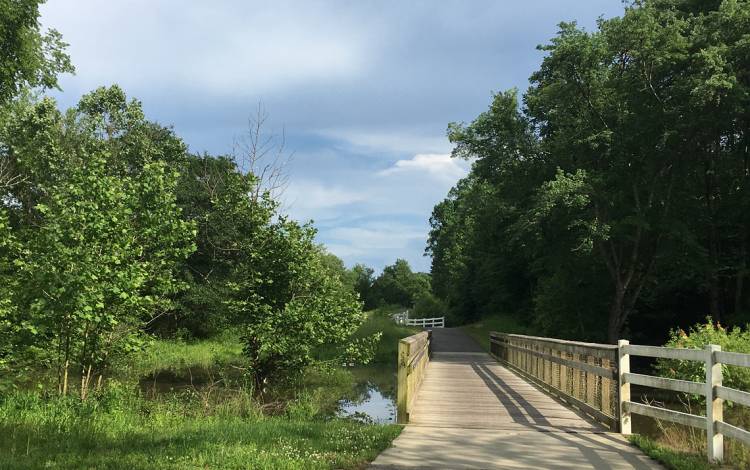 Hai Ly Burk, a case manager at Duke Raleigh Hospital, took this photo during a 12-mile bike ride on the Neuse River Greenway.
"The joy of that ride was that it was the first bike ride for me in several months and it was just so peaceful in that moment," she wrote. "Felt miles away from work."
Burk also mentioned that, on the ride back, she had to stop to let a snake cross the trail undisturbed.
"The snake wins, for sure," she wrote.
To be eligible for prizes, photos must be taken between May 23, 2018 and Aug. 10, 2018, and shared by current University and Health System staff and faculty during the same time period.
How to share your 2018 pictures:
Post the photo and use #DukeTimeOff on Twitter, Instagram or Facebook. Note what you're doing with your time away from work. Remember, please be sure to use #DukeTimeOff so we see your snapshots on social media;
Post a photo and caption on the Working@Duke's Facebook page: facebook.com/workingatduke;
Or, upload your picture here.
During the campaign, the Working@Duke Editorial Team will award Duke-themed beach chairs, towels, water bottles, and Frisbees from Duke University Stores. All submissions will be considered for grand prizes awarded in August. Grand prizes awarded at the end of the campaign include:
One overnight stay with breakfast for two at the JB Duke Hotel
Dinner for two at the Washington Duke Inn's Fairview Dining Room