Blue Devil of the Week: Directing Traffic with a Smile
Chris Bush uses a mix of patience, flattery and smiles to keep cars moving during campus events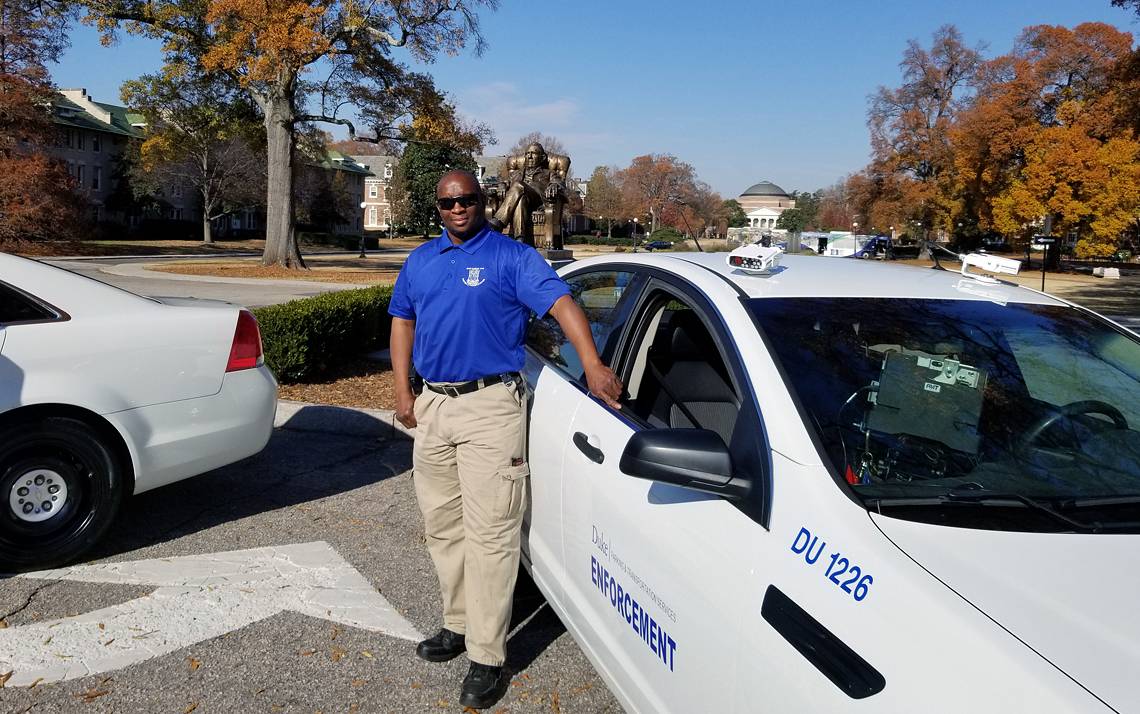 Name: Chris Bush
Title: Event Parking Specialist and Enforcement, Parking & Transportation Services
Years at Duke: 10 years
What he does at Duke: Chris Bush is always on the move. He travels across the University and Health system to ensure community members park in valid areas and follow safety regulations such as not parking in fire zones or areas designated for people with mobility challenges.
If someone overstays the allotted time in a paid parking spot, he addresses the issue using an automatic license plate reader, a computer-controlled camera that is mounted on a car and captures license plate numbers.
His work has led to recovering three stolen cars.
As part of his role, Bush assists in preparing for nearly 1,500 special events – from guest speakers to first-year move in to commencement – held on Duke's campus every year. Bush and his team ensures all signs are posted to direct traffic smoothly.
When traffic control is needed, he is generally found directing cars at the intersection of Science Drive and Towerview Road. His recipe for communication: Patience, a smile and a little flattery.
"If you're a visitor at Duke, I'll make you feel at home," Bush said.
What he loves about Duke: Bush loves meeting new people across campus. For example, there's a group of fans who often tailgate in the Blue Zone before Duke Football games, and he likes striking up conversations with them and others.
"I get a chance to talk to so many people about why they're at Duke," Bush said. "There's just an excitement and energy to this place."
Memorable day at work: In August, Bush met President Vincent E. Price and his wife, Annette, at the Hart House residence while working traffic control for a reception honoring newly-tenured faculty members.
"It was heartwarming to meet the president and his wife," Bush said. "Plus, I got to say hello to their Goldendoodles, Scout and Cricket."
Best advice: Always listen before speaking.
"You never know everything, so take a chance to hear what others have to say," Bush said.
First ever job: Bush worked as a cook at Perkins Restaurant in Memphis, Tenn. when he was 16. No longer a professional cook, he still loves to spend time in the kitchen.
"My specialties are rotisserie chicken, spaghetti and Salisbury steak," Bush said.
Something most people don't know about him: In February, the International Parking Institute named Bush the "2018 Staff Member of the Year." He accepted the award in June in Orlando, Fla. from the organization, the world's largest association of parking professionals.
Carl DePinto, director of Parking & Transportation Services at Duke, nominated Bush.
"Chris has been instrumental in so many of the services we provide, from the day-to-day campus activities to athletic events to university ceremonies," DePinto said. "His dedication to ensuring all members of our Duke community and guests arrive, park and depart safely is inspirational to the team and motivational to his coworkers."
Bush said he was overcome with surprise and happiness when he learned about the recognition.
"I felt like the world heavyweight champion."
Nominate a colleague to be the next Blue Devil of the Week