David Kennedy Named Vice President of Alumni Affairs and Development
Stanford executive to succeed Robert S. Shepard as university's chief fundraiser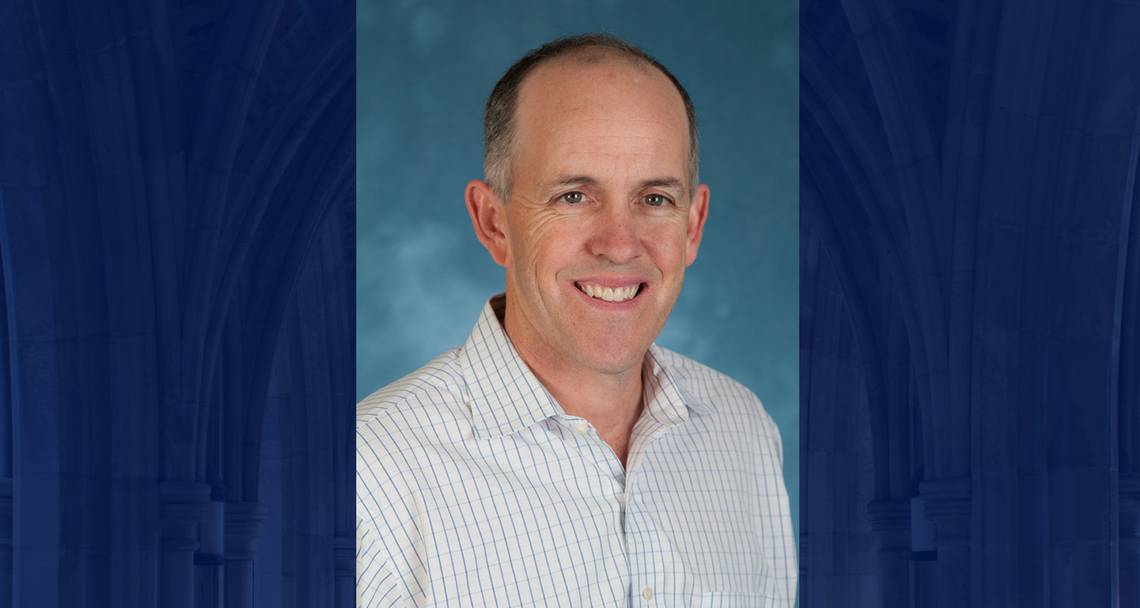 DURHAM, N.C. -- David L. Kennedy, who has helped lead record-setting fundraising efforts at Stanford University, will be Duke University's next vice president of alumni affairs and development, President Vincent E. Price announced Wednesday.
He will succeed Robert S. Shepard, who is retiring on June 30 after 14 years as chief advancement officer and 23 years at Duke.
"We are excited to welcome Dave Kennedy into the Blue Devil family," Price said. "Deeply accomplished, widely respected and admired by his peers, he will be a trusted partner to me and a dynamic leader of our talented team in alumni affairs and development. We have found in Dave a worthy successor to the incomparable Bob Shepard, and a spirited leader who can extend and accelerate Duke's incredible trajectory."
Kennedy currently serves as Stanford's senior associate vice president for development, in which he oversees a number of development operations, including Humanities and Sciences, Law School, Graduate School of Business, Graduate School of Education, Undergraduate Education, Arts, Athletics, International Division, Major Gifts and Principal Gifts.
Kennedy helped guide the university's development office through the global financial crisis and completed the $6.2 billion Stanford Challenge, which at that point was the most successful campaign in the history of higher education. Since then, Stanford's development organization has been the highest performing in terms of cash raised in higher education for four of the last six years that Kennedy has been part of the senior leadership team.
Prior to assuming his current role at Stanford in early 2009, Kennedy spent eight years as associate dean for development at the Stanford Graduate School of Business; under his leadership the school raised more than $675 million, including securing what was at the time the largest gift ever to a business school of $105 million.
"I am honored and thrilled to be joining President Price and his leadership team at such an important time for Duke University, and l am very excited to work with the talented and deeply committed alumni affairs and development teams," said Kennedy. "It is a particular honor to be asked to succeed Bob Shepard, whom I have known and admired for many years.
"Duke is blessed by its loyal, passionate and extremely generous alumni, parents and friends who aspire to push the university to even greater heights, as demonstrated by the resounding success of the Duke Forward campaign," Kennedy added. "Combine President Price's vision and leadership with Duke's innovative and collaborative academic leaders and Duke is poised for another remarkable run of philanthropic support."
As vice president, Kennedy will direct the university's central development office and provide overall leadership for fundraising efforts of Duke's schools, units and Duke Health to identify and secure private philanthropy to support operations and strategic priorities. He will also oversee the Duke Alumni Association, which connects more than 167,000 Duke graduates around the world with the university and each other.
Duke consistently ranks among the top fundraisers in higher education, bringing in a record $581 million in gifts and grants in FY 2017. Duke Forward, the university's largest campaign, also concluded in 2017; it raised $3.85 billion -- more than $600 million above the initial goal. At the same time, the Duke Alumni Association launched a new, multi-year strategic plan and began construction of the university's first-ever alumni center, which is scheduled to open in 2019.
Kennedy was selected for the position after a national search chaired by Richard Riddell, senior vice president and secretary to the Board of Trustees.
"Thanks to the sterling reputation of alumni affairs and development at Duke, the search attracted very strong candidates, and the search advisory committee had the pleasure of meeting several who were very impressive," Riddell said. "In the end, Dave emerged as the right person at the right time for Duke, and we all look forward to his arrival and helping him get off to a strong start."
The other members of the committee included Gary Bennett, Bishop-MacDermott Family Professor of Psychology & Neuroscience, Professor of Global Health and Medicine; Jack Boyd, trustee and current president of the Duke Alumni Association; Gerald Hassell, trustee; Mary Klotman, Dean, School of Medicine; David Levi, Dean, School of Law; Sarah Schroth, Director, Nasher Museum of Art; and Kevin White, Vice President and Director of Athletics.
"Duke is exceptionally fortunate to have Dave Kennedy as its new vice president," said Stanford's Vice President for Development Martin W. Shell. "His ability to connect with students, faculty, staff and alumni has served the university exceptionally well, and he has helped foster these connections into lifelong relationships with Stanford. His work has been instrumental to the fundraising successes Stanford has experienced over the past many years.
"While his upcoming departure will leave a large void, we know that Duke is getting one of the finest members of the advancement profession," Shell said.
Kennedy is a 1984 Stanford graduate. Earlier in his career, he worked as recruiting coordinator for Stanford Athletics and held positions in advertising, executive search and as director of field sales for an internet startup. He currently serves as chair of the YMCA of Silicon Valley.
Joining Duke satisfies a long-time wish, Kennedy said.
"I first fell for Duke as a sophomore in high school, fell harder once I spent a week at Duke basketball camp after my junior year and although I did not ultimately have the chance to attend, it always has been a school I have long admired."
Kennedy will be moving to Duke with wife Kate and two children, Ellie and Dawson.