Blue Devil of the Week: Repairing Bodies and Minds
Meaghan McMillen ensures rowers are motivated, ready to compete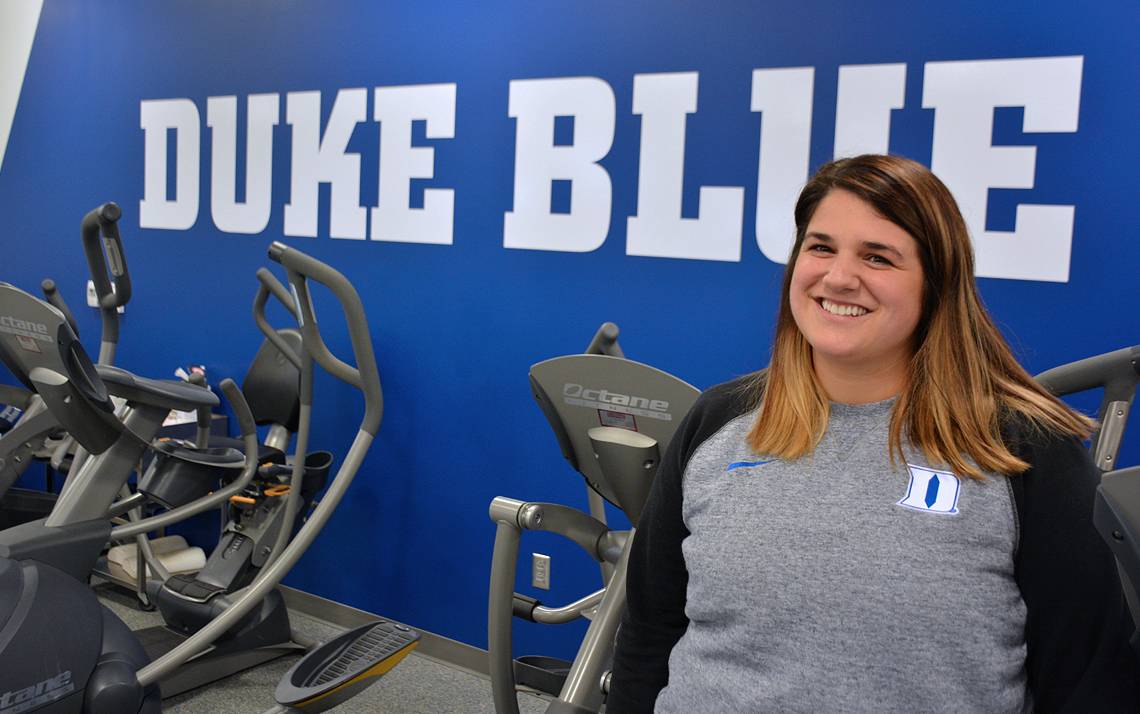 Name: Meaghan McMillen
Title: Assistant Athletic Trainer
Years at Duke: 3
What she does:  McMillen works as the athletic trainer for the women's rowing team. Her day starts at 6:45 a.m. at the team's practice site in Bahama, where she bandages any injuries and provides ice bags to dull any soreness.   
From there, she's back on campus in the Murray Building, treating athletes using cupping, deep-tissue massages, stretching and offering words of encouragement. The most common injuries rowers face includes rib stress, lower back problems and shoulder soreness. 
In her time at Duke, McMillen has employed a therapeutic exercise program to prevent rib injuries and a flexibility-focused whole-body recovery program.  
"Rowers abuse their body for hours at a time," McMillen said. "Being sore is not a reason to not get in the boat. At the end of the day I'm here for them to be happy and to see them be successful rowers and people."
What she loves about Duke: While working with the rowing team, McMillen often chats with many athletes, coaches and athletic trainers on Duke's other varsity teams.  
"It's seeing the women's soccer team and being able to tell them good luck before a game," McMillen said. "It's the men's lacrosse team getting rowdy in the cold bath after doing weights. It's seeing the different teams and the different dynamics they all have."
A memorable day at work: In the ACC Rowing Championship in 2016, teams competed with five boats in the field. Because of injuries, Duke could only fill four boats.  
"We came in second in the championship," McMillen said. "We had two photo finishes where they had to go back and see if we beat the other boat. It was impressive and made me feel like the year's struggle was worth it."
Favorite object in her office: McMillen keeps thank you notes written to her by students and their parents. One note from a student, which was accompanied by donuts, said, "Thank you and happy national athletic training month. I just wanted to show some appreciation for all the help you have done for me so far!"
"I like to keep them because it helps me on bad days to remember that I am good at my job," McMillen said. 
First ever job: McMillen worked as a busser at Rovezzi's, an Italian restaurant in her hometown of Worcester, Mass. 
Since she was 14 years old at the time, McMillen's mom dropped her off after school.
"I would go to work about 6:30 p.m., right after track practice," McMillen said. "How I was doing homework, playing sports and working four days a week, I have no idea."
Best advice received: "The thing that's always stuck with me in terms of this job in particular is the athletes don't care how much you know until they know how much you care," McMillen said. "You can have all the answers but if you're not caring for the specific person or what their needs are they don't care if you can help them."
Something most people don't know about her: McMillen Irish step danced for 14 years. The dance is characterized by a stiff upper body with quick and precise leg movements. Dancers also don large curled wigs and poodle socks. 
"It's a look," McMillen said. "The first classes I went to were in the basement of an Irish bar."
Nominate a colleague to be the next Blue Devil of the Week.