PUBLISHED
What to See at Duke This Week: Opera, Frankenstein and Student Showcases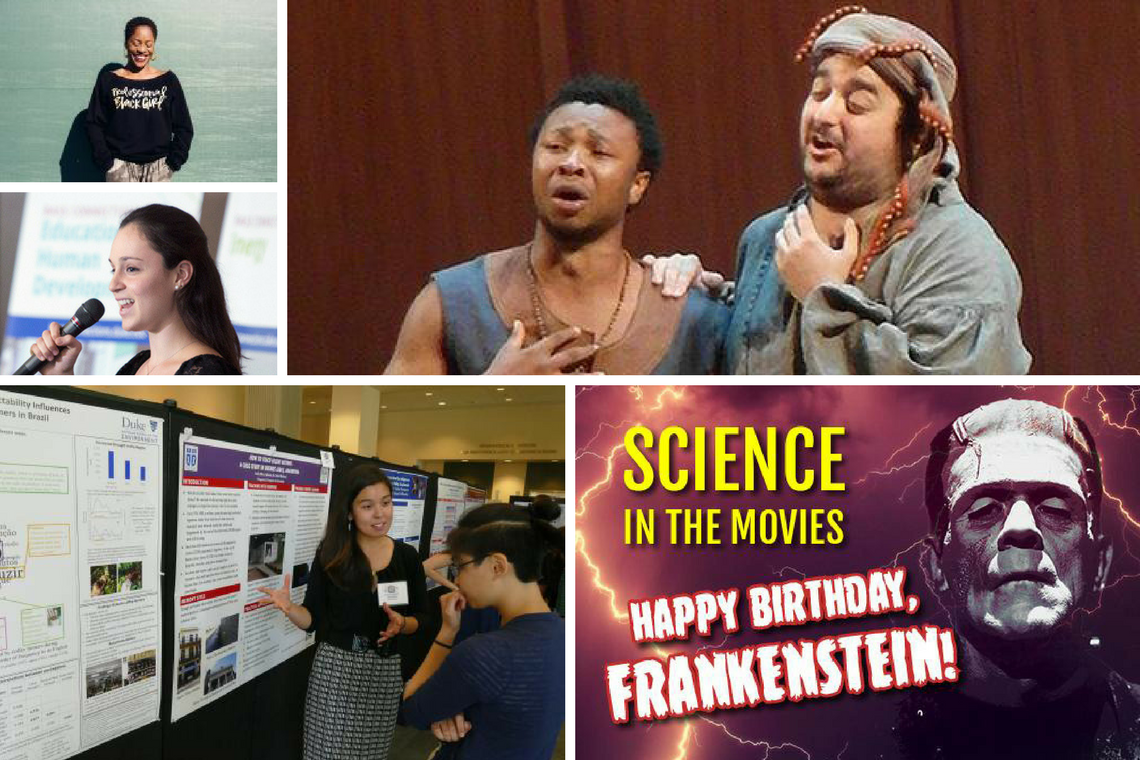 Professor Yaba Blay wants to talk to you about dark-skinned black beauty. Blay, a professor at NC Central University who is founder of #Professional Black Girl, will discuss black racial identity, aesthetic practices and black beauty, with particular attention given to hair and skin color politics. Filmmaker Natalie Bullock Brown and artist Natasha Walker Powell will join Blay in a discussion of "Black Joy As Resistance." 6 p.m. Jameson Art Gallery, Friedl Building, East Campus.

In its five years of existence, the Bass Connections has shown that interdisciplinary academic projects on large social issues can have an impact on society, as well as providing great educational opportunities for undergraduates, graduate students and even faculty. At the program's annual showcase, students and faculty will report on a year of work on domestic and international projects targeting the opioid crisis, Medicare in North Carolina, social change through music and other topics. 3:30 p.m. Penn Pavilion.

If there's a good research question out there in humanities, engineering and natural and social sciences, it's likely a Duke student has explored it. Duke's Visible Thinking Day celebrates the achievements of undergraduates in research and original scholarship. Students will be on hand to take questions and offer a quick lesson in how American universities are changing Chinese education or how Alzheimer's disease-risk genes alter their expression over time. The projects span the breadth of Duke's research enterprise and includes research conducted both internationally and here in Durham. 10 a.m. Penn Pavilion.
On a dark and stormy night two centuries ago, a young woman developed a story about an ambitious scientist and his monstrous creation that continues to captivate audiences. 2018 marks the 200thanniversary of the publication of "Frankenstein" and Duke is marking it with several events. On the 19th, a Duke Initiative for Science & Society panel of scientists and film and literary scholars will explore science and bioethics behind Dr. Frankenstein and his creation as depicted in various films. 7 p.m. Griffith Film Theater, Bryan Center. On April 20, students take over to offer their thoughts on the same topic beginning at 9 a.m. in the Holsti-Anderson Room of the Rubenstein Library.
If you can't get to the Metropolitan Opera in New York this week, the Duke Opera Workshop can fill your music needs, along with throwing in a few laughs. The workshop will do excerpts from several of the great comic operas. The program includes pieces from The Barber of Seville, Don Pasquale, The Marriage of Figaro, The Magic Flute, The Elixir of Love and Carmen, sung in English with costumes and staging. Free. 8 p.m. Saturday; 3 p.m. Sunday. Baldwin Auditorium.