Relive Commencement – as a Volunteer at Duke's Ceremony
Apple CEO Tim Cook will deliver the address on May 13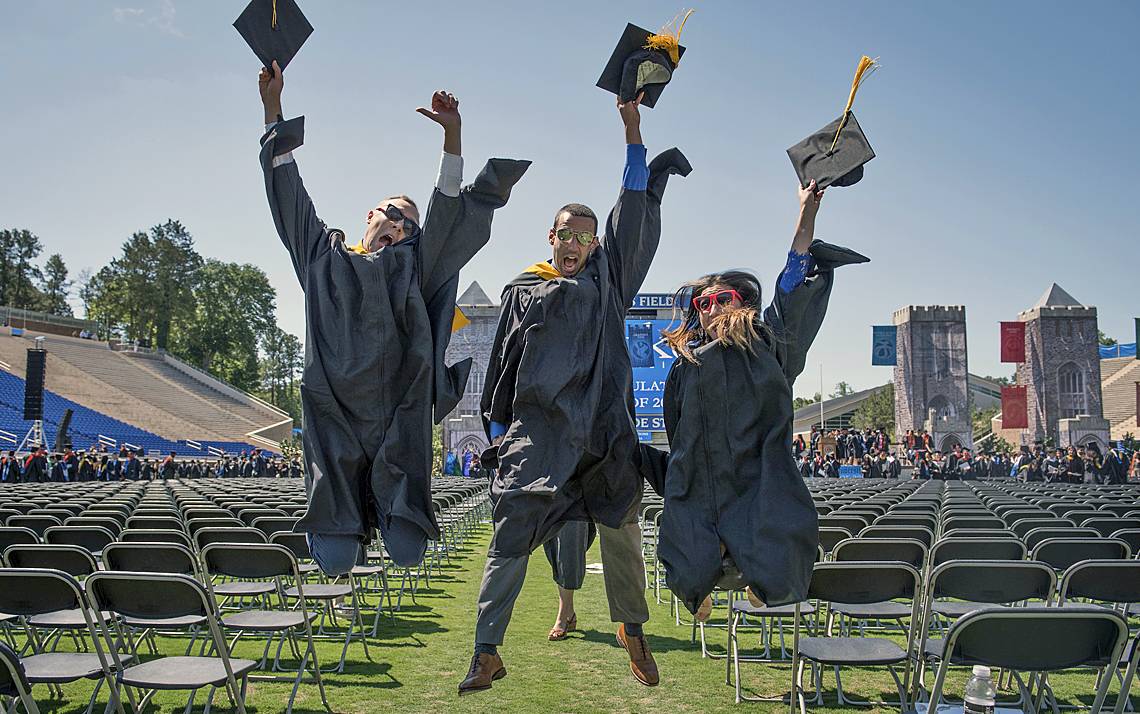 What's the one thing Rita Chambers has learned to never forget when she volunteers at Duke's Commencement Ceremony?
Tissues.
Chambers, who has volunteered at the ceremony the past two years and will do so again in May, always finds herself tearing up when she sees the joy radiating from students, friends and families.
"You get to see all these smiles, feel the excitement and hear the families cheering," said Chambers, an administrative coordinator for the Department of Dermatology. "All of the families and students have worked so hard to reach this incredible milestone."
Ceremony organizers are looking for volunteers to join Chambers and others on May 13 for Duke's university-wide ceremony at Brooks Field at Wallace Wade Stadium. About 15,000 students and family members will be on campus over commencement weekend.
Volunteers will help greet graduates and guests rom 7 a.m. to 12 p.m. on May 13 at Brooks Field at Wallace Wade Stadium. Some volunteers will be stationed at shuttle stops to help guests get to and from the stadium while others will help in the various information booths around the stadium. The minimum age to volunteer is 18.
"Everyone is coming together for this common factor of celebrating," said Kaitlin Briggs, senior program coordinator for the Office of Special Events & University Ceremonies. "One of the best parts of being a volunteer is feeling that energy and excitement."
The commencement procession begins at 9 a.m., and the ceremony follows at 9:30 a.m. to 11 a.m. Tim Cook, Apple CEO and graduate of Duke's Fuqua School of Business, will deliver the commencement address.
Volunteers must attend a training session in the Yoh Football Center on from 12 p.m. to 1:30 p.m. on May 8. Lunch is provided. Commencement organizers will review answers to common questions from guests and provide overall the commencement schedule.
Volunteers receive a free Duke blue polo shirt and Duke straw hat to wear the day of the event. Breakfast and coffee will also be provided on the morning of commencement.
If interested in volunteering, please fill out this online form by 5 p.m. on Tuesday, April 24.