From One Leader to Another
President Vincent E. Price welcomes incoming Duke Leadership Academy Class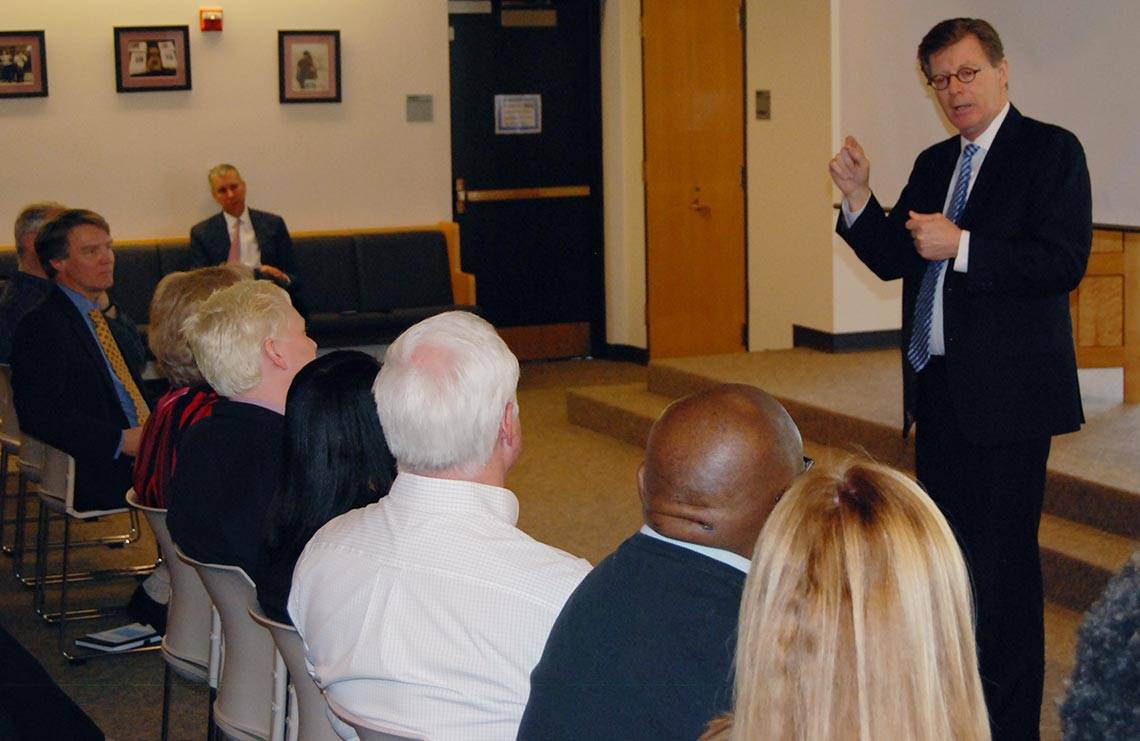 The ninth class of the Duke Leadership Academy began their year-long journey on Tuesday by hearing leadership lessons from Duke President Vincent E. Price.
Price welcomed the 28 emerging leaders from across the university and encouraged them to take full advantage of the investment being made in them through the 12-month development program.
"You have been singled out as someone with leadership potential," Price told the class. "This program is about you, but in another way, leadership is not about you. Leadership really doesn't reside in the person. Leadership is about a relationship between a person and a community. Every leadership role is different because every community is different. You should be asking yourself, what does this community need from me as a leader?"
The Duke Leadership Academy, which is sponsored by Duke Human Resources, is a year-long program designed to stimulate personal and professional growth and nurture a pipeline of future leaders at Duke. The curriculum is based upon best practices from Fuqua/COLE Leadership Model, and management and leadership styles and behaviors.
Kyle Cavanaugh, vice president for administration, explained to the class that each participant was nominated for the program by a dean or vice president.
"You wouldn't be here today if you weren't already doing a great job within your organizations," he said. "But throughout the year you are going to be challenged to grow, and you will hear lessons from faculty and leaders across Duke."
During the academy, participants hear from guest speakers and receive a 360-assessment and instruction on leadership principles.
Before the class got down to work Tuesday, Price shared three important things for leaders to be successful.
"First, you need to know your cause – know where you want to go," he said. "Next, you need to know your culture. You can't fake your way through it; you have to ask questions and get to know people if they are ever going to trust you. And finally, you need to know your character. We all have strengths and weaknesses. You want to surround yourself with people who complement your skills. If you try to carry it all on your shoulders, you will fail."
To date, more than 200 employees have graduated from the Duke Leadership Academy, which began in 2010. This year's class members include:
Marsha Adams-Rucker, director of Human Resources, The Graduate School

Ann-Louise Aguiar, senior director of Regional Engagement, Duke Alumni Association

Julie Barker, executive director of DKU Support, Office of the Provost

John Blackshear, Ph.D., academic dean, Trinity College

Melany Bray, senior regional director, University Development

Nicolette Cagle, Ph.D. , director of K-12 Diversity Pipeline Programs, Nicholas School

Matt Cloues, director of development, University Development

Ronald Evans, major, Duke Campus Police

Jim Gaston, assistant dean for Advising and Undergraduate Education, Pratt School

Kacey Hammel, program director; special assistant to the dean, Trinity College

Dina Helderman, director of Events Management, Duke Divinity School

Zach Johnson, director of Budgets and Financial Analysis, Sanford School of Public Policy

Jenny Johnson, director of Career Services for Master's Programs, Pratt School

Annie Kao, director, Finance & Administration for Global & Civic Education, Undergraduate Education

Antwan Lofton, assistant vice president, Staff & Labor Relations, Duke Human Resources

Adrienne Martin, managing editor, Duke Magazine, Duke Alumni Association

Kevin McCarthy, associate dean for Development and Alumni Relations, Nicholas School

Wayne Miller, associate dean for Academic Technologies, Duke Law School

Bebe Mills, director of Student Services, School of Nursing

David Mixon, director, Budgets & Business Services, Office of Information Technology

Amy Powell, director of DukeReach, Student Affairs

Brenda Ratliff, assistant director, IT, Office of Information Technology

Eric Reese, marketing manager, Integrative Medicine

Ken Stern, university associate audit director, Office of Audit Risk & Compliance

Brad Teague, Ph.D., assistant dean and director of the English for International Students Program, The Graduate School

Diane Uzarski, chief of staff, School of Nursing

Melissa Vetterkind, director of Government Relations, Office of Public Affairs and Government Relations

Jane Walbrun Cocke, associate director, Benefits Administration, Duke Human Resources