Get Bargains and Support a Cause
For 50 years, the Nearly New Shoppe has turned donations into Duke scholarships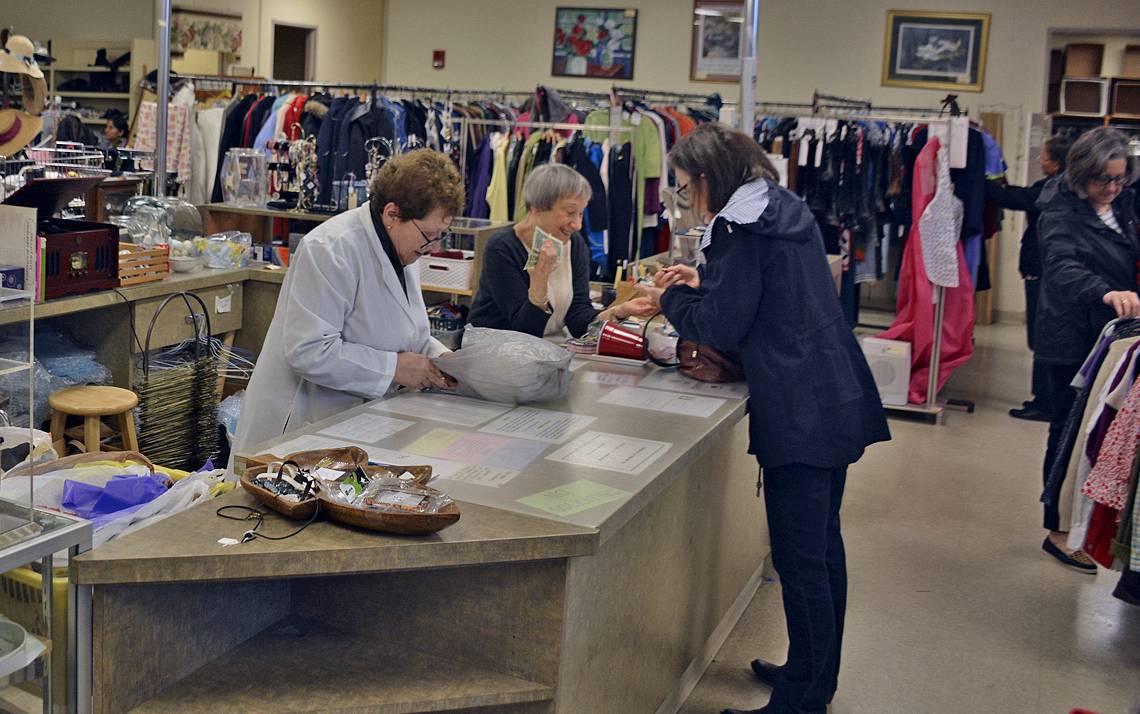 Kris Eberlein moves speedily through racks of pants, dresses and shirts, then abruptly comes to a halt when a pair of pants match the off-grey piece of khaki in her hand.
Eberlein is on a mission in the Nearly New Shoppe, searching for clothing to repurpose into a purse. Eberlein has been visiting the store since the 1980s, when she was in graduate school at the University of North Carolina at Chapel Hill, and wanted to save money on clothes.
"There's an incredibly rich assortment of things for sale here," said Eberlein, who lives in Durham. "Usually I come in without an expectation on what I will find. But, I came up short the other night while trying to finish a new purse."
The Nearly New Shoppe collects donations of clothing, household goods, books, toys and more. The proceeds directly benefit students in Duke's School of Medicine and School of Nursing in the form of scholarships.
Duke University Medical Faculty Wives, a group of women whose spouses work for the School of Medicine, formed the Nearly New Shoppe in 1968 and continues to run it today, in the lower level of the Hock Plaza parking garage on Erwin Road. In the early 70s, the group formed the Duke University Medical Faculty Wives Endowment to invest the profits from sales, and to date, they've raised nearly $6 million.
"We're here to serve," said Ginny Lang, president of the Duke University Medical Faculty Wives. "We're here to serve the students who need scholarship assistance. We're here to help the people of Durham who come into the store. We're here to help those that need to find a new home for their items."
Lang is one of nearly 60 volunteers and four full-time employees who help keep the store running by collecting and organization donations, pricing items, working the check-out desk and keeping the store tidy. In her 36 years volunteering for the store, Lang has seen mink coats, cars, boats and even a hot tub donated for sale.
On a recent rainy afternoon, Linda Crowing, of Hillsborough, looked through assorted jackets in one corner of the store. After hearing about the Nearly New Shoppe for years, she decided to pop in for the first time while running errands in Durham.
"You can never go into a store like this with an expectation to find something in particular," Crowing said. "You must simply go with what life presents you."
While the china dishes, wedding dresses, books and other knick-knacks rotate on shelves, visitors can always expect smiling faces, patience and an eagerness to help from volunteers in the front of the store.
In the back, even more volunteers sort and unpack donations, marking items and keeping a steady stream of conversation. Susan Eudy, a store manager, worked on clearing dozens of boxes donated after a snow storm in January closed the Nearly New Shoppe for two days.
"When the snow caused us to close, our customers couldn't wait to get back here. We had people lining out the door," Eudy said. "It's like Mardi Gras but with a treasure hunt."