PUBLISHED
Students Tackle World Challenges Through Social Innovation & Policy Pathway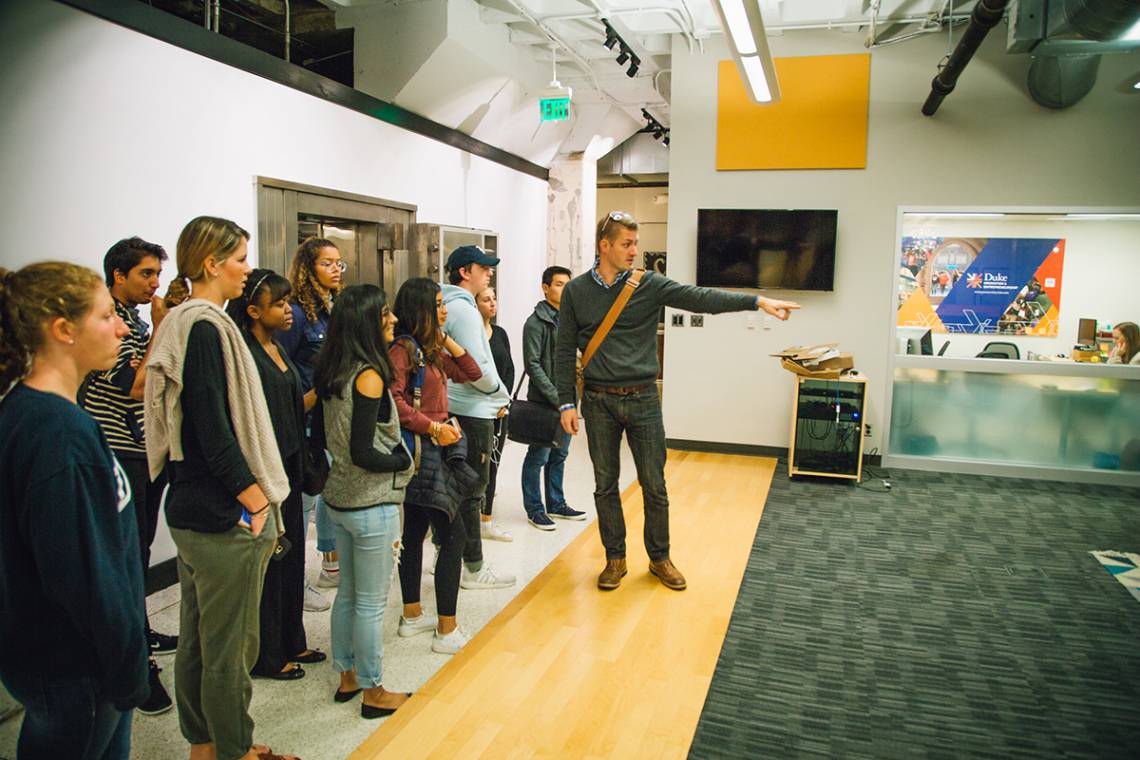 Social Innovation (I&E 261)
Duke students lined up at the front of the classroom, each team waiting to receive 27 gumballs and $27.
With these items, they were tasked with making an impact.
They were embarking on the Gumball Challenge – a challenge that has been undertaken at universities nationwide – for a social innovation course taught by Matt Nash, Duke I&E's managing director of social entrepreneurship.
"I teach the course in honor of Greg Dees, my late colleague who taught courses in social entrepreneurship to graduate students," Nash said. "Greg was really the father of social entrepreneurship research and education, and in this course I'm bringing a lot of his thinking in the field and presenting it to undergraduates to encourage them to become changemakers earlier in their careers."
For the Gumball Challenge, the number 27 is significant because the students are emulating the work of famous social entrepreneur Muhammad Yunus, who discovered he could help Bangladesh women living in a nearby village pull themselves out of poverty through loans totaling just $27. This discovery led to the establishment of Grameen Bank and the creation of a new industry, microfinance.
So with $27 – and with 27 gumballs – these students were charged with doing the same thing: create a business that has a positive social impact.
Upon the challenge's completion, the students donated the proceeds from their businesses to one of two social impact organizations – Grameen America, a nonprofit founded by Yunus that helps women who live in poverty in the U.S. to build small businesses, and Kiva, a nonprofit that leverages the internet and a worldwide network of microfinance institutions to enable individuals to lend as little as $25 to help create opportunity for small business entrepreneurs around the world.
These students focus on creating change all semester. The course includes readings, vigorous classroom discussion, experiential learning, and individual and team assignments. In one class session, the students learned about human-centered design during a visit from national social innovation organization Design for America.
Design for America instructional coordinator Rob Calvey and Design for America fellow Geneva Vest took the students through the six steps of the design process: identify, immerse, reframe, ideate, build, test.
The students were tasked with going through these steps for a problem that had already been identified: inclusivity and accessibility on campus for low-vision individuals.
To truly immerse themselves in the problem, students had to travel to a popular spot on campus while blindfolded.
Students grouped off in teams of three or four. One group member was blindfolded, and the other group members were instructed that while they could offer verbal directions, they couldn't help in any other way.
Carly Wade, an I&E Certificate student, helped her classmate navigate the way from the Bio Sciences building to Cameron Indoor Stadium. Intersections with wide sidewalks were tricky, their team found, because it was difficult for the blindfolded teammate to discern where the sidewalk ended and where the street began.
Wade, a junior public policy major, said she decided to pursue the I&E Certificate after participating in the DukeEngage Detroit program led by Matt Nash this summer. She said she enjoyed thinking creatively and seeing the real impact of the nonprofit where she interned.
"I know I want to do business after I graduate, and I think I may want to work at General Motors," she said. "The I&E Certificate will help me be valuable to any company because innovation and creativity is key right now in so many industries."
The course spans many industries. Nash describes the class as "a fundamental exploration of how to tackle social and environmental problems through innovative, sustainable approaches," and students examine issues in health, education, food security, water and sanitation, among other issues.
Through examining these problems, Nash said, students learn how to frame good questions and how to try to understand and address the root causes of a problem.
Entrepreneurial Problem Solving in Global Health (I&E 263)
In Entrepreneurial Problem Solving in Global Health, taught by global health professor Dennis Clements, students learn how to affect change in health care through innovation.
"Through case studies and discussion, students are learning how to make health initiatives work on the business side," Clements said. "They have to consider how to get funding and how to make an initiative sustainable."
After several weeks spent looking at case studies of domestic and international health projects, students are tasked with creating their own "promising idea" for a health initiative.
Last semester, student groups came up with ideas for a new way of packaging opioids to prevent addiction to franchising measures to fight obesity.
But Clements is more than a teacher; he's a mentor. He makes sure to spend time in class speaking to students individually about their career and life goals.
Aishu Ramamurthi, a senior biology major and I&E Certificate student, said the course aligned nicely with her interest in a career in medicine.
"Sometimes people forget that medicine needs innovation," Ramamurthi said of her decision to pursue the I&E Certificate. "A lot of people jump into research, but research is better if you apply innovative ways of thinking. My experience in the I&E Certificate will definitely change the way I think about the research I conduct."
Ramamurthi said that as she works on her "promising idea" for Clements' class, she's used all of the frameworks she's learned from her other I&E Certificate classes, as well.
"I'm implementing everything I learned about, which makes this course a great elective for the I&E Certificate," she said.