Discovery Takes Flight
Duke reaches new heights teaching with drones
The sun's hot rays bore down on Rett Newton as he hovered over a laptop in the middle of the barrier island.
About 295 feet overhead, a drone buzzed.
"It's a real workhorse," said Newton, his legs dotted with prickly sand burrs. "For a mission like today, it's all we need."
Newton, program manager for the Marine Robotics & Remote Sensing group at the Duke Marine Lab in Beaufort, tapped on a keyboard, charting the path of the battery-operated drone that would fly over the Rachel Carson Estuarine Research Reserve. The purpose of the 15-minute flight is to test if the on-board thermal detector can recognize animals in a warm environment.
Newton has made the short boat ride from the Marine Lab to the reserve several times to see how well the one-and-a-half-pound drone can detect the 30-plus wild horses. If the sensor is able to distinguish the heat from the horses against the warm climate, the lab can use software instead of the human eye to accurately count animal populations.
"If two people were to count, they would give different answers," said David Johnston, associate professor and director of the robotics program. "If we can reduce those errors, then that gives us a lot more confidence that we can detect a change in population when it's occurring."
As the Marine Lab flies its 22 "unmanned aircraft systems" to learn more about marine conservation through aerial mapping and data retrieval, other Duke departments are using drone technology in research. Professors and students attach devices to the aircraft to gather data on a variety of issues and concerns, as they also work to improve the capabilities of the aerial vehicles.
"In the past, we would have to get a satellite to take a picture of a place or we would have to get an aircraft that's got people in it. Both of those have logistical challenges," Johnston said. "With the drones, we can do it almost anytime we want. It allows us to work faster and safer."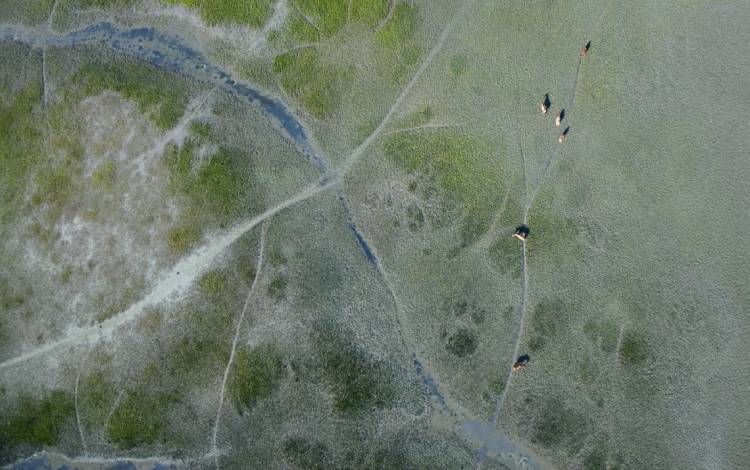 Using drones safely
Drones are setting new heights in academic discovery and supporting national response and recovery efforts after devastating storms, but they also pose challenges in an already busy airspace. More than 920,000 drones have been registered in the United States, according to the Federal Aviation Administration.
Over the past few years, a group of Duke faculty and administrators, working closely with Duke University Police, developed regulations and guidelines for flying drones over campus.
Anyone who wants to operate a drone on Duke property must have a research or educational purpose and must submit a flight request and receive approval from Duke. Indoor flights of small drones do not need prior approval.
Hobbyist drone flights are not permitted on Duke property.
"Our goal from the get-go was to facilitate appropriate drone use for research and education, while recognizing we would occasionally find important operational use of drones as well to help Duke do its business better," said John Board, an associate professor of electrical and computer engineering who helped shape the guidelines as a member of Duke's Emergency Management Steering Committee.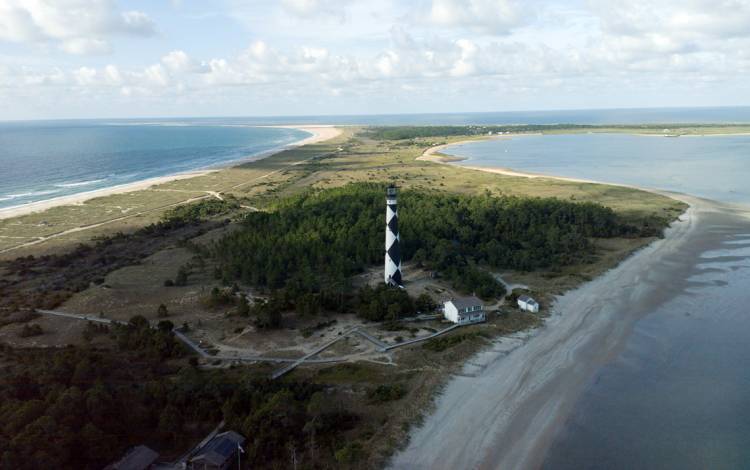 When approval is granted for using a drone for research and education, outdoor flights can be conducted in, and scheduled through, Duke Forest. Two field sites are designated, Couch and Blackwood, and drone pilots must inform flights to Chapel Hill's Horace Williams Airport.
"We had a set of criteria that we were looking for: An open area where line of sight could be maintained, ideally away from any structure or people who might be gathered or places where people might be," said Sara Childs, Duke Forest director.
Only a few flights have been approved for non-research purposes on campus and those were to collect footage for Duke's promotional use.
Improving drone capacities
Within the Humans and Autonomy Lab in the basement of North Building is a large room covered in drapes, cardboard and scaffolding. It looks under construction, but it's designed to a tee by Missy Cummings, director of the lab and mechanical engineering and materials science professor in Duke's Pratt School of Engineering.
This room is where Cummings and engineering students study how pilots control autonomous drones when unexpected situations arise such as a drone losing its ability to respond to surroundings. The lab experiment is modeled after the Fukushima nuclear disaster in that the drone and pilot must navigate an area too dangerous for humans to enter.
A series of curtains, boxes and bars are set up to make it difficult for the drone to fly as it searches for an air quality reader. After examining the gauge, obstacles are reassembled so the pilot must problem solve his or her way out of the course.
The goal is to know how much someone operating an autonomous vehicle can reason when there's an emergency. In 2013, for example, an Asiana Airlines flight crashed as it landed at San Francisco International Airport after the pilot relied too much on autopilot, according to the National Transportation Safety Board.
In the lab, Cummings said, students are researching "how well can the pilots use the sensors? How do they really understand how to explore the world and figure out what problems are, and do contingency planning when something doesn't go right?"
Cummings, a former U.S. Navy pilot, has been studying autonomous vehicles for more than a decade. She's appeared on The Colbert Report and The Daily Show with Jon Stewart to fight negative connotations of drones. "The conversation has definitely turned away from that to talk more about how we can use these platforms to improve everybody's everyday life," she said.
In fact, in October, the National Science Foundation awarded Duke a $750,000 grant for Cummings to develop affordable ways to keep illegal or unwanted drones from operating in specific areas. She'll use the Sarah P. Duke Gardens and Durham Athletic Park to test her research and will be assisted by Duke engineering students and landscape architects at Clemson University.
Enhancing the capability of drones is a major part of Martin Brooke's Ocean Engineering class in Pratt.
One recent morning in The Foundry, a handful of students worked on extending the battery life on a 25-pound drone from five minutes to a few hours.
By working on the control that monitors the behavior of the drone, students can modify the aircraft to let the battery charge while the gas engine kicks in. Another section of Ocean Engineering is working on an attachment that can pick-up and drop-off gadgets like scanners that test water quality. Through both experiments, the goal is to have a drone that can fly over a large amount of land or water.
"The idea that a drone could fly out with a sensor package and map out an area of the ocean is fairly unique," Brooke said. "I'm definitely one of those people that's like, 'where is my flying car?' As this autonomous vehicle becomes more available, it's pretty clear it's going to become fairly important. It's just exciting."
Changing the world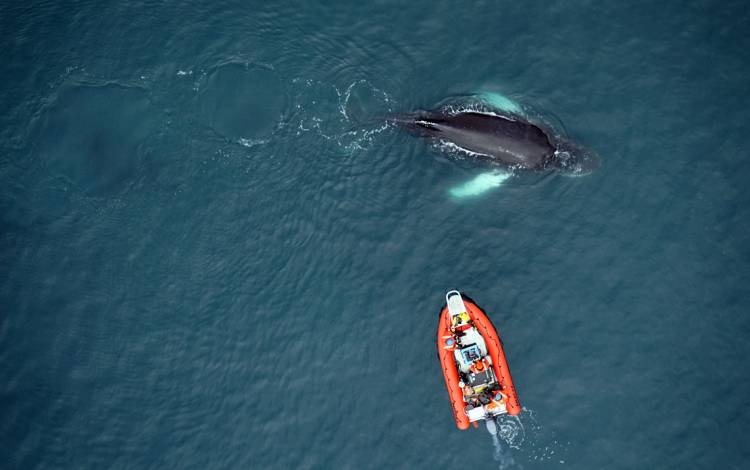 The Duke Marine Lab's flights on Rachel Carson Estuarine Research Reserve are just a small sample of the lab's airtime this year. The robotics group has recorded close to 1,500 flights totaling more than 300 hours of airtime since 2016.
With its fleet of drones, the Marine Lab has flown over the Cape Hatteras Lighthouse to assess storm damage, captured images of a ship graveyard on the Potomac River, and examined Roman temples in the Italian countryside.
"We have a very broad program now, but our bread and butter is marine science and conservation," Johnston said. "A lot of what we work on is how do we take this technology and do tasks better in coastal environments."
One major project for the Marine Lab is The Palmer Long-Term Ecological Research, a multi-decade study examining the ecology of Antarctica. Johnston and his team specifically research how global warming affects marine mammals like humpback whales, seals and penguins. They can measure whales, seals, turtles and other animals with the camera attachments on a drone.
"We're able to measure the length of the animal, the width of the animal," Johnston said. "That gives us information to determine how healthy it is. It's a low impact, low invasive way to get very critical data."
With so much at the lab's fingertips, Johnston's team has had to learn how to balance projects. He said they typically look at individual interests, technological capabilities and the education factor in selecting projects.
"My role as professor goes beyond theory," Johnston said. "One of my jobs is to take these new technologies, methods and procedures and take them out to try and change the world."