PUBLISHED
What to See at Duke This Week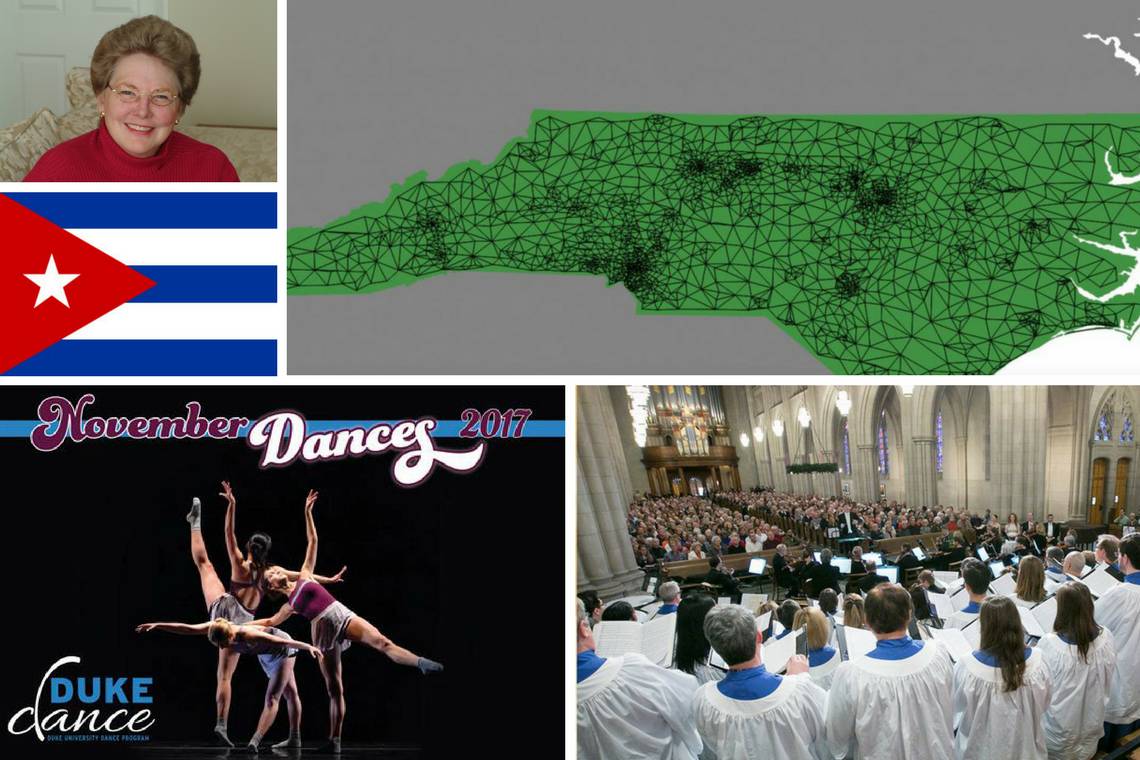 Few people thought changing US-Cuban relations following five decades of hostility was going to be easy. But the going is harder than anyone expected, with setbacks ranging from the unexplained medical issues of US staff in Havana to the Trump Administration's partial reversal of the Obama-era travel policies. Miguel Fraga, First Secretary at the Embassy of the Republic of Cuba in Washington, D.C., since the re-establishment of diplomatic relations, will give the Cuban perspective on a talk on "How Far is 100 Miles?" Noon. John Hope Franklin Center Room 240 -- Ahmadieh Family Conference Hall

Last year a court ruled that 28 legislative districts in North Carolina were unconstitutional racial gerrymanders, but few guidelines exist for determining when a gerrymander is too extreme. Researchers at Duke are working to fill this critical knowledge gap by using a simple mathematical framework based on criteria like population size and compactness to generate non-partisan districts. Duke mathematics professors Jonathan Mattingly and Greg Herschlag will present their research on the topic at the Visualization Friday Forum, including an overview of the redistricting process and an in-depth view at the geospatial analyses involved in generating new districts and visualizing the results. Noon D106 Levine Science Research Center.

Literature professor Katherine Hayles has been a pioneer in pondering the future of literature in a digital age. At ease bridging research from neuroscience, cognitive science, biology and her home field literature, Hayles has repeatedly raised innovative questions of what it means to be a human and how the humanities can incorporate knowledge from other fields. Scholars from around the country will honor her with "The Futures of Literature, Science, and Media," a symposium exploring interdisciplinary trends in humanities disciplines. 9 a.m. Smith Warehouse - Bay 4, C105 - Ahmadieh Family Lecture Hall

The November Dances concert is always one of the artistic highlights of the winter season. The fall concert features new ballet, modern and jazz dance. Instructor Nina Wheeler will present a new work inspired by Maya Angelou. Andrea E. Woods Valdés will restage her work "Mirada Rítmica/Rhythmic Gaze" for her modern dancers accompanied by live music with local jazz/R&B musician Shana Tucker. And several students will be showcased in solo and duet performances. 7:30 p.m. Reynolds Industries Theater, Bryan Center. The concert is repeated on Saturday, Nov. 18.

Why should the Duke Chapel Choir have all the fun? You too can raise your voice to sing out Handel's beloved choral melodies as Duke Chapel brings back the Messiah Sing-Along. Duke Chapel Choir director Rodney Wynkoop will direct to help the keep the sounds pleasing. The only rule is you must sing it loud and proud. Songbooks will be provided. 5:15 p.m. Duke Chapel.