Three Duke Employees Honored for Sustainable Commuting
GoTriangle recognizes staff whose commutes reduce traffic congestion and improve air quality
Riding a bike is the only form of commuting Steve Cohn has ever known.
Starting when he was 12, Cohn has biked to run errands, go to school and now for his job as director of Duke University Press. No matter rain, sleet or extreme temperatures, Cohn commutes the 2.5 miles from his Durham home to his office at Brightleaf Square.
"It's important to do it every day, otherwise there's always an excuse: It's too hot. It's too cold. I'm in too much of a hurry," he said. "There's always something, so doing it everyday matters."
Cohn and two other Duke employees will be honored by GoTriangle on Nov. 9 at the Golden Modes awards for their sustainable commuting practices. Cohn will get the "Golden Spoke" award. Damon Seils will receive the "Multi-Mode Innovator" for using a bike and bus. And Debra Smith will be given an honorable mention in the "Pool Party Champion" category for using a vanpool.
"This annual awards ceremony honors extraordinary commuters, employers and organizations that not only love sustainable commuting but also promote sustainable transportation options to their family, friends, colleagues and neighbors," said Michelle Parker, manager of Sustainable Travel Services at GoTriangle.
Duke offers ways to save on fuel and parking fees while helping community members contribute to the mission of creating a more sustainable campus.
Here are the Duke employees who will be honored Nov. 9:
Steve Cohn: Golden Spoke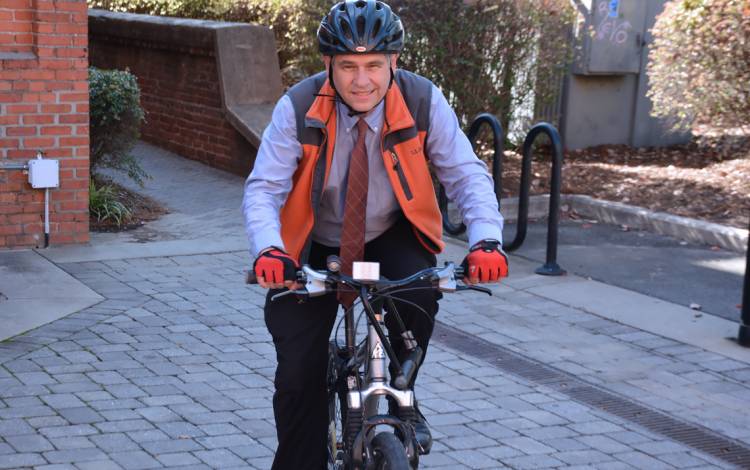 Cohn will receive the "Golden Spoke" award for his bike commute. The ride allows Cohn to decompress on his way home and avoid purchasing a third car for his family.
"I hope the award creates recognition for other people why riding a bike to work and back makes sense and gets other people to think about if they might do it themselves," he said. "Durham will be a better place if more people are on their bikes or walking to work."
Damon Seils: Multi-Mode Innovator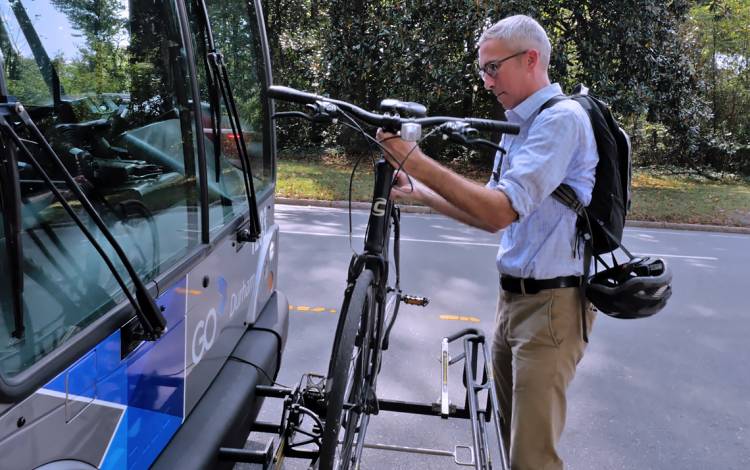 Photo courtesy of Stefan Walz.
Seils, communications specialist for Duke Clinical Research Institute, began commuting by bus from his home in Carrboro to Durham about nine years ago. He brings his bike on the 30-mile roundtrip bus route if he has meetings outside of his office in Duke North Pavilion. GoTriangle will recognize Seils with "The Multi-Mode Innovator" award.
Seils rides GoTriangle Route 405 using a GoPass, which allows Duke employees to take unlimited rides on GoDurham, GoTriangle and GoRaleigh for an annual fee of $25. On the ride, Seils generally catches up on email, checks social media and listens to music.
"I wanted to be attentive to the environmental impacts of my commute," he said. "I wanted to walk the walk when it comes to that. "I want more people to experience how easy it can be to commute by bus. Once you try it out and make a routine of it, it becomes just as easy as driving."
Debra Smith: Pool Party Champion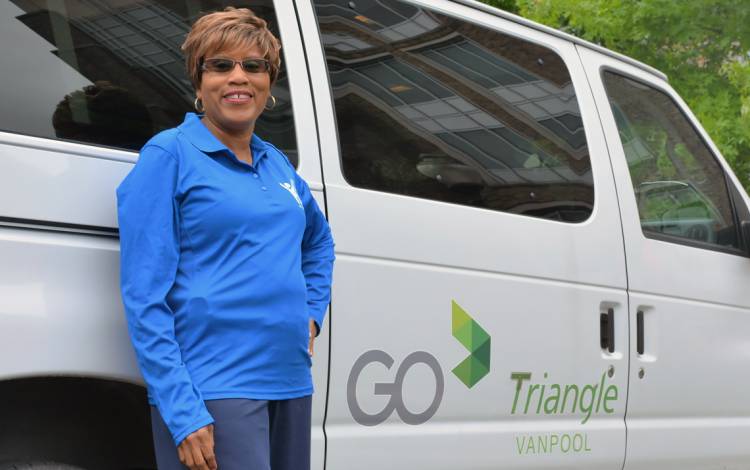 Smith's roundtrip commute from her home in Oxford to Duke is 66 miles.
Smith, a staff assistant for Employee Occupational Health & Wellness, has participated in a vanpool for eight years. She'll receive an honorable mention as "Pool Party Champion."
Smith first joined a vanpool in 2009 and organized her own vanpool in 2011 with 10 other employees. Vanpool participants receive free campus parking, fuel, insurance and maintenance. GoTriangle also provides emergency rides home to registered participants.
"It means a lot that Duke pushes us to do this, and I'm so thankful for that. I just love it," Smith said. "It saves miles on the car and money for gas. If I had to drive from Oxford five days a week, I wouldn't be able to do much on Saturday and Sunday."