End Your Bike Ride at a Campus Rack
Park in one of Duke's 3,000 rack spaces to keep your bike secure and campus less congested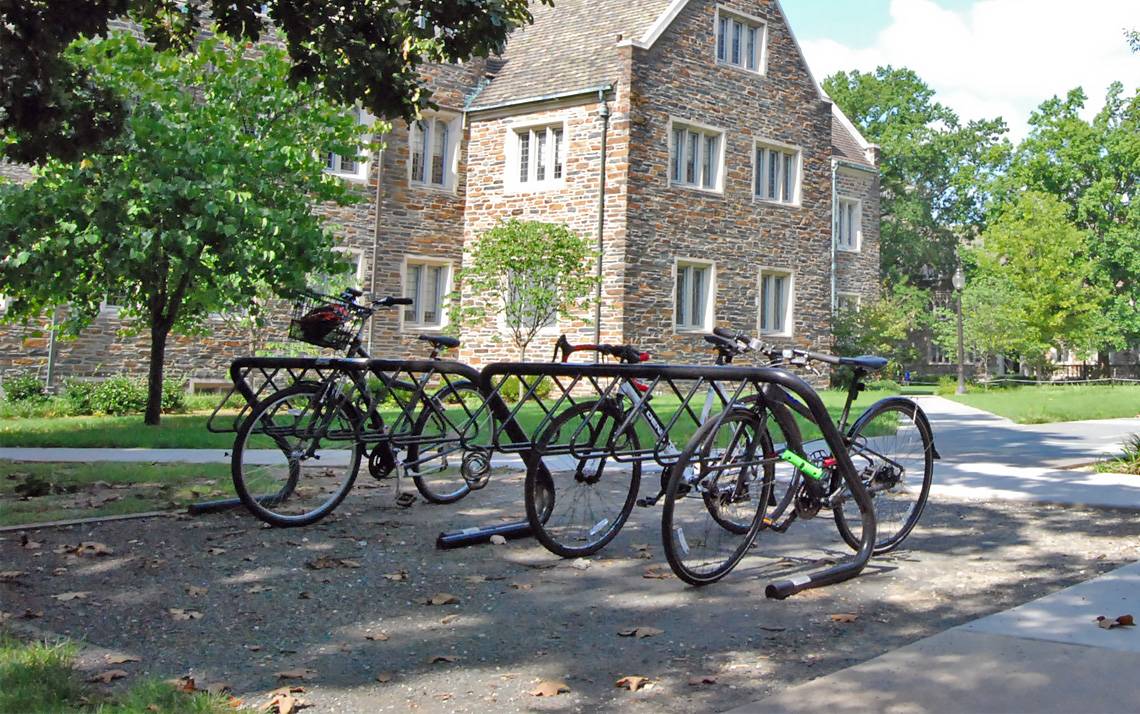 With growing bicycle ridership on campus and in Durham, Duke is reminding community members to park their bikes in designated campus racks to help keep bicycles secure and ease congestion.
Last week, the city of Durham announced new bike share programs that will make available several hundred bikes for rent. Although the bikes are part of dockless programs, they must be parked at a rack when brought on Duke property.
According to Duke policy, all bicycles, whether personal or part of a bikeshare, must be locked to or stored in the near vicinity of a rack. If a rack is full, cyclists should place the bike next to the rack and out of the way of pedestrians and other traffic.
"Access and safety are key," said Matthew Cushing, transportation demand management outreach coordinator for Duke Parking and Transportation. "We want to make sure bikes don't inhibit any pedestrians or drivers from their destination."
Cushing said bikes cannot be randomly parked on campus. For example, bikes left in front of buildings or by trees, handrails, signs or landscape posts may be confiscated. The owner will be fined and charged an impound fee.
Duke has nearly 3,000 parking spaces for bikes around the university and health system campus. Find racks by going to maps.duke.edu and clicking "Transportation."
Duke has been working since August to ease congestion and make sidewalks safer for pedestrians. Over the summer, a bicycle dismount zone was implemented for the blue slate sidewalks on Abele Quad and the pedestrian concourse known as the Bryan Center Plaza. Mopeds and motorcycles are prohibited from these areas.