Rent a Car for a Day or Week through Duke
Enterprise CarShare partnership offers Duke community members discounted rates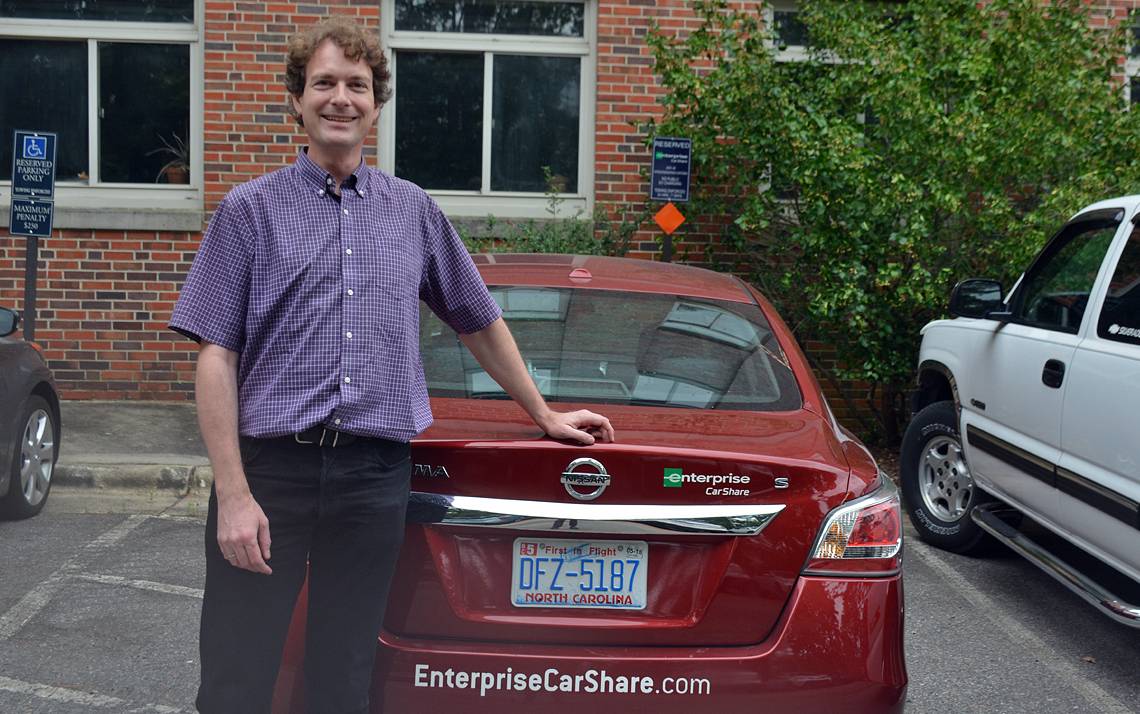 Having moved to Durham from Berlin, Germany, husband and wife Volker Blum and Chiara Mecagni needed a car. Just a few days away from buying one, a coworker at Duke mentioned the Enterprise CarShare program as an alternative.
Blum, a professor of mechanical engineering, and Mecagni, a physical therapist for Duke Health, passed on buying a car and are still enrolled in the Enterprise CarShare program four years later.
"When we moved, we thought we couldn't get away from owning a car," Blum said. "When we learned CarShare existed we thought, 'Oh this is interesting. Let's try it out.' It's worked well."
The couple relies on bikes for commuting and the children have their own bikes to get to school, and they use Enterprise CarShare to shop for groceries, run errands and to shepherd visiting colleagues and friends around Durham.
Enterprise CarShare, which started in 2011 at Duke, is open to all Duke employees and students with a valid driver's license. Members can select from 15 vehicles across campus to drive up to 200 miles per day. Vehicles can be reserved for an hour or as long as a week.
To rent a car, staff, faculty and students must join the program, which is running a special deal through Dec. 31 that waives the first-year application fee and reduces the annual membership fee to $1. In addition, through the end of the year, members can rent select Nissan vehicles for $5 an hour. Students can enroll until Dec. 31, no code required, for the $1 annual membership and $5 rentals.
Daily rates range from $60 to $90, depending on day and type of vehicles and includes the cost of gasoline and insurance. The program has midsize and full-size cars plus compact SUVs.
Vehicles are reserved online and picked up and dropped off at one of eight spots around campus. One location is new this year – the one on LaSalle Street, outside Genome Science Research Building II.
"Enterprise did an analysis to see where members live and work in the campus area," said Alison Carpenter, Duke's transportation demand manager. "We picked the new LaSalle Street location to better service a high number of CarShare members."
For Blum, the closest Enterprise CarShare location is convenient: It's in the Physics lot near his office.
"If we had a car it would be sitting in the driveway anyway," Blum said. "The program is great. It's close to my office and flexible."