Grab a Bite and Get to Business
Places at Duke to meet over breakfast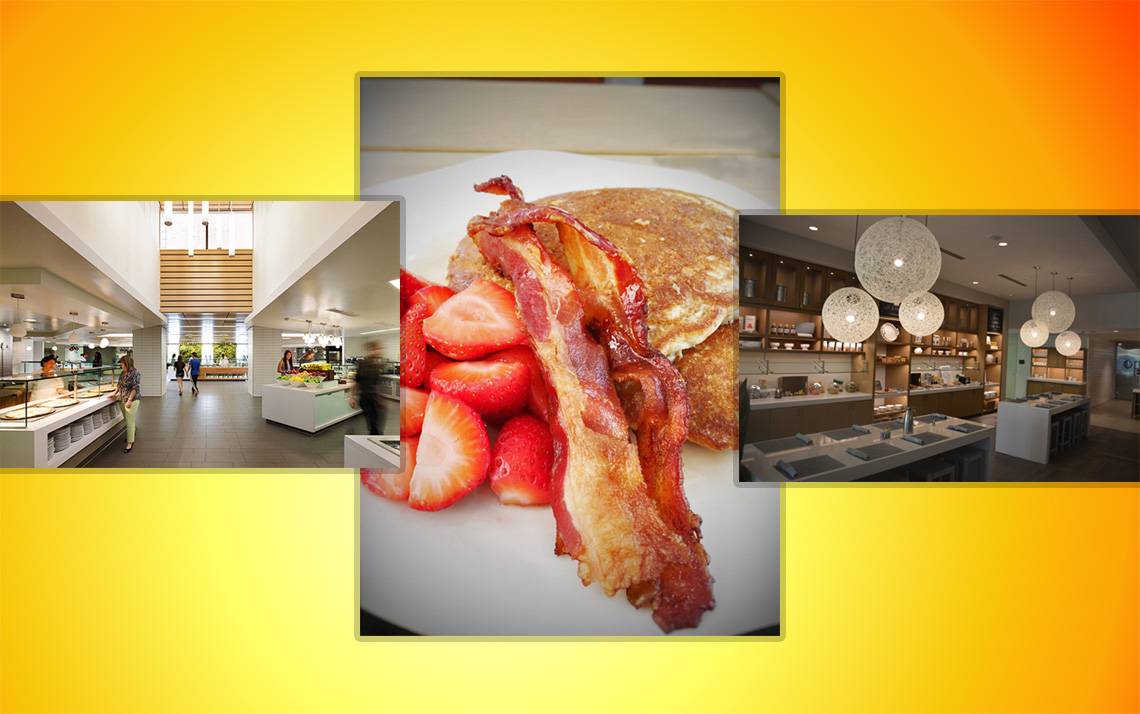 For Rebecca Iannucci, it's more casual when she meets students for the first time if there's coffee and a pastry on the table.
Iannucci, an associate in research for the Duke Reporters' Lab at the Sanford School of Public Policy, assigns research projects to students and finds that coffee shop gatherings help with team building.
"I want to get to know students in a more relaxed setting first," she said. "If they were to come to my office there would be an unnecessary pressure and intimidation to feel professional. I want the dynamic to feel neutral."
At Duke, there are plenty of dining options for holding a morning meeting from the JB Duke Hotel, East Union Marketplace, Brodhead Center, to the coffee shops around campus. Duke was recognized this month as the No. 1 spot in a list of the "75 Best Colleges for Food for 2017" by The Daily Meal, a website covering food and drink.
Joy Birmingham, senior practitioner at Duke's Learning and Organization Development, said the benefit of a breakfast meeting is two-fold: food makes people feel more connected and mornings are when people feel most productive.
"Morning meetings are better because people are fresher," she said.
Birmingham's tip for meetings around meals is to socialize and eat first and then talk business. It's better to fully commit to the task rather than balance eating and business at the same time, she said.
With that in mind, here are four campus spots to get together with a colleague or small group over breakfast – or any meal for that matter.
Marketplace on East Campus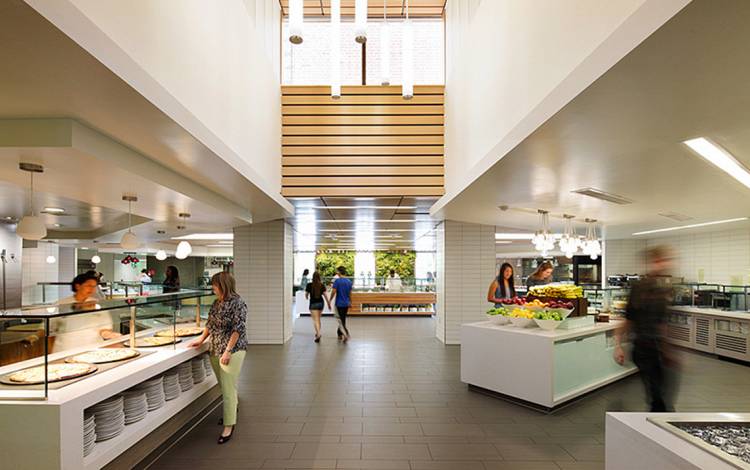 Having completed renovations just over a year ago, the Marketplace is bright, modern and airy with exhibition-style cooking platforms.
The all-you-care-to-eat breakfast may be perfect for those needing more than a quick cup of coffee or pastry. Stations offer tofu scramble, made-to-order omelets, pancakes and more. There's also a fruit and yogurt bar. All for $11.10.
If a buffet isn't your thing, there's Trinity Café inside the Marketplace serving smoothies and pastries.
Breakfast Hours: 7:30-11 a.m. Monday-Friday, 10 a.m.-2 p.m. Saturday-Sunday.
Saladelia @ The Perk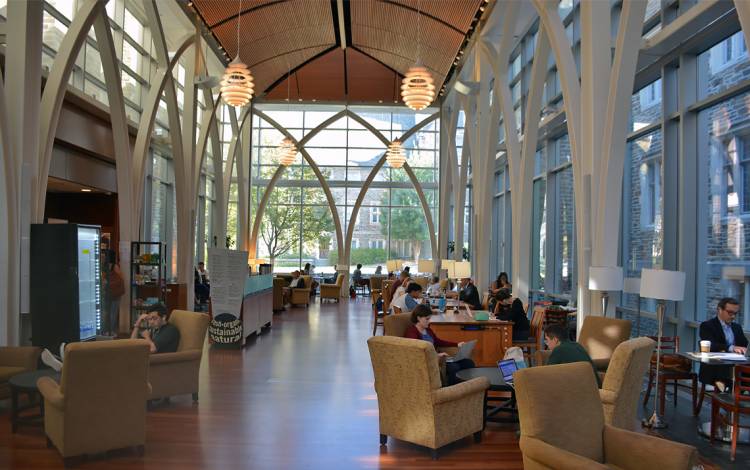 It's easy to forget Saladelia is indoors. The coffee shop resides in a structure of glass and steel beams connected to Bostock Library, giving it a greenhouse ambiance.
Seating includes plush chairs and tables, where you can enjoy an egg scramble with feta cheese and vegetables, breakfast burritos and pastries.
Hours: 7:30 a.m.-midnight Monday-Thursday, 7:30 a.m.-5 p.m. Friday, noon-6 p.m. Saturday, 1 p.m.-midnight Sunday.
The Skillet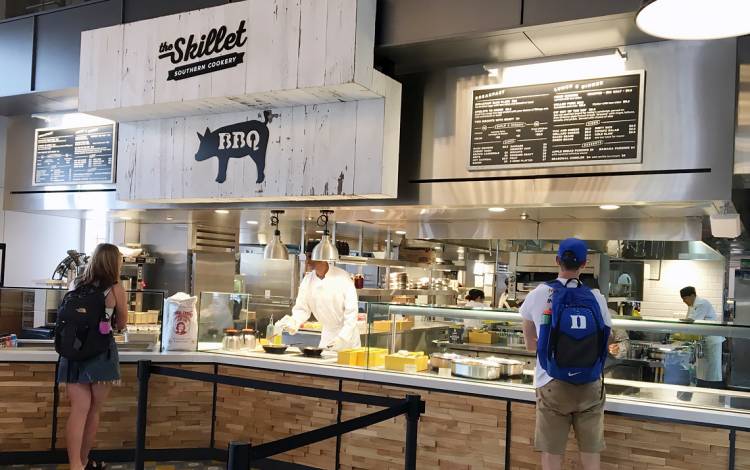 The Skillet in the Brodhead Center is the place to go for a southern breakfast served all day.
There, you'll find biscuits and gravy, breakfast plates and omelets made to order. Once the food is ready, sit beneath the wood beams of the Great Hall or take the meal to one of the Brodhead Center's meeting rooms.
Hours: 7:30 a.m.-8 p.m. Sunday-Saturday.
JB Duke Hotel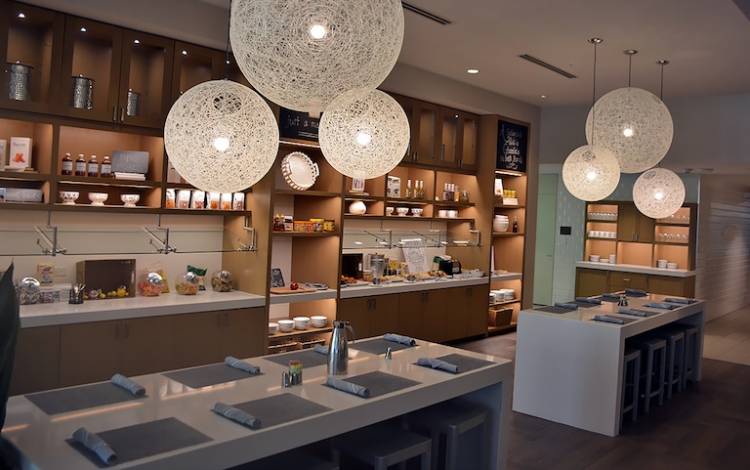 The JB Duke Hotel sits on the edge of West Campus but is a world away architecturally. The hotel is sleek, light and modern. Its MarketPlace is much the same.
Located on the ground floor, the MarketPlace offers a full-service buffet. Diners walk around to different kiosks to pick up made-to-order omelets, smoked salmon, assorted pastries, potato pancakes and more before taking a seat next to the floor-to-ceiling windows.
Breakfast Hours: 7-10:30 a.m. Monday-Friday, 7-11:30 a.m. Saturday-Sunday.