What to Know for Duke Football's Employee Kickoff Celebration
Details on venue, meal options and ticketing procedures for Saturday's pregame event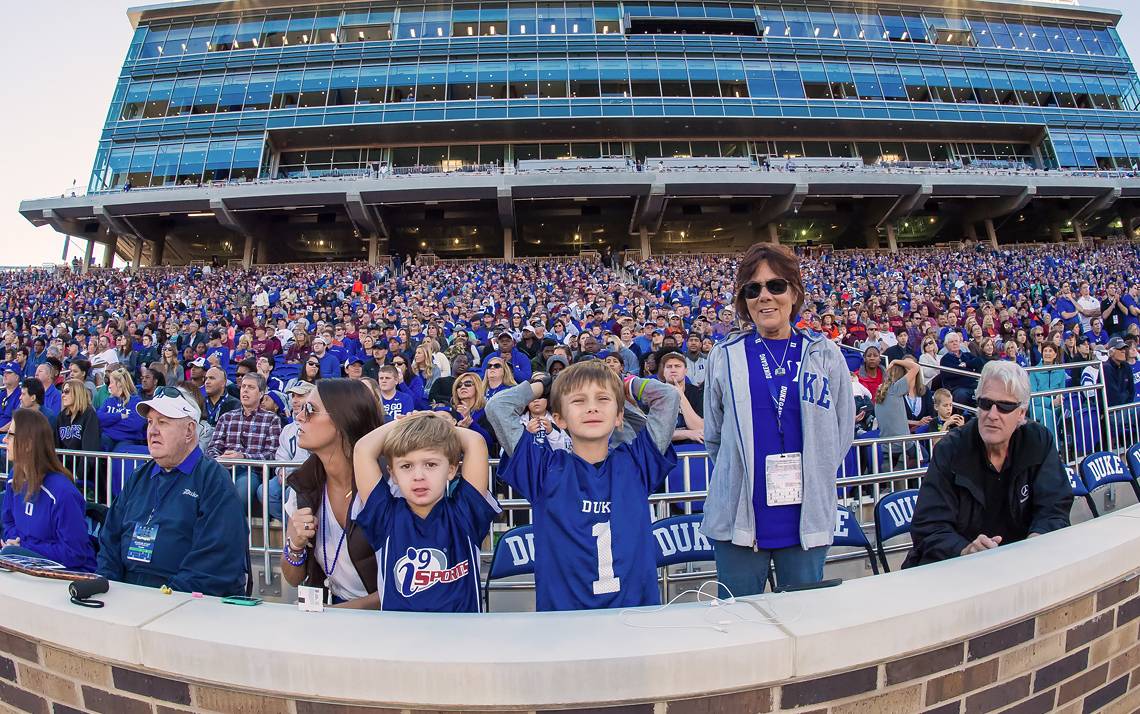 The 2017 Employee Kickoff Celebration takes place prior to Duke football's season-opening showdown with North Carolina Central University on Saturday. This season's event features several changes, including a new location inside the stadium and meal set-up.
Here's a look at what Duke staff and faculty employees headed to the game should know.
Pregame Celebration
In a change from previous years, the pregame event for Duke employees will take place inside the stadium from 3-4:30 p.m.
Stadium gates will open for employees and their guests at 3 p.m. There will be face-painting, interactive kid-friendly activities and live music. Employees will receive vouchers for a meal at designated concession stands.
Tickets for the Game
Athletics introduced digital ticketing, so benefit-eligible Duke staff and faculty that reserved tickets before the Aug. 31 deadline should print their tickets in advance using the link in the confirmation email and bring the tickets with them.
Those who requested to pick up their tickets in person can find them at Duke Athletics ticket window at the Scott Family Athletics Performance Center. Employees are encouraged to pick up their tickets in advance to avoid lines on game-day. Employees must present their DukeID to pick up tickets. Tickets can be picked up during regular business hours (8:30 a.m. – 5 p.m.) on Friday, or on game day up until half-time.
How Concession Vouchers Work
Instead of a catered meal, faculty and staff had the option to receive one voucher per ticket (maximum of 8) for a meal redeemable at Blue Devil Concessions stands #2, #3, #4, and #5 (West Concourse) and #7 and #11 (East Concourse) inside the stadium.
Each voucher is redeemable for popcorn, a fountain drink and one of the following:
Hot dog
Veggie wrap
Barbecue sandwich
Concession vouchers were included with online ticket orders. They can be printed in advance or, if requested, they can be picked up at will call with tickets.
Concession vouchers are only valid between 3-5:30 p.m. as part of the pregame event on Sept. 2 and cannot be used during the game. Vouchers must be redeemed at one time, and no substituting of meal options is allowed.
Where to Park
Parking is free on game day in general public parking lots:
Valid permit holders can also park for free in general public lots if their permitted facility is unavailable (e.g. Whitford, Blue Zone, Card, etc.). All gates will be open for entry to the pregame celebration.
Bag Policy and Safety Protocol
In order to keep with security protocol, bags or purses of any kind (including but not limited to backpacks, duffel bags, tote bags, fanny packs, clear bags, drawstring/cinch bags, messenger bags, plastic grocery bags, camera bags, binocular bags, etc.) are not permitted to enter Brooks Field at Wallace Wade Stadium on football game days.
Use this guide to avoid a return trip to your vehicle on game day.
Also, there is no stadium re-entry once a ticket has been scanned for entry at the stadium gates. This means if you leave the stadium during the employee celebration, you will not be able to re-enter the stadium.
For additional Duke Football game day information, click here or see the A-Z Game Day Guide. The Duke Athletics ticket office may be reached at 919-681-2583.
Share your game day pics
Post a photo and caption on Working@Duke's Facebook page [facebook.com/workingatduke].
Share your picture on Twitter and be sure to mention @WorkingatDuke in your Twitter post.
Send your picture to Working@Duke.