Melissa & Doug Entrepreneurs Strive To Make Startups Successful
Mackenzie Drazan is nervous. She's spent the last eight months building her company, and she is facing her first price negotiation with a potential customer.
Drazan is one of 15 undergraduates and recent graduates at Duke who make up this year's cohort of Melissa & Doug Entrepreneurs, a program that provides support and funding for students trying to build their own startups. The program is the brainchild of Melissa Bernstein (T'87) and her husband Doug, who built toy company Melissa & Doug and want to pass along what they've learned through mentorship and advising. The Bernsteins asked Howie Rhee, Duke I&E's managing director of student and alumni affairs, to help shape and direct a program.
The price negotiation call is scheduled for 5 a.m. her time – Drazan, a senior at Duke studying political science and pursuing an I&E Certificate, is working on her business from her native California this summer. The night before the call, she preps with Tatiana Birgisson and Jake Stauch, both former Dukies who serve as mentors for I&E's Melissa & Doug Entrepreneurs program.
Drazan and her mentors practice her pitch and run through potential scenarios until Drazan feels comfortable and prepared for the call. The next morning, the price negotiation goes off without a hitch.
"I am so thankful to have the Melissa and Doug program because without Tati and Jake's counsel I don't think my first price negotiation would have gone so well," Drazan said later.
Over the summer, Melissa & Doug students each receive a stipend to jumpstart their companies. The only strings attached: they must pursue their startups full-time and meet a previously set milestone by the end of the summer. They're encouraged to live locally, which makes weekly meetings with mentors easier and facilitates bonding with other students in the program, but this summer's students built companies in California, Nigeria and elsewhere.
With the help of their mentors and some trial and error, the students have worked to see their ideas come to fruition and learned what it takes to build a company.
TACKLING MENTAL HEALTH
Drazan is building MiResource, a mental health referral platform specifically targeted to patients ages 12 to 26. She, along with her co-founder, recent Duke graduate Gabriela Asturias, wants to ensure every adolescent or young adult seeking help is matched to the correct mental health professional the first time.
MiResource users will fill out a survey and will be matched based on their individual needs and preferences. Drazan hopes to build algorithms that will use machine learning to make sure the company's matching capabilities become more accurate over time.
Throughout the summer, Drazan worked to get universities and other mental health organizations on board with using MiResource's referral platform. Handling mental health crises effectively is especially important for universities, Drazan said. If students get matched to the incorrect therapist the first time, they may not have the time or energy to reach out again.
For Drazan, the mission of MiResource is personal. During her freshman year at Duke, she lost her younger sister, Shelby Drazan, to suicide.
Drazan said that although her sister wanted to get better and sought treatment for her depression, it was difficult for her to find the right treatment that worked. She started MiResource so others won't have to face the same barrier.
Starting something from scratch is tough, Drazan said. She has faced plenty of challenges along the way. She needed to decide how to prioritize her decisions, including when to seek legal help with documents. She was faced with restructuring her pricing model on a deadline after feedback showed the original cost was too steep for public universities. She had to weigh the costs and benefits of partnering with an outside firm to help her company build its algorithms.
But her sister, the reason she started the company, inspires to push through the challenges.
"If you're not passionate about what you're trying to start, I don't know how you could do it because it's such a rough rollercoaster," she said. "You need to have that driving force behind it. There's definitely elements to starting a startup that can be really scary."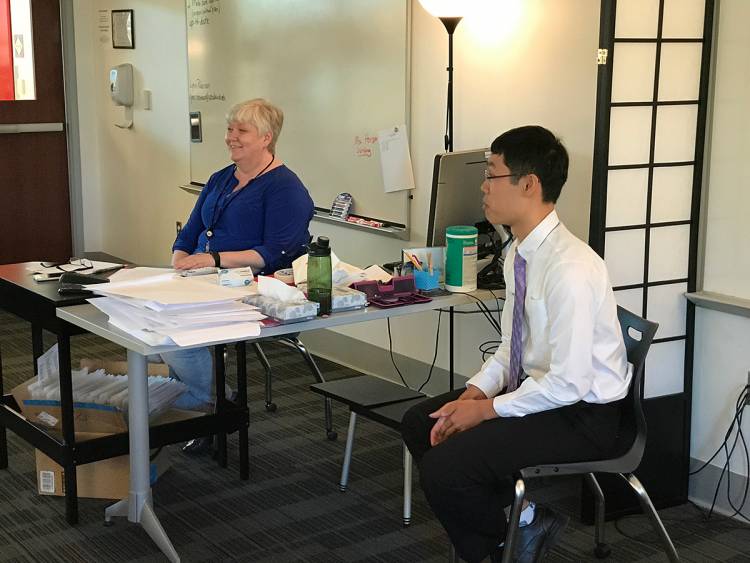 FOSTERING COLLABORATION
Ray Liu, too, came up with the idea for his company based on his personal experiences.
When Liu, a sophomore studying economics and computer science at Duke, was in high school, he helped create a peer tutoring program at his school.  
"The platform connected tutors and tutees, but it was also more than that," Liu said. "I felt like I was doing something meaningful, helping to foster a collaborative and healthy learning environment in a typically competitive academic setting."
Liu was inspired by the program at his high school to create a business that could bring a peer tutoring model to all high schools. He envisioned the company as a software that acted as a peer tutoring match service. Even though he had the idea, he wasn't sure how to begin until he was accepted to Melissa & Doug Entrepreneurs.
"I wanted to spend more time on it, but I never really had the backing to do it," he said. "When I got into this program, it was the first time I felt like I had the support and guidance to know how to move forward in turning my idea into a reality."
Now, he's the CEO of PeerKonnect, a software company he's building that matches students with peer tutors who are skilled in various subject areas.
"I can definitely say the Melissa & Doug program has changed my life," he said.
SHARING STRUGGLES
Courtney Bell, who graduated in 2017 with an environmental science degree, has been working on her company, Ungraded Produce, for more than a year.
Bell founded Ungraded Produce with fellow Duke student Anya Ranganathan when they were both seniors. The company works with local farms to source misshapen or surplus produce, which is then delivered weekly to subscribers at a lower price than other subscription services offer.
Ungraded Produce's mission is to fight food waste while also erasing the stigma sometimes associated with "ugly produce."
Melissa & Doug Entrepreneurs has been helpful not only for the resources and mentorship, Bell said, but also because it gives her a community of peers.
"It's reassuring to see other student entrepreneurs are going through the same struggles as you are," she said.
Because the Melissa & Doug students spend every day dealing with problems that are outside their fields of study, they spend much of their time learning on the job.
Over the summer, Bell and her team spent time thinking of a new name and researching what it would take to rebrand the company.
She also spent time crunching numbers and refining the company's pricing model. The calculations were difficult because produce is such an illiquid market, meaning supply and costs fluctuate among various farms and even within individual farms.
Bell also had to make the decision to increase prices to be able to buy better packaging that would keep the produce safer until delivery.
She's also learned a lot about marketing and spent the summer reaching out to churches and other community groups.
"I'm proud that I've been able to tap into this consumer base I basically had no access to as an out-of-state Duke student," she said. "It's really shown me the power of word-of-mouth marketing."
DILEMMAS & DECISIONS
Liu said working for himself can sometimes present a double-edged sword.
On one hand, Liu said, it's encouraging to know that he can control the destiny of his company. "The future of the business is determined by the things I decide to do on a day-to-day basis to advance it," he said.
Sometimes, though, this freedom makes him question himself.
"I set my own hours, so often I feel like I could be or should be working more or working harder," he said. "But I have learned to streamline processes and work faster."
EDUCATION & ENTERPRISE
The Melissa & Doug students have had all summer to work on their companies, but during the school year, they have to balance schoolwork and work for their ventures.
Liu was trying to sell the PeerKonnect platform to a school during his spring semester finals week at Duke. He was on deadline; he needed to make the sale by the end of the semester to reach his Melissa & Doug program goal.
"It was 10 minutes before my math final, and I was making my final call before my first school would decide whether they were buying the platform," he said. "It's a balance. I've definitely eased up my course load and extracurricular activities for next semester just because this is something I'm really passionate about and I want to make time for it."
Drazan said that she's able to push MiResource forward thanks to the frameworks she's learned in her I&E Certificate courses.
"During class, I always have my MiResource notebook out and try to apply what I'm learning to my company," she said. "Even if what I'm learning isn't relevant to the company now, I've found that it could become relevant later."