Losing Weight Brings Employee's Song Back
Sylvia Harris offers song as a way to help others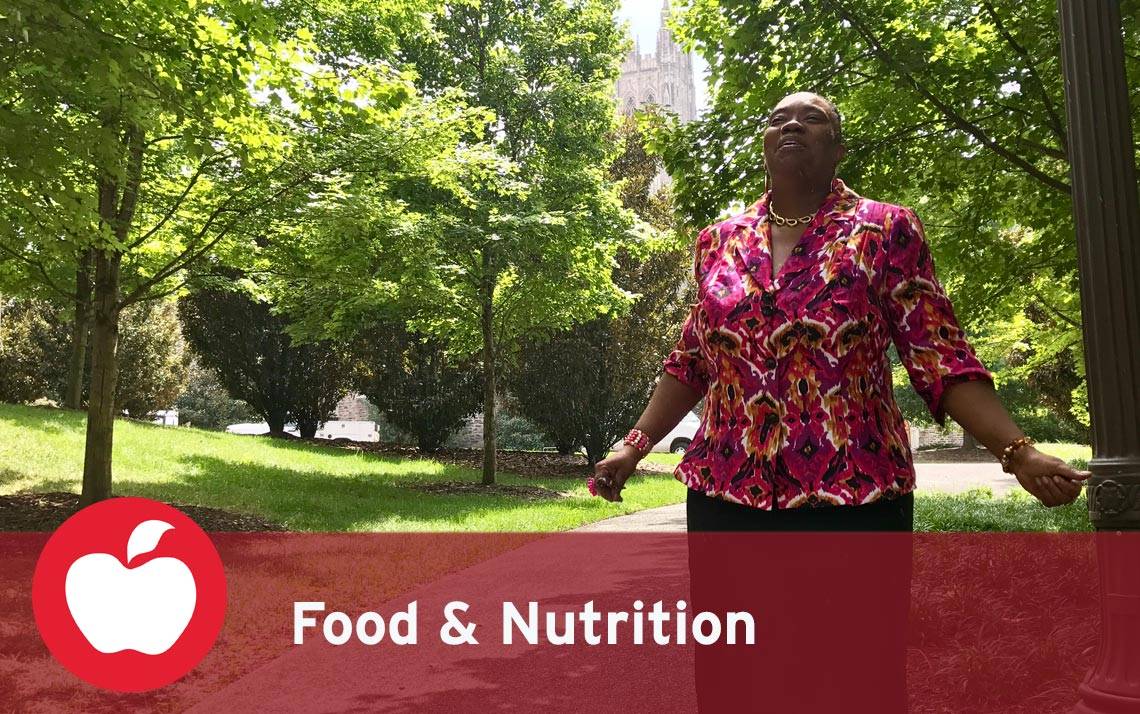 For a short period in 1991, Sylvia Harris lived in a car with her two children. What sustained them and gave them hope was a song. Not a specific song that played on the radio, but one that lived inside her.
"A lot of times the kids were restless because we were sleeping in a car," she said. "I'm riding around in the middle of the night, and I'm singing. I would get them singing and teach them songs."
Harris had been a victim of domestic violence and found herself homeless after a trial that put her now ex-husband in prison. During those dark days, she found comfort in singing.
"I didn't have anyone to go through that ordeal with me," said Harris, who now works at Duke as a staff assistant in Biomedical Engineering. "It was the music. It was a song in my heart."
Song has always lifted Harris up and served as a means of inspiring others. But recently, her weight had made it more difficult for her to do what she loved. She submitted her story during the Healthy Duke photo contest last spring and has been working to lose weight since.
"This is what I want to do with my life," she said. "Singing is who I am, and I cannot do that if I can't breathe. I can't do that if I can't walk up two flights of stairs at my house without almost having to pass out."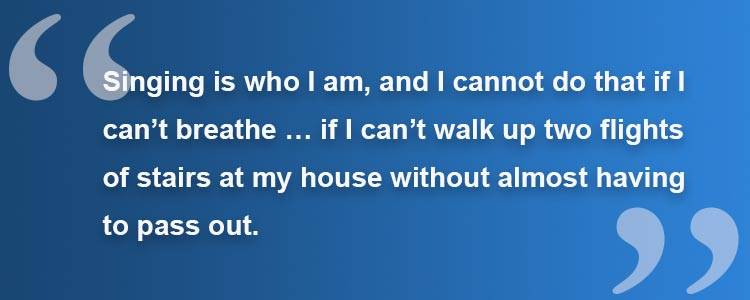 Harris said she had been having problems sleeping and would often wake up and go into the kitchen to eat.
"I was binge eating," she said. "I wasn't hungry. I was stressing for whatever reason, and I was eating because I was stressing."
After several failed efforts, Harris finally found a unique approach that worked for her.
"I started dancing," she said. "I can't dance. I couldn't even two-step. One afternoon, I put some tapes on in my house and just started dancing. I looked crazy, but I can look crazy in my own house. With the dancing came the energy, and then I started watching what I'm eating."
During the last few months, Harris has lost about 20 pounds and has the energy and stamina to sing again.
"I'm not weak and sluggish all the time," Harris said. "Now, I'm ready to go out into the world and give what I have as far as singing is concerned, because now I can do it."
She considers singing a music ministry and frequently shares her gift at homeless shelters, nursing homes, prisons and funerals. Harris will sing anywhere she runs across someone in need. Once, she approached a woman in a store who was crying following an argument on the phone.
"I asked if I could sing for her, and she said yes," Harris said. "She just crumbled in my arms that day. She thanked me, and she said, 'You know, I was going home and I was going to kill myself because the abuse was too much.' So, I sat with this woman and cried and cried until she was done crying."
Harris' song had saved this woman, too.
For someone who has suffered so much in life, Harris found her motivation to become healthier not by hiding from the pain in the world, but by offering something back to those who carry similar scars.
"There are so many hurting people out there," she said. "Now, I want to help other women, and I want to help children that are dealing with domestic violence."
See other Healthy Duke stories.
Listen to Sylvia Harris' "Sea of Uncertainty"
Attending a Week of Wellness activity? Please share your pictures and wellness insights on Twitter, Facebook and Instagram using #HealthyDuke. Or send your picture to working@duke.edu.