Finding Voices
Audition season helps bring new life to Duke Chapel Choir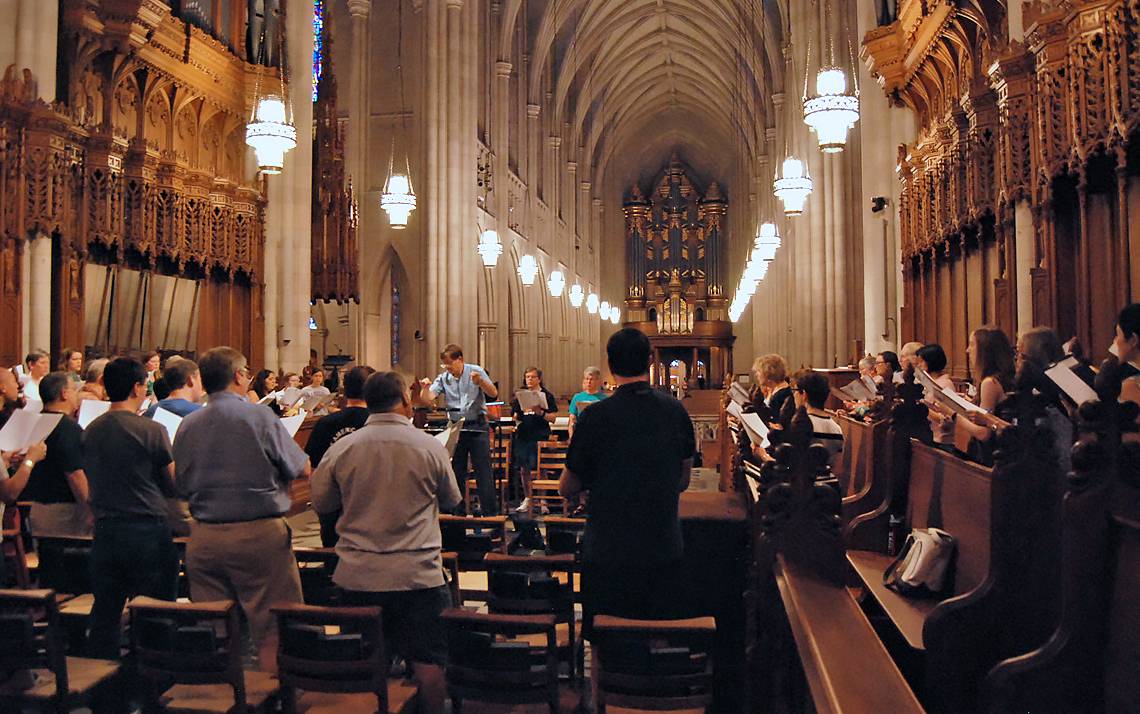 On a recent Saturday, before the Duke Chapel Choir returned from a summer off to its familiar role at the center of Sunday's worship service, Director of Chapel Music Rodney Wynkoop guided members of the group through a rehearsal.
Among the choir were three members of the Duke community who had never sung with the group. Two graduate students and one undergraduate were in the early, informal stages of the choir's audition process, which each year breathes new life and new voices into Duke's most well-known musical group.
After a series of vocal warmups filled the soaring gothic church with moans and grunts, Wynkoop asked the choir to sing an A.
What followed was fifty voices melding to form a rich, golden A note.
Wynkoop led the choir through parts of four pieces of sacred music that would be included in the next day's service. Every so often, he offered short bursts of direction, fixing slight flaws that only the sharpest of listeners could detect."It's a busy, crazy time of year," Wynkoop said of the early weeks of the fall semester, when most of the choir hopefuls audition. "But it's exciting, too, because of all the new people and new talent that's showing up."
Comprised of Duke students, staff, faculty, alumni and members of the Durham community, the Duke Chapel Choir has around 100 volunteer members. It performs at Sunday worship services during the academic year and major concert events in the spring and fall semesters.
Unlike more student-heavy vocal groups scattered around campus, the Duke Chapel Choir has a core of veteran singers, including some who have served for a quarter century. But there is a degree of annual turnover
"It's a real combination of people, from 18 to 70 years old," said Karen Steinhauser, an associate professor in Population Health Sciences and an alto in the choir. "… You get this really nice mix of new faces and new voices and a group of singers who've participated for many years and have a fairly deep knowledge of the music we sing."
While auditions can be arranged any time, the first step for most choir hopefuls is to sit in with the group on one of the few open rehearsals early in the school year. Singers can connect with the music, get used to Wynkoop's direction and work through butterflies that might come with singing in Duke's iconic chapel.
If candidates feel the experience is for them, they schedule an audition with Wynkoop. Usually joined by an accompanist, Wynkoop encourages hopefuls to sing a piece they're comfortable with. After that, Wynkoop has them sing something they've likely not encountered to see how adept they are at picking up new material.
"Mine was Bach and it was in German," choir member Beth Gettys Sturkey said of the piece she was handed at her 2000 audition. "It was frightening. I would say that I made it through, but I wouldn't say that I was stellar."
Sturkey, who recently retired after working in development for the Sanford School of Public Policy and the Duke Chapel, praised Wynkoop for his patience and encouragement during her audition. She performed well enough to earn a spot among the choir's sopranos.
If auditions go well, new members become part of the group quickly, usually joining the choir in time for the next service. Often, new members will be placed next to a veteran to create a buddy system, the more experienced singers offering encouragement and the occasional cue for the choir's many movements throughout a service.
"It's fun, we've gotten some great people," Sturkey said. "They try this and they discover we're nice people and we're fun and next thing you know, they're part of us."
In time, the singers that make it through the audition process will be as hard to spot as the almost imperceptible defects Wynkoop corrects in rehearsal. To nearly everyone who hears the music, the Duke Chapel Choir will simply be a collection of voices, making beautiful sound as one.