Duke, US, State Flags Lowered: University Marks 9/11 Anniversary With Events
Quiet meditation period planned at 5 p.m. today on Abele Quad.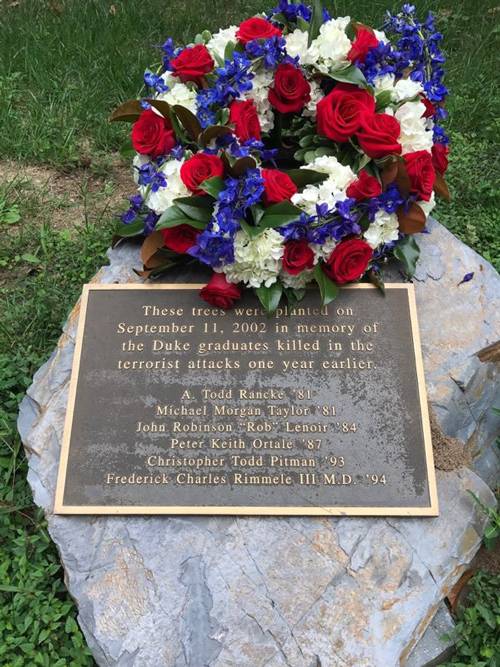 This morning, the Duke Alumni Association laid a wreath at the 9/11 memorial grove outside of Keohane residential quad in honor of the six Duke alumni who died during the attacks:
Todd Rancke '81
Michael Morgan Taylor '81
John Robinson "Rob" Lenoir '84
Peter Keith Ortale '87
Christopher Todd Pitman '93
Frederick Charles Rimmele III M.D. '94
The Alumni ceremony has been held every year since the planting of the grove in 2002.
US, state and Duke flags were also at half-mast for the day to honor the victims and the victims' family members.
A ceremony later today at 5 p.m. outside of Duke Chapel on Abele Quad will offer a quiet meditation during the daily playing of the carillon. It will be an opportunity for the Duke community to come together, listen and reflect on this, the 16th anniversary of the attacks. Attendees are asked to come "unplugged" and technology-free.