Duke In Pics: Employees Kickoff Football Season
Football season opens with 30,477 fans, memorable celebration and emphatic win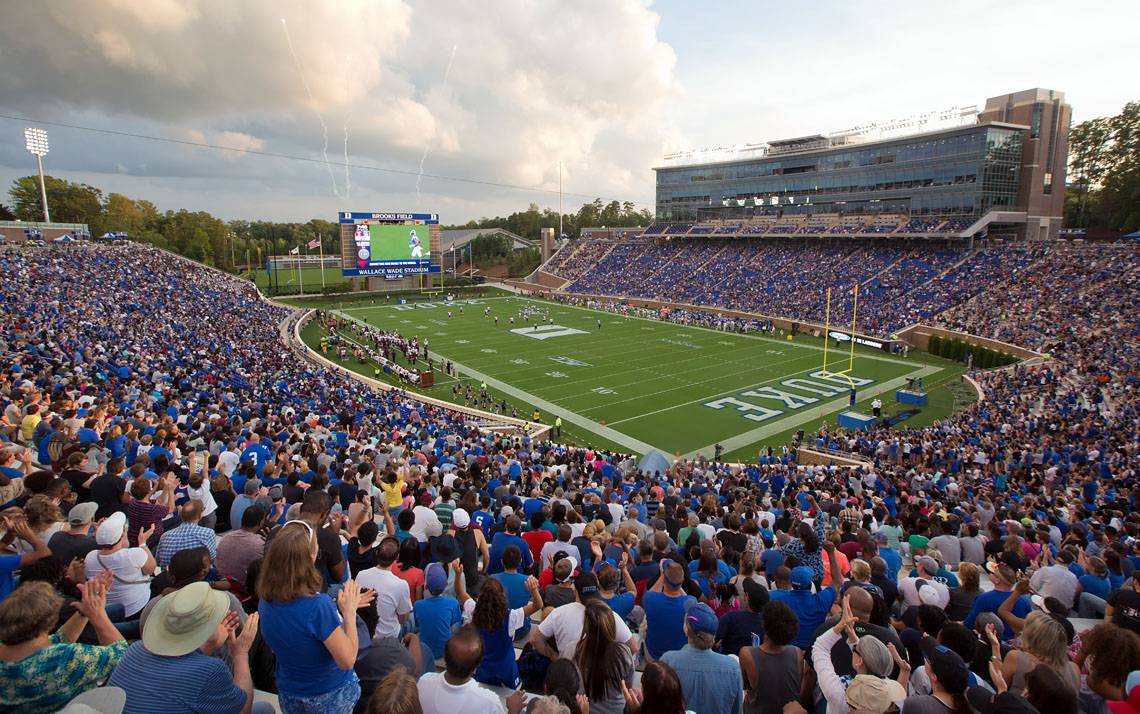 By rolling out to a 60-7 win against visiting North Carolina Central University, Duke's 2017 football season started with plenty to feel positive about. But even before the teams took the field Saturday in front of a crowd of 30,477 fans, there was reason to celebrate.
The 2017 Duke Football Employee Kickoff Celebration brought members of Duke's staff, faculty and their families to Brooks Field at Wallace Wade Stadium for a pregame party that featured food, music and family-oriented activities. Afterward, employees watched the Blue Devils breeze to victory against the Eagles.
"When we have employee appreciation day, it is awesome to see so many people I've met who are a part of our program on that day," said Duke football coach David Cutcliffe. "I want to say a public thank you to all our employees at Duke who have been so important to our program."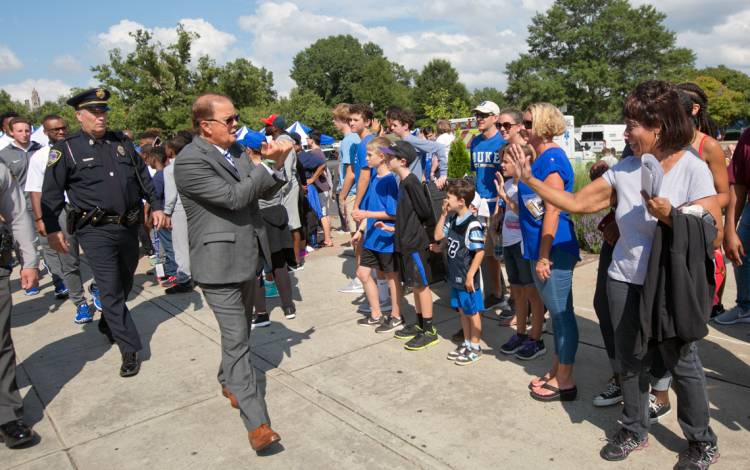 Cutcliffe, who began his 10th season as Duke coach, led the team through its "Blue Devil Alley Walk." More than two hours before kickoff, the walk featured the Blue Devils making their way into Brooks Field at Wallace Wade Stadium through the Bostock Gate, which was part of the stadium's recent renovations.
The Duke University Marching Band played for Duke's staff and faculty during the pregame Employee Kickoff Celebration.
Adam Tomasiello, a Duke graduate who now works as an admissions officer, was selected as the 2017 Honorary Employee Captain. Among his duties during his day of behind-the-scenes access was to be at midfield for the pregame coin toss, which Duke won.
Tomasiello said being on the field during pregame warmups left him with a memory that won't soon fade.
"I had played football in high school and was a passionate football fan," Tomasiello said. "However, I cannot remember the last time I actually physically stood next to actual players geared up and ready to go. We were so blown away by their athleticism on the field, especially watching (Duke quarterback) Daniel Jones throw warm up passes. I think if I tried to catch one of his throws I would have broken all of my fingers. It was incredible to be around the game again in such a close-up manner."
Saturday marked the first football game for new Duke president Vincent E. Price. In addition to mingling with students and fans, he was honored on the field during a timeout and spoke to staff and faculty during the pregame Employee Kickoff Celebration.
"This was the first building completed on this campus because our founders wanted to create the excitement that football brings and I am thrilled to be here," Price said, standing on a stage at one end of Brooks Field at Wallace Wade Stadium. "I'm also thrilled to have the very best team in higher education and I'm talking about the 40,000 employees of Duke University. I want to say thank you for everything that you do, day in and day out, to make this university what it is. This is indeed a fabulous, fabulous team, so from the bottom of my heart, thank you so very much."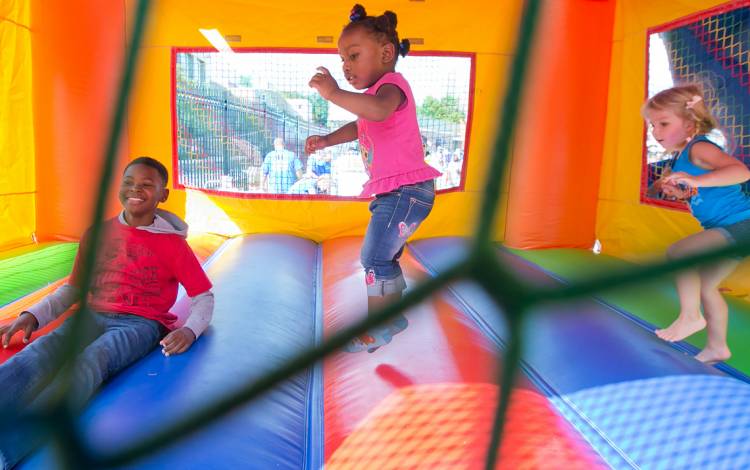 For three hours before the game, Brooks Field at Wallace Wade Stadium was the site of the Employee Kickoff Celebration. Among the activities popular with the younger members of the crowd were face-painting and inflatables.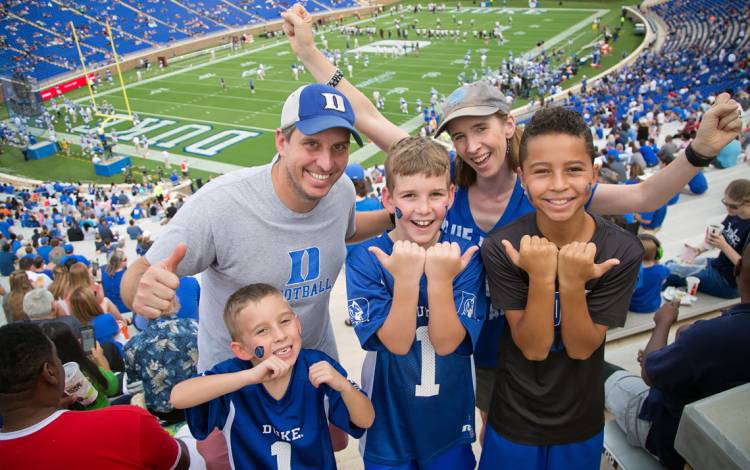 Stephen and Dani Zapotoczny, Accenture Visiting Professor in Practice of Public Policy, enjoyed the game along with, from left, son Matthew, son Myles and their friend Amare Burrus. While there was a threat of thunderstorms leading up to Saturday, the weather ended up being beautiful.
"It was an A-plus day," Zapotoczny said. "Duke ordered a perfect day with the weather and the win. They delivered."
Addy Jones, 8, cheers on the Blue Devils, who piled up 47 points in the first half and gained 581 total yards against crosstown foe North Carolina Central.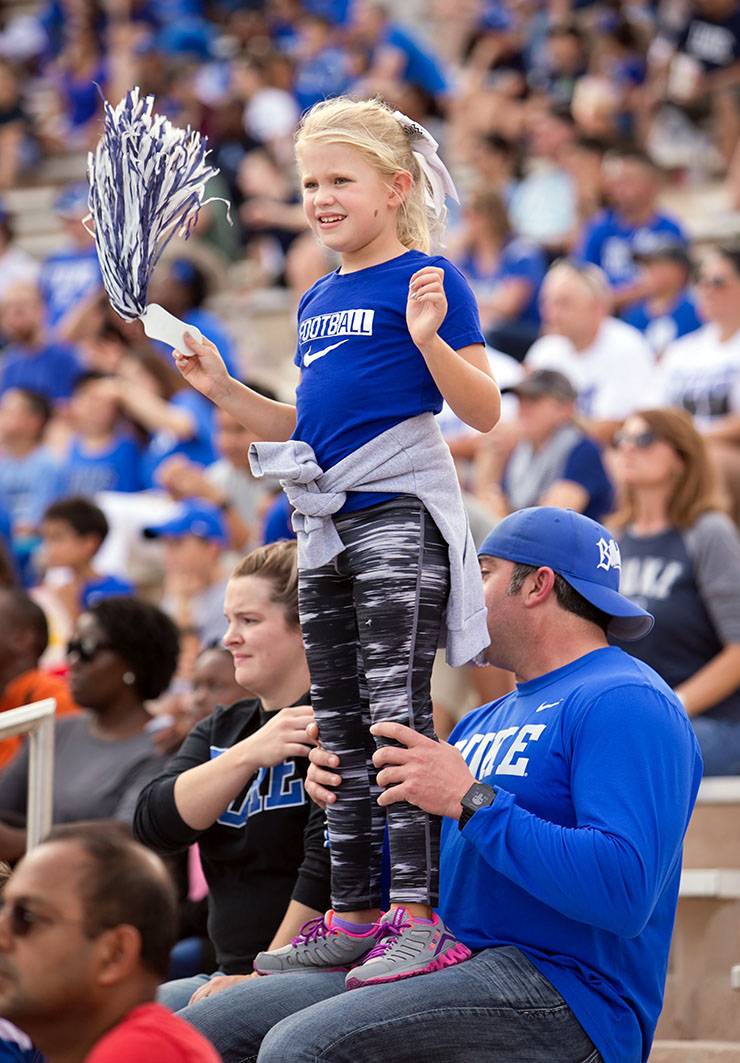 Tyler Massey, 8, watched the game along with uncle Ben Massey and his fiancé, Jordan Rhew a nurse at Duke Regional Hospital. The highlight of Tyler's day came when in-stadium cameras found her twice, broadcasting her image on Brooks Field at Wallace Wade Stadium's towering video board.
"It was a neat experience to get something like that from work and know that it's not work, they want you to have fun," Rhew said about the day.
Photos by Jared Lazarus, Duke University Photography.