The Easiest Way to Go
Campus boundary for GoPass bus rides expands to cover more of downtown Durham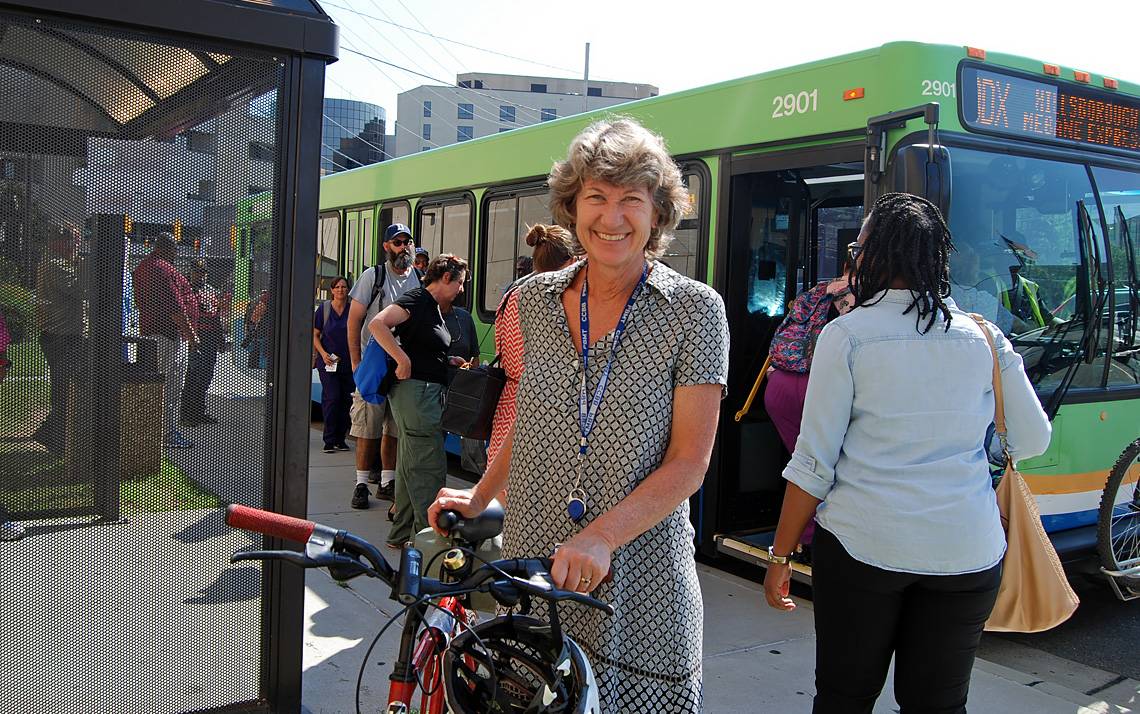 Prior to getting to Duke, Brent Stanfield lived in Baton Rouge, Louisiana. The heat and humidity down there meant his Trek 1000 road bike rarely made it out of the garage.
When he moved to Durham in January, he figured he'd forgo the expense of a Duke parking pass and work the bike into his commuting plan. For a while, it worked.
But when the days started getting hotter, he had second thoughts.
"Then it was just rainy for about a week and my wife was driving me to work," said Stanfield, a post-doctoral scholar in Duke's Department of Molecular Genetics and Microbiology. "It just got too complicated so I said 'I'll just go get a bus pass.'"
Stanfield bought a GoPass, giving him access to busses in the GoTriangle system, which covers most of the area. As a Duke employee who works within an eligible campus boundary, he got the annual pass for a discounted $25.
With the 2017-18 GoPass now available, other staff and faculty might be willing to follow his lead, especially with new adjustments to the program.
This year, the GoPass eligibility map for employees has expanded to cover more of downtown Durham, including the Chesterfield building and the offices of Duke Clinical Research Institute. The GoPass is free for students; eligible faculty and staff pay $25 per year. Alison Carpenter, transportation demand manager for Duke Parking and Transportation Services, said the number of rides taken by employees in the GoPass program has inched upward each year since Duke's involvement in the program began in 2011.
About 4,700 students and employees currently have GoPasses but that number is expected to climb above 5,000 during the academic year.
Carpenter said the broad area covered by the service – bus routes run to Chapel Hill, Hillsborough and Raleigh – is an attractive feature for many employees.
"People along these corridors certainly take advantage of the service," she said. "It's convenient and cheap."
Conor Artman, an associate in research at the Center for Advanced Hindsight, got his GoPass when he began taking graduate school classes at North Carolina State University. Artman, who bikes to his office in the American Tobacco Campus, found it simple to hop on a GoTriangle bus – which are all equipped with Wi-Fi – to head to Raleigh and back.
"The bus takes about the same amount of time, but you can use the Wi-Fi and do some work, which is nice," Artman said.
Deborah Wood often makes the same trip in reverse. The Training Coordinator for Carolinas Cord Blood Bank uses her GoPass to get from her Raleigh home to her office in North Pavilion.
"I ride my bike to the bus stop, put my bike on the front of the bus, get on the bus and hook up to Wi-Fi so I can work," Wood said. "I get in completely stress-free and it doesn't take any more time than driving. Then I ride my bike to North Pavilion and do the same thing in reverse in the evening. I absolutely love the bus."
Stanfield has also been won over by the bus. He said after getting his GoPass, he'll still occasionally commute by bike. But with the buses' air-conditioning and Wi-Fi, his bike is, for now, back to being mostly idle.
"I got a little lazy," he joked.