Commuting to Duke
Why these staff and faculty don't drive a car to work or commute alone to work
According to the U.S. Census, about 76 percent of U.S. workers drove to work alone in 2015.
At Duke, the situation is similar with most University and Health System employees driving solo to work. However, that trend may be changing. The Census noted that the Durham-Chapel Hill area was among large U.S. metro areas with the biggest decline (3 percent) in the rate of car commuting between 2006 and 2013.
Here are Duke faculty and staff who choose modes less traveled.
Jonathan Viventi, assistant professor, Biomedical Engineering
Mode: Electric Scooter
Residence: Durham
Round trip distance: 5 miles
Why this commute: "Fastest door to door commute possible, faster than driving since the parking garage is 0.4 miles from my office," Viventi said. He gets to work in nine minutes and doesn't pay for parking.
Fun fact: He rides a iMax S1. "It looks ridiculous," he said. "Not the coolest way to get anywhere." But the e-scooter travels 20 miles on a full charge and folds up, allowing Viventi to stow it in his office or in a car trunk.
Tips: "E-scooters and e-bikes can travel over 20 miles per hour. Wear a helmet!" he said.
Sarah Woodring, clinical research coordinator, Preston Robert Tisch Brain Tumor Center
Mode: Bicycle
Residence: Durham
Round trip distance: 8.5 miles
Why this commute: "Avoid traffic congestion and parking hassles," Woodring said. "Great exercise, nice transition between work and home." She has never owned a Duke parking permit. "I've been biking over 35 years," she added. "Anywhere I've worked, I've always biked."
Fun fact: "When you go down streets slower, you get to enjoy the scenery more," she said. "You also get to meet more people as you pass them daily. At certain times of the year, you get to enjoy the sunrise on the commute in." She sometimes finds money and gift cards on the ground and picks up nails.
Tips: "Use neighborhood and side streets as much as possible," Woodring suggested. "If you are unsure about a new route, try it on a Saturday morning to get a feel for it. If it feels unsafe to you then, it will definitely feel unsafe to you during the work week. Google Earth maps are great for finding short cuts between streets."
Kenari Yarborough, clinical trials assistant II, Duke Clinical Research Institute
Mode: Bus (GoDurham Route #20)
Residence: Durham
Round trip distance: 20 miles
Why this commute: For Yarborough, the decision is based on convenience and affordability. She drives about six minutes to a park-and-ride lot near her house and catches Route 20, which launched in August 2016 for Duke employees who live in South Durham. She uses the $25 deal through Duke for a GoPass, which provides unlimited rides on public buses. "I would much rather pay $25 a year for a GoPass and have plenty of time to read on the bus ride to and from work," she said.
Fun fact: "I was playing Pokémon Go on the bus and was the only rider," she said. "My phone went off to alert me to a Pokémon, and it was a rare one. The bus driver heard the alert … he stopped the bus (at an assigned stop) so we could both catch it."
Tips: "Make sure you get to your stop at least five minutes before, and always bring something to read, listen to (with headphones)," she suggested.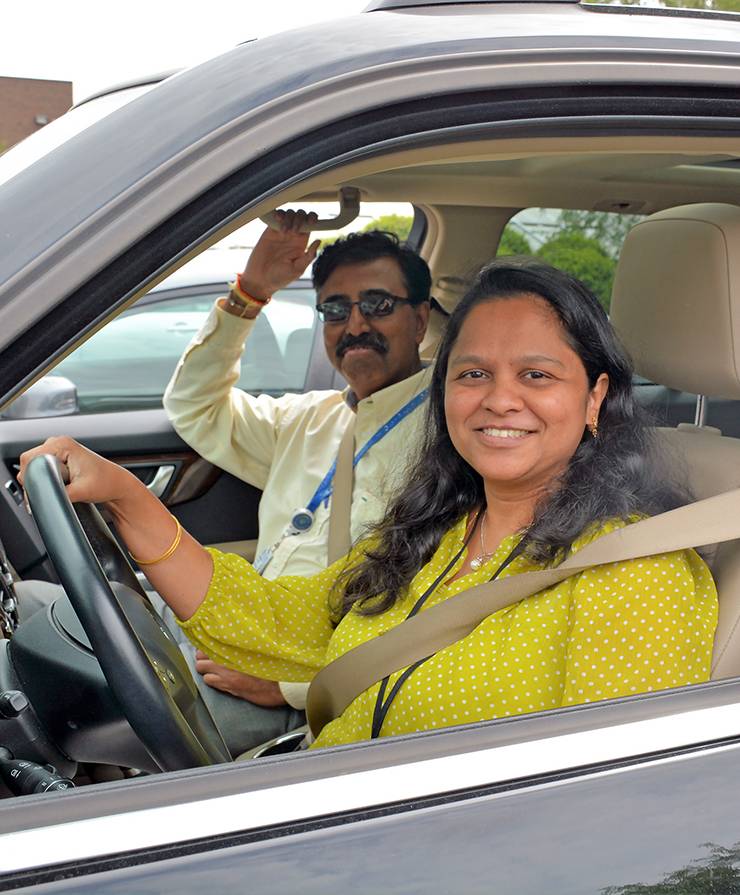 Prasad Kommaraju, IT analyst, Center of Excellence
Mode: Carpool (with Preeti Bala, seen at the wheel)
Residence: Cary
Round trip distance: 41 miles
Why this commute: With a two person carpool, Kommaraju's monthly parking permit fee at Duke Fitness Center is cut in half. He estimates saving about $100 per month in fuel by sharing the ride to work with colleague Preeti Bala. "We also do our part for the environment, causing less pollution," Kommaraju added. "It's
a huge help collectively, and less cars on the road means less traffic."
Fun fact: He parks in the lot at the Duke Fitness Center and walks to his office in the Hock building while enjoying the morning breeze. "It's good for my health to have a walk," he said. Kommaraju and his carpool partner each receive up to two free parking passes per month for when they need to drive alone.
Tips: Since Kommaraju's and Bala's homes are not far apart, the employees alternate weeks behind the wheel in their car, and the company is welcome. "We get to talk," Kommaraju said. "We talk about everything from politics to movies – mutual interests."
Debra Smith, staff assistant, Employee Occupational Health & Wellness (LIVE FOR LIFE)
Mode: Vanpool
Residence: Oxford
Round trip distance: 66 miles
Why this commute: It's cost-effective: Free parking at Duke, free fuel, free insurance, and free maintenance. "It's a savings for me and the wear and tear on my car," Smith said. She has been part of a vanpool since 2009 and organized her own vanpool as lead driver in 2011. Vanpool riders pay a monthly fee based on monthly round trip mileage, but since Smith is the van's primary driver, she does not pay anything.
Fun fact: Smith gives riders a two-minute grace period at the pick-up spot at Granville Corners. The van pulls out at 7:02 a.m. with a stop in Butner before arriving at Duke. "I have a nice group of riders and I enjoy listening to them talk amongst each other about different things," she said. "They are just a great group of people and I am so glad that they chose my vanpool."
Tips: To start a vanpool, you need to organize a driver and at least six riders, and based on your location, either GoTriangle or the Piedmont Regional Transit Authority will provide a van. "Establish the rules for your vanpool such as departure time, pick up location, grace period, backup drivers, etcetera," Smith suggested.
Commuting Options
Duke offers ways to save on fuel and parking fees while helping community members contribute to its mission of creating a more sustainable campus. Learn more about commuting programs and associated incentives, including the Emergency Ride Home program.