Blue Devil of the Week: He's Got Game
Kevin Jackson works to keep Duke games clean—literally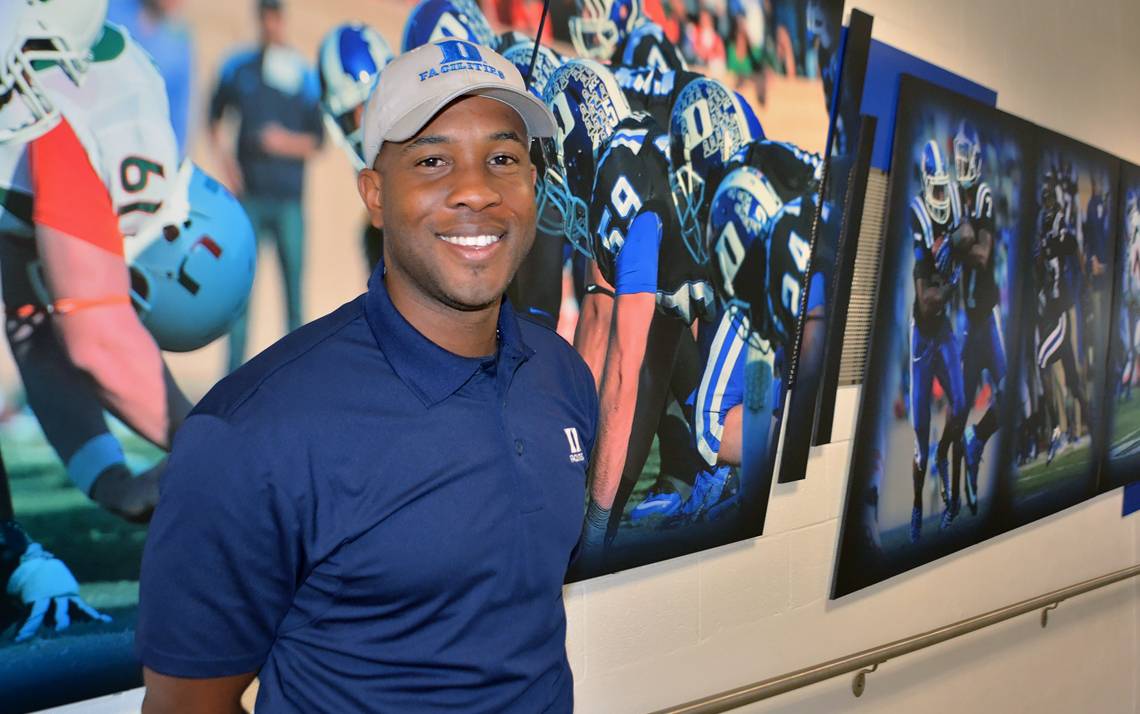 Kevin Jackson
Senior Supervisor, University Environmental Services
Years at Duke: One
What I do at Duke: Jackson supervises 30 employees who oversee housekeeping and custodial duties throughout Duke's athletic facilities. From Cameron Indoor Stadium to Brooks Field at Wallace Wade Stadium, Jackson's team cleans up after most major sporting events at Duke. The team also maintains facilities during off season. When you spend a few hours cheering on Duke football this Fall, Jackson's team will have already spent days preparing the stadium for game day –pressure washing restrooms, wiping down surfaces and vacuuming stadium suites, among other duties.
What I love about Duke: Jackson loves his job at Duke because it gives him a chance to be around what he loves—athletics. "I come from a sports background," Jackson said. Jackson, a Mebane, N.C. native, played football at East Carolina University from 2000-2003 (free safety, #27) before working in custodial service management after college. Jackson credits sports – he also played baseball, basketball and ran track – with teaching him the energy and discipline he applies to his job at Duke. "There's nothing you can't overcome," he said. "Everybody has a bad play. You can't dwell on it."
A memorable day at work: The day he met Duke Basketball Coach Mike Krzyzewski in an elevator, just a few months into his job. "I just introduced myself," said Jackson, who admits he was a little starstruck at meeting Coach K but wanted to keep the interaction short and sweet.
A unique item in his office: Jackson happened to be walking by as a basketball ball net was being taken down after a home game last year in Cameron Stadium. Tradition dictates that the winning team cuts down the net. Jackson was given the whole net.
First ever job: Jackson worked at a Finish Line shoe store in Burlington, N.C. during high school. Most of his money went to purchasing new Nikes and other name brands. "Every paycheck all went to shoes," he said.
Best advice ever received: "Never say anything when you're upset or frustrated. Once you say something you can never take it back." The advice is crucial for supervisors who wish to promote good morale, Jackson said.
Something most people don't know about me: The earbuds you see in Jackson's ears sometimes? He's not listening to music. He's listening to audio books. He tries to get through one book a month and prefers books about leadership and goal-setting. John Maxwell, who often writes about leadership, is a favorite author.
A sports figure he'd like to meet: Bo Jackson, a former baseball and football player, whom he admires for building a full after-sports life that included acting, education and a family after a painful hip injury cut the young star's professional sports career short in the 1990s. As a former high school and college athlete, Jackson relates to the struggle of building an identity outside sports once a career ends. "Either you live on past memories or you start a new path," Jackson said.
Nominate a colleague to be the next Blue Devil of the Week.