From Science to Drones, Duke Summer Camps Inspire Young Minds
When most students are away, campus becomes home to wide array of youth programs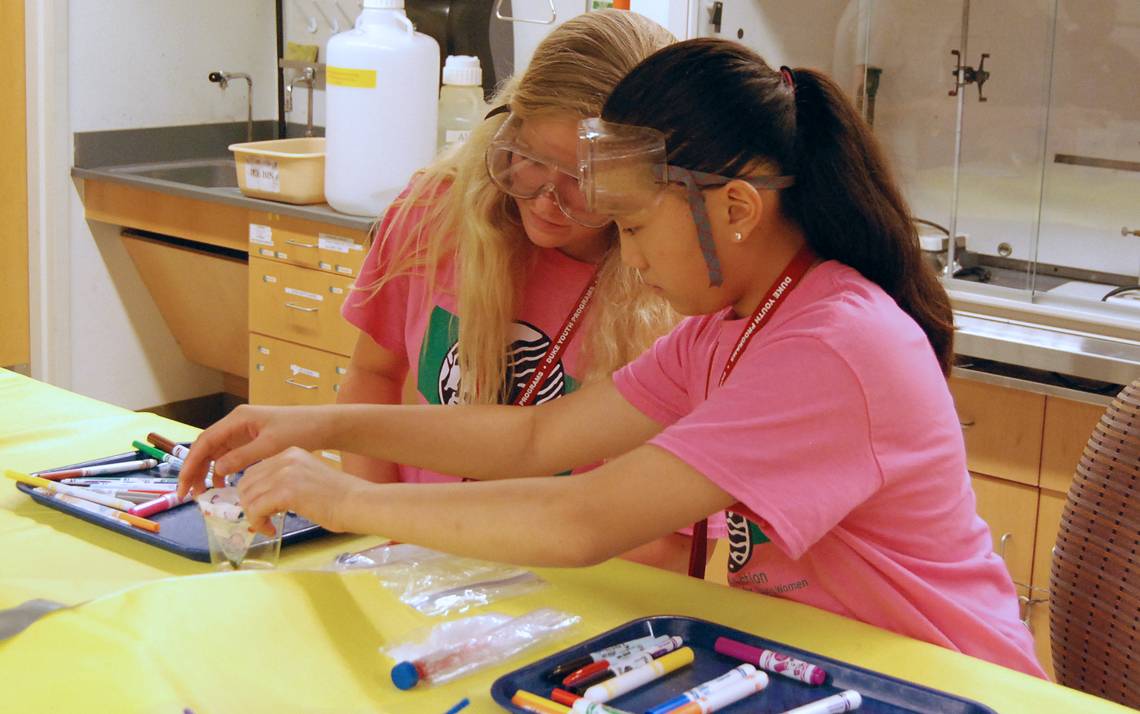 Susan Owens wasn't sure how her daughter, Elizabeth, would like the ACTION Science Camp for Young Women, which is held on Duke's campus each summer. After all, Owens stumbled upon it while signing Elizabeth up for Duke Women's Field Hockey Camp.
But after a few days at the two-week residential camp specifically for middle school girls, Owens, an assistant professor in Duke's Department of Pediatrics, knew she'd hit on something good.
"I can tell she's having a great time because she's not texting us," Owens said.
While much of Duke's student population is away for the summer, campers ranging in age from kindergarten to high school breathe life into campus. Between programs run by Duke Continuing Studies and others sponsored by varsity sports teams and campus entities, Duke offers more than two dozen camps.
They are inviting options for Duke employees because some programs offer discounts to staff and faculty looking for summertime activities for their children.
Owens was able to take advantage of those discounts when she signed her daughter up for ACTION Science Camp for Young Women.
On a recent Friday, Elizabeth Owens, 12 and fellow campers had a series of hands-on lab experiences provided by Dr. Ken Lyle in the French Family Science Center, learning about DNA and making synthetic polymers.
"The action is not just in the name, we're moving all the time," said camp director Randee Haven-O'Donnell.
Among the items on tap for the camp's second week were a field trip to Duke SEM Lab, the Duke Lemur Center and Becton Dickinson Technologies, a medical technology company in Research Triangle Park, where campers would work alongside and chat over lunch with women scientists.
"I've had a lot of fun," Elizabeth said, echoing the sentiment of many of children spending parts of their summer with Duke.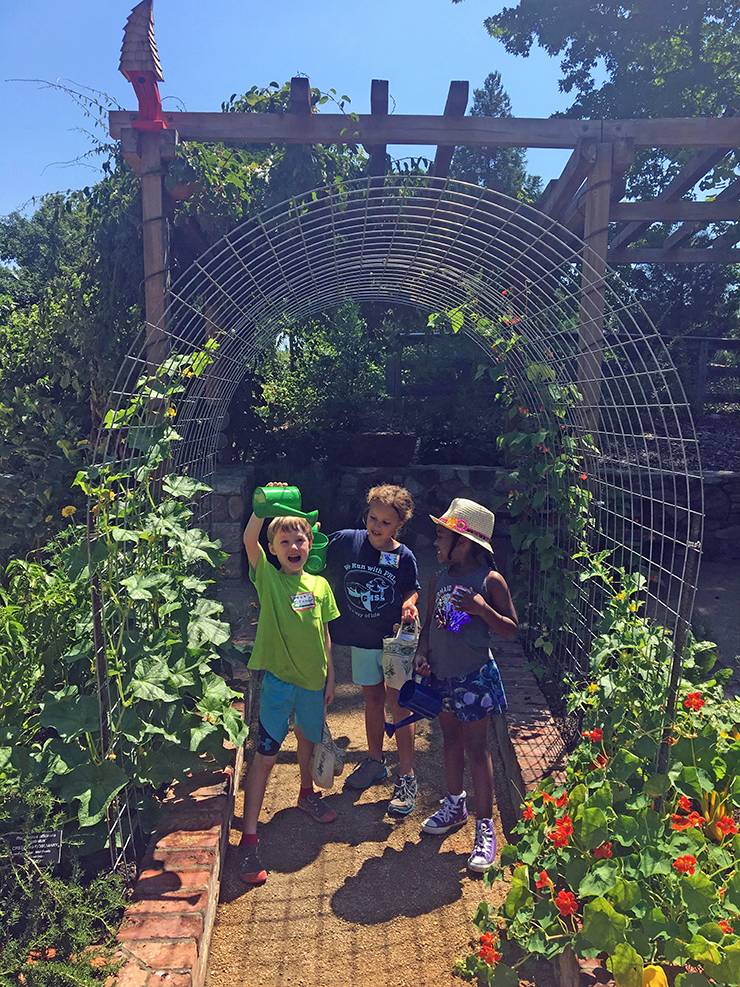 Getting close to nature
Like many parents, Leigh Fickling understands that it's not always easy to find the right summer camp. A perfect one would have to interest both of her seven-year old twins, Ava and Davis. Preferably, it would be affordable, nearby and have hours that fit with her work schedule.
"It's like looking for a unicorn," Fickling said.
But this summer, Fickling, director of Duke Disability Management System, didn't have to look too far.
Later in July, her children will spend a week at Inventions from Nature, one of Duke Gardens' Nature Adventure Camps, learning how humans borrowed great ideas from plants and animals.
Throughout the summer, Duke Gardens has camps geared to students from kindergarten to high school. Fickling was able to take advantage of a discount for enrolling more than one child.
And with the gardens close to her office, Fickling may have found her unicorn summer camp.
"We're excited about it and I think this is going to be a good experience for them," Fickling said.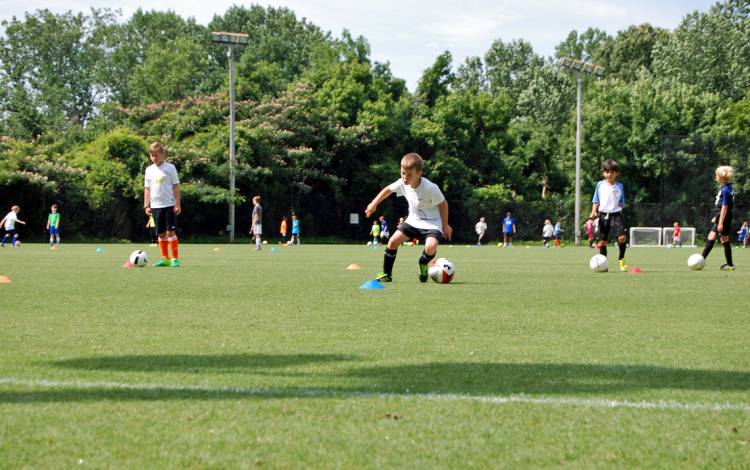 Easy choice
Earlier this year, nine-year-old Joel Doriocourt's classroom was turned into a wax museum. Dressed as historical figures, each student had to stand still until a button in front of them was pushed. Only then could they spring to life and talk about the person they'd chosen to be.
A soccer nut, Doriocourt chose Brazilian soccer great, Pelé.
"It was all him, he came up with that," said his mother, Oshrat BenMoshe-Doriocourt, senior research agreements manager at Duke University School of Medicine's Office of Research Contracts.
When it came time to make summer plans, sending Joel to Duke Soccer Camp was an easy call.
"It was obvious that he was going to go," Benmoshe-Doriocourt said.
Open to players ages 5-12, the Duke Soccer Camp turns the fields off of Cameron Boulevard into a hive of activity.
"The skill range is pretty broad," said George Tilley, camp director.
On one recent morning, Doriocourt shuttled between coaches teaching passing and dribbling. After each drill, Doriocourt walked off with a smile. Spending part of his summer immersed in his favorite sport was as fun as he expected it to be.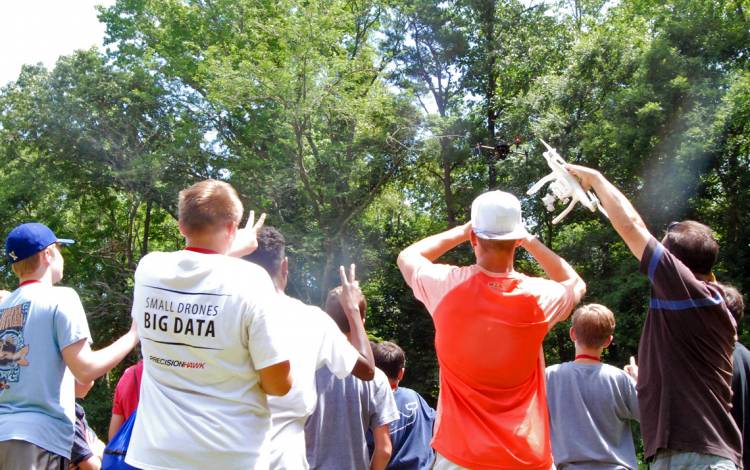 New ideas take flight
As the youth programs director at Duke Continuing Studies, Thomas Patterson oversees 16 camps that carry the Duke name.
"Every year I look for new offerings, new directions for the program," Patterson said, while standing in a field of knee-high grass near Duke Forest, staring up at a buzzing drone.
After being approached with the idea for Duke Drone Camp, Patterson decided to give it a try.
The vision for the camp was not only to learn to fly drones, but to find ways to use them to solve other problems. The campers learn how to use computer code to program flights and how to design and 3D print attachments that can turn the drone into a delivery device for medicine during an emergency.
"They've enjoyed having access to the technology and doing stuff with it," said director Jerry Yale, who devised the idea for the camp.
Done this summer as a pilot program, the camp surpassed its initial goal of 12 spots and will likely be offered again next summer.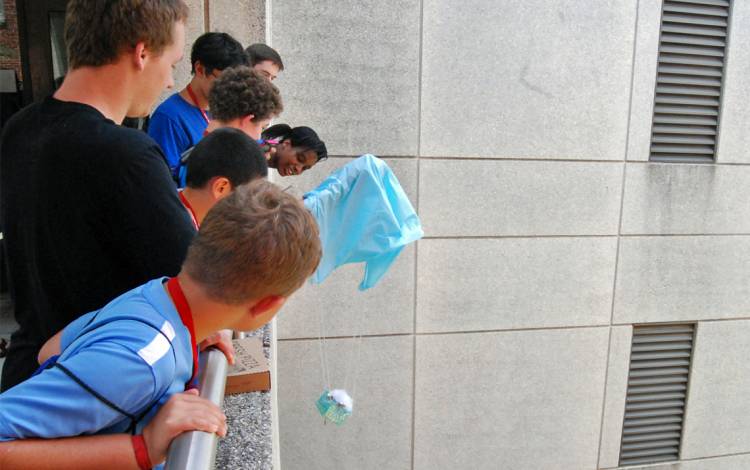 Fun spin on science
When Nathaniel Turner's team was building its project for the egg drop at the Biosciences and Engineering Camp for Middle School, it had to make some choices.
During an auction for materials, Turner's group bought masking tape, pipe cleaners, cotton balls and a segment of table cloth for a parachute.
But gravity wasn't the only concern as other teams could buy less desirable items, such as thumb tacks and small weights, and force their opponents to use them. That's how Turner's group ended up having to find a way to use push-pins.
"It was honestly pretty easy," Turner said. "We had a sponge on the bottom of our cup. We just stuck them into the cup and it didn't do anything."
Turner, the son of Ana Garcia-Turner, a research practices manager at Duke Eye Center, was able to shrug off the attempt at sabotage because, moments earlier, his team's egg had survived a fall from the walkway between Hudson Hall and the Teer Building.
The egg drop is just one of the many activities in the camp that blends science and fun.
The two-week camp begins with field trips and lab sessions and wraps up with teams tackling projects of their own design.
"It's fun, it's something I wish I'd gotten to do when I was younger," said instructor and Duke graduate student Happy Ghosh. "They do everything. They have a lot of laughs."