How to Run Effective Meetings
Stay on course, topic and time with these tips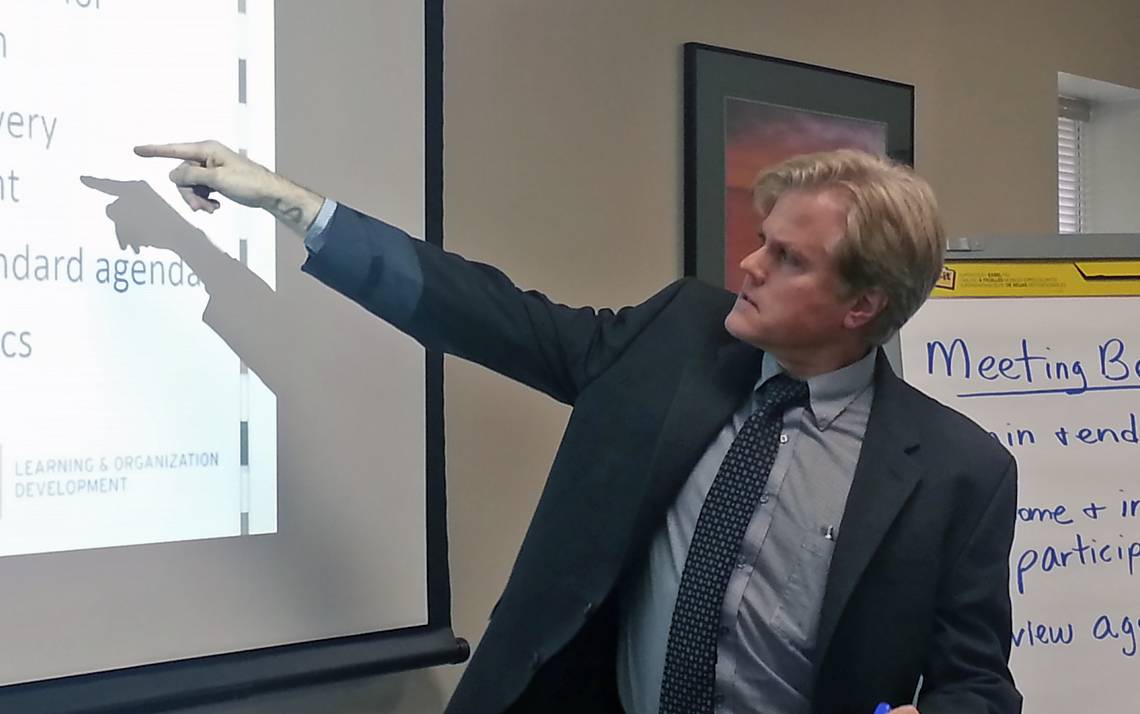 Daniela Cofoni noticed the meetings she helped manage at the Duke Clinical Research Institute were running off course, topic and time.
To learn more about facilitating, she took the "Managing Meetings Effectively" workshop offered by Duke Learning and Organization Development (L&OD). The training equipped Cofoni with ways to ensure meetings she helped lead for the institute's Professional Standards Committee are well-organized and effectively facilitated.
"If the meeting goes off track, the goal of the meeting goes off track," said Cofoni, a staff assistant with DCRI academic affairs.
L&OD is offering "Managing Meetings Effectively" half-day workshops on August 18 and November 14. Donald Shortslef, who teaches the L&OD sessions, and Melissa Bostrom, assistant dean for graduate student professional development at Duke Graduate School, suggest these tips for leading productive meetings.
Have an objective.
When considering a meeting, start with these questions: What is the purpose and desired outcome of the meeting? How will the success of the meeting be measured? Will there be a timeframe for goals set during the meeting? "The most important thing is having a clear objective to the meeting," Shortslef said.
Do you even need a meeting?
That should be the question before a meeting is even planned. Perhaps you don't need a meeting. Research done by Bain & Company showed that companies and executives spent up to 15 percent of an organization's collective time in meetings, a percentage that has been increasing over the years. Could email, a phone call or short one-on-one chat address the issue? Everyone's time is valuable. Only call a meeting if you absolutely need one.
If you must have a meeting, decide who should attend.
"A meeting needs to be a good use of time for everyone in the room," Bostrom said.
Think about the topic. Which employees can help you cover the angles? Do you need a frontline staff member, as well as policy makers? Also, can one staff member represent a department instead of inviting several people from one area?
"Ask yourself, who is going to contribute something valuable to the meeting?" Shortslef said.
Have an agenda.
Decide what topics will and will not be discussed ahead of time. Have a solid timeframe for the meeting, not just when the meeting will begin and end, but how much time will be allotted to each topic.
"A good agenda keeps you focused. It's easy to get side-tracked," Shortslef said. "An agenda gives you structure."
Send meeting agendas in advance.
"As much as possible, start on time and end on time," Shortslef said. "People aren't going to come to your meetings if they feel like they're never going to get out of there."
Prepare. Prepare. Prepare.
Ask presenters what tools they'll need. Send a meeting reminder at least 24 hours in advance. Have a checklist of materials and figure out what audiovisual equipment you or other meeting presenters will need. And set ground rules for the meeting, such as turning off smartphones. Know who you'll call for technical help if you have an audiovisual problem but also have display backups. For example, if a PowerPoint presentation has technical glitches, bring written materials to illustrate the presentation.
"Running a good meeting takes a good deal of planning and foresight," Bostrom said.
Stay focused.
During a meeting, know how to steer people back on topic. Shortslef suggests phrases like, "that's a great point, we'll discuss that later," for corralling off-topic talkers. Also, keep everyone engaged. Call on silent participants directly and invite input.
To register for "Managing Meetings Effectively" with L&OD, visit their website.