Employees Roam Near and Far on #DukeTimeOff
Summer photo campaign nears Aug. 11 finish line
Senior Public Relations Specialist Audra Ang didn't have to travel far to experience some summer beauty. She called her recent walk among a field of sunflowers in Raleigh "pure magic."
"There were so many people out there enjoying the endless rows of flowers, the golden light, the butterflies and bees," she wrote.
She also pointed out that the sunflowers were planted to soak up biosolids left over from wastewater treatment and produce seeds that will be used as biofuel.
"So there you go," Ang wrote. "A beautifully green solution."
Staff and faculty continue to share photos of their summer hobbies, activities and adventures as part of the #DukeTimeOff campaign, which ends Aug. 11. To be eligible for prizes that include a night at the J.B. Duke Hotel and dinner for two at the Washington Duke Inn, photos must be taken between May 26, 2017 and Aug. 11, 2017 and shared by current University and Health System staff and faculty.
Here are other recent submissions.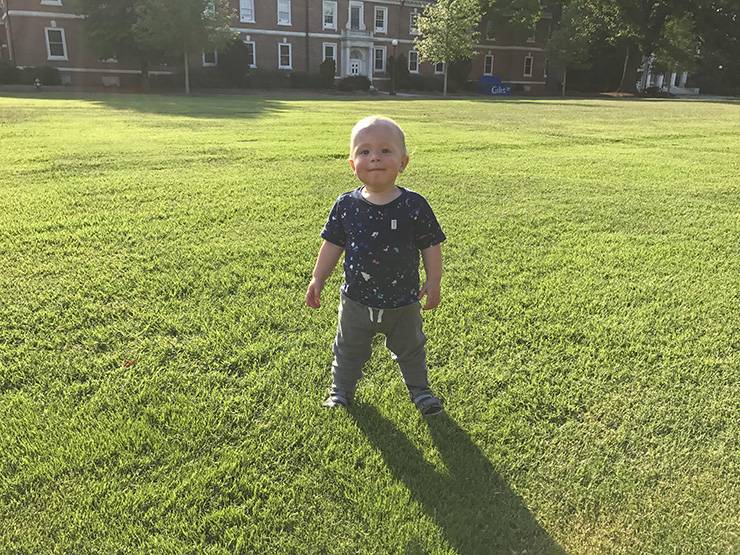 Associate Professor of Economics Allan Collard-Wexler and Visiting Assistant Professor of Psychology and Neuroscience Monika Bauer enjoy spending time on East Campus' spacious lawns with their 15-month old son Jacques.
They say Jacques enjoys running to his "heart's content."

Clinical nurse Pam Riggsbee O'Shea and master carpenter Andy O'Shea recently returned from a trip to France and Spain. One of their favorite spots was in Annecy, France.
"A quaint alpine college town with a glacier lake and sequoia trees," she wrote. "Very picturesque and relaxing."
Lindsay Gordon-Faranda, public relations specialist with Duke Children's Hospital, captured this view from the top of the 193-foot Cape Hatteras Lighthouse. She points out that, off in the distance, you can see Shelly Island, a roughly mile-long mass of sand which formed earlier this year and became the outer banks' newest addition.