Employees Create New Memories on #DukeTimeOff
Third winner selected in summer photo contest that goes until Aug. 11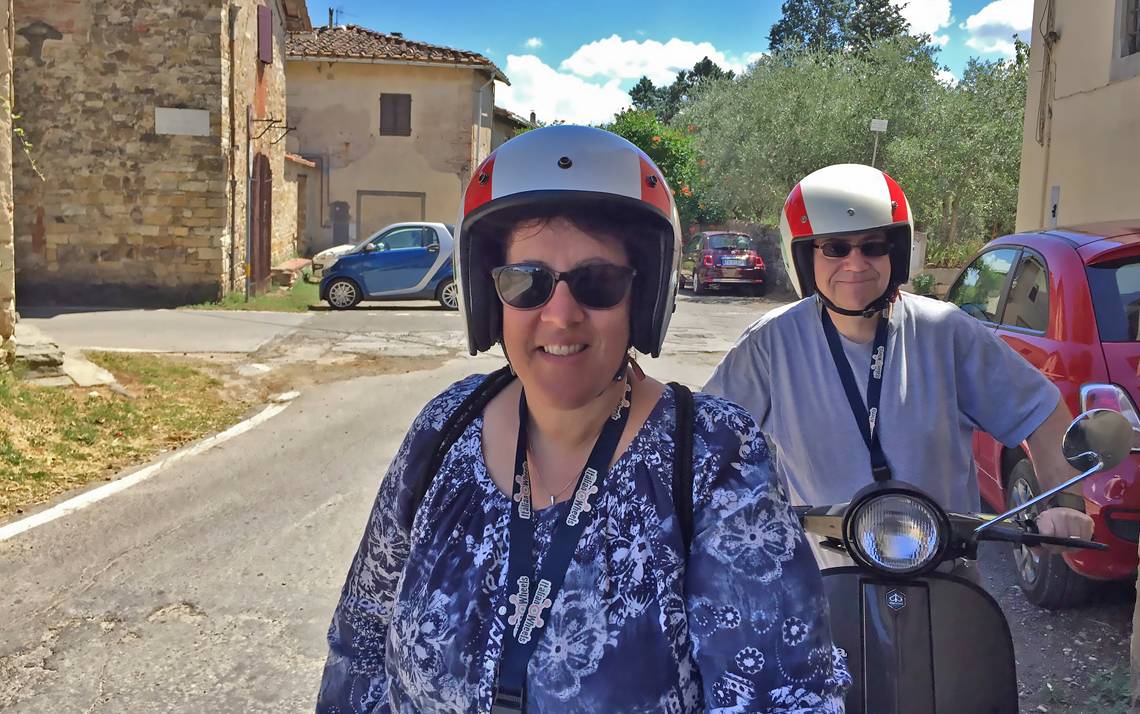 Lisa Eskenazi and her husband Daniel enjoyed some down time during the six days they spent in Florence on their two-week Italian getaway.
But Eskenazi's favorite part of the trip was when she got to zip around the nearby Tuscan countryside on a Vespa.
"I loved that Vespa tour," Eskenazi said. "I loved driving around on that moped. … You start in the old part of Florence and then you follow the leader through the hills of Tuscany."
The photo Eskenazi posted of the tour's stop near the San Miniato al Monte basilica was selected by Working@Duke staff as the winner of a Duke beach chair, courtesy of Duke University Stores.
Eskenazi, a clinical data operations manager at Duke Clinical Research Institute, has worked at Duke since 1992. She said this was a trip that she and her husband had wanted to do for some time. With both of their teenage daughters in summer camp, they decided this was the time to do it.
"It was really, really nice to reconnect," she said.
#DukeTimeOff, now in its seventh week, aims to highlight the hobbies, adventures and summer fun of Duke staff and faculty. The photo contest, which features grand prizes of a stay at the JB Duke Hotel and dinner at the Washington Duke Inn, continues to Aug. 11. To be eligible for prizes, photos must be taken between May 26, 2017 and Aug. 11, 2017 and shared by current University and Health System staff and faculty.
Here are some other memorable photos from the campaign.

Jeannine Sato, communications strategist with the Office of Information Technology, passed along this photo with her mother, Chris Neagle and her brother, Jeremy Neagle, taken during a recent stop in Colonial Williamsburg. She paired it with a picture (at left) of the trio from a similar trip 30 years ago.
"It was a fun flashback for us," Sato wrote. "We even went to dinner at the same place with a colonial fiddle player, same as 30 years ago"

Joy Searles of the Global Education Office for Undergraduates recently traveled to Columbus, Ohio, where she visited several family members. One of them was her Aunt Ethel, who is 108 years old. Searles sent in this photo of Ethel holding Searles' youngest grandchild, five-year-old Harper.
"It was amazing to watch these two interact with 103 years between them," Searles wrote. "It was truly love at first sight!"

Jacqueline Rimmler, a clinical research analyst at Duke Cancer Institute, posted these photos from a July hike on the Couch Mountain trail in Duke Forest. Rimmler said taking photos, especially of her time in nature, is a hobby. She called photography and painting, one her other pursuits, "great escapes for me."
"My husband laughs at the number of photos on my phone," she wrote.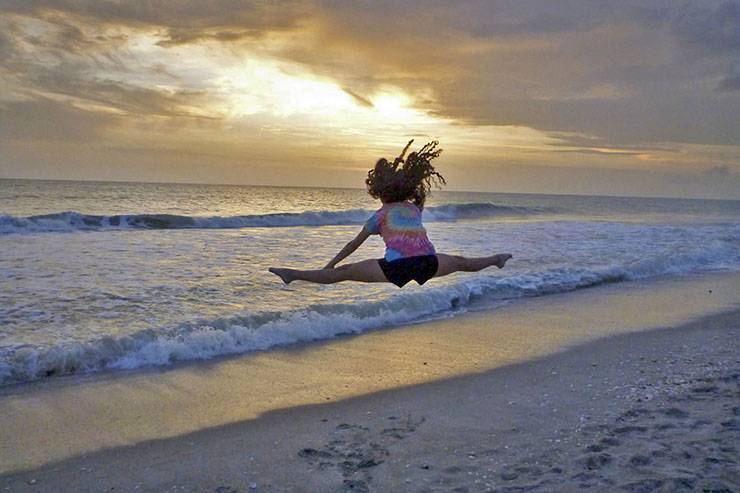 As a photographer with Photography, Jared Lazarus usually captures images of life at Duke. Here, he shares one from his life away from Duke. During a June trip to Florida's Captiva Beach, his daughter Caroline practices toe touches at sunset.
"The spring is non-stop for us in Duke Photography between reunions, departmental group photos, commencement and all of the other website projects," Lazarus wrote. "When late June rolls around and things begin to slow down, I am ready to get away from campus and recharge."
Ways to send your #DukeTimeOff pictures:
Share your picture using the #DukeTimeOff hashtag on Twitter or Instagram and note what you're doing and why time away from work is important. Be sure to mention @WorkingatDuke in your Tweet.
Post a photo and caption on Working@Duke's Facebook page [facebook.com/workingatduke]. Be sure to tell us why time away from work is important to you.
Upload a picture here.