Employees Combine Family and Adventure on Time Off
Share your #DukeTimeOff pictures through Aug. 11 for chance at prizes
Chris Thomas uses vacation time to combine family time with adventure.
In June, he traveled to Yosemite National Park with his wife, Jacqueline Morlando, a financial analyst with Duke University Hospital. They drove to Glacier Point and found that several inches of snow had fallen overnight. They stopped for a picture with Half Dome, a Yosemite icon, in the background.
"Going to a national park allows us to get away from the office, unplugging from computer, smartphones and other electronics and reconnect," said Thomas, who works at Duke University Financial Services, Administrative Systems. "We returned tired from the trip, but recharged from new experiences and time with family."
Submissions continue as staff and faculty highlight hobbies, adventures and summer fun in the #DukeTimeOff campaign. To be eligible for prizes like a stay at the JB Duke Hotel, photos must be taken between May 26, 2017 through Aug. 11, 2017 and submitted by current University and Health System employees. Entry deadline is Aug. 11.
Here's a look at some pictures through the fifth week of the campaign.
Alistar Erickson-Ludwig, assistant director of Duke's Master of Management Studies, shared this picture of a ferris wheel at the Ocean City, New Jersey, boardwalk. Every year as a child, she visited the boardwalk. Now, every time she visits, she rides the wheel. "This amusement park feels like it's never changed over the years," she said. "It's right on the water so you can feel the salt air, smell the caramel corn, and hear the sounds of music in the air." Vacation allows her to spend time with her parents. "It's an opportunity to relax, decompress, and is a reminder about how important family is in my life," she said.
Niki Barnett, a development officer with the School of Nursing, visited Little Italy in New York City for dinner during a recent trip to New York. "We took a long weekend to recharge, explore NYC, and take the girls on their first flight," she said. Why time away? "It allows you time to decompress and forget about the stresses of day to day life," she said. "An empty battery does no one any good."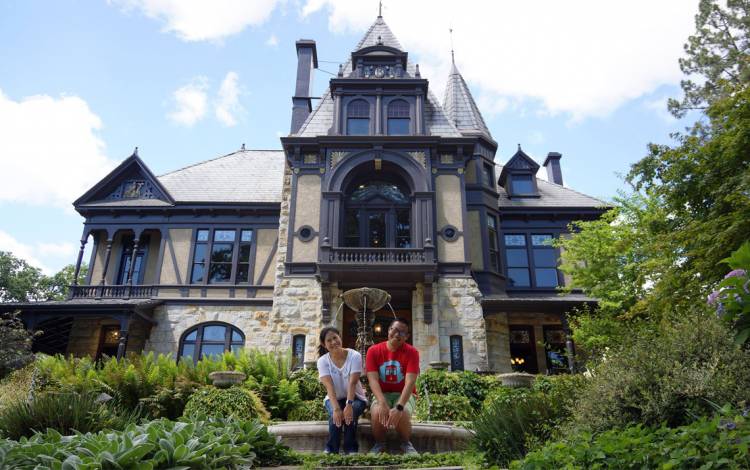 Yi-Lin Liao, a critical care nurse practitioner, visited Beringer Vineyards in Napa in June with her husband, also a Duke employee. They explored San Francisco, Napa and Carmel-by- the-sea with family and friends. "We (mainly me) enjoy taking cheesy photos together," she noted. "In order to focus on my career, it is important to take time off to relax, reset, explore and spend with your loved ones," she said.
Ways to send your #DukeTimeOff pictures:
Share your picture using the #DukeTimeOff hashtag on Twitter or Instagram and note what you're doing and why time away from work is important. Be sure to mention @WorkingatDuke in your Tweet.
Post a photo and caption on Working@Duke's Facebook page [facebook.com/workingatduke].
Upload a picture here.