Duke's Peaceful Places
Five spots where hustle and bustle give way to calm
The Murphy-Nimocks Meditation Garden is built to look like a vine. Curling around the side of the Duke Student Wellness Center, the narrow garden starts with a wooden yoga deck and meanders through lush plantings, a small fountain and quiet seating areas. It ends with a swirling labyrinth.
The deeper into the garden you go, the more you're enveloped by the green stillness of the surrounding Anderson Woods. Only steps away from some of West Campus' liveliest places, the garden is an enclave of calm.
"You have this quiet, peaceful, contemplative space right in the center of campus," said Thomas Szigethy, associate dean of Student Affairs and director of DuWell. "You're literally surrounded by some of the busiest buildings on campus, which really helps send a message that you can really have a busy hectic life and you can also have a tranquility about you as well."
If you know where to look, there are plenty of other places for those who seek quiet. From East Campus, to Duke Health System to Duke Forest, here are some peaceful places Duke has to offer.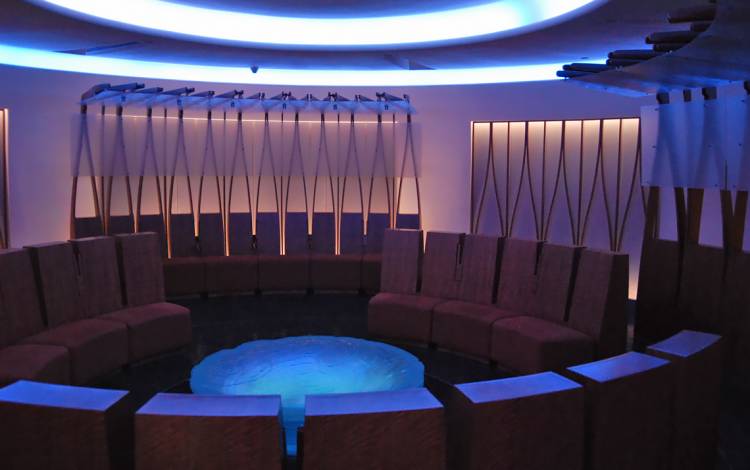 Duke Cancer Center Quiet Room
More than a decade ago, when the Duke Cancer Center was being conceptualized, focus groups of patients and caregivers were asked what they'd like in a facility built especially for people enduring taxing fights against the disease.
One idea: a calming, peaceful space that could be whatever it needed to be.
When the building opened in 2012, that idea became Duke Cancer Center's Quiet Room. A circular space of roughly 800 square feet, the room features soft lighting and calming music. At its center is a sculpture modeled after raindrops hitting water.
The space is used by patients who visit the center for treatments and by staff and caregivers in need of a recharge. It's also home to classes on meditation and tai chi.
"There's no connotation, there's no sign-up, you don't have to talk to anybody, you can just go," said Kristy Everette, Duke Cancer operations supervisor. "It's not limiting."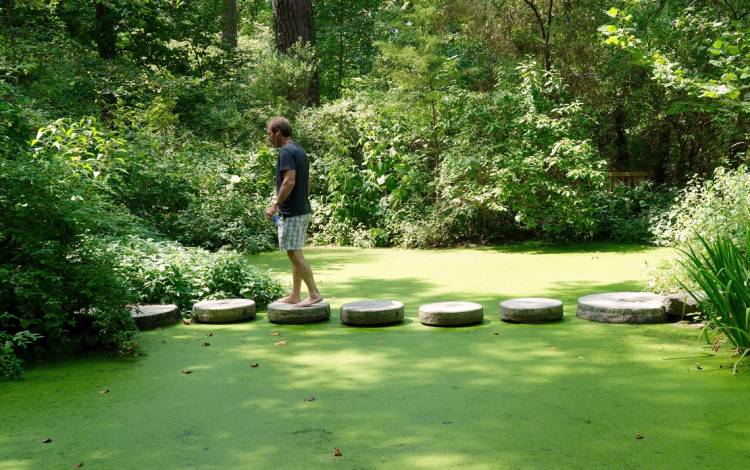 Sarah P. Duke Gardens
Covering 55 acres just steps from the heart of West Campus, Sarah P. Duke Gardens is Duke's jewel box.
Since it officially opened in 1939, Duke Gardens has been one of the most visited sites on campus. With a web of trails weaving around ponds and terraces and snaking through gardens filled with native plants, Asiatic species and kaleidoscopic arrays of flowers, finding a quiet spot is never hard.
"One of the amazing things about the design of the garden is that there are so many nooks and crannies where you can sit quietly and be surrounded by the sound of water or birds or frogs croaking," said Kavanah Anderson, Duke Gardens education program coordinator. "It's really easy to forget that you're essentially in the middle of a city,"
Stagg Pavilion
While the center of East Campus is a busy quad surrounded by residence halls, Lilly Library and the East Campus Union, the outer edges of the campus are defined by oak-shaded lawns. At the center of one lawn is Stagg Pavilion, a small stone gazebo that's been a quiet spot to sit and rest for more than a century.
The pavilion – also known as the East Campus Gazebo – was built in 1902 with money donated by Mary Duke Lyon Stagg, granddaughter of Washington Duke. In 1916, after her husband, James E. Stagg, a trustee of then-Trinity College, died the previous year, the Board of Trustees passed a resolution of appreciation for him, saying the copper-roofed, octagonal gazebo that bore the Stagg's name "will remain as a constant and beautiful reminder to present and future generations of Trinity College."
Duke Forest's Rhododendron Bluff
Standing above a bend in New Hope Creek, Rhododendron Bluff is one of Duke Forest's most popular and peaceful spots.
The rocky outcrop gets its name because of the Catawba Rhododendron plants that grow wild there, despite Duke Forest – which covers 7,052 acres in Durham, Orange and Alamance Counties – being on the extreme eastern edge of the specimen's range.
Accessible from Gate 26 off Whitfield Road, visitors can now take advantage of a recently-renovated trail to the bluff.
"In addition to the unique ecosystem, what makes the Rhododendron Bluff special, is the pristine view of New Hope Creek, and the opportunity to get lost in nature," said Duke Forest Operations Manager Jenna Schreiber when asked what makes spots such as the Rhododendron Bluff special. "The forest is an oasis for plants and animals, but also for people to get out and enjoy our natural world."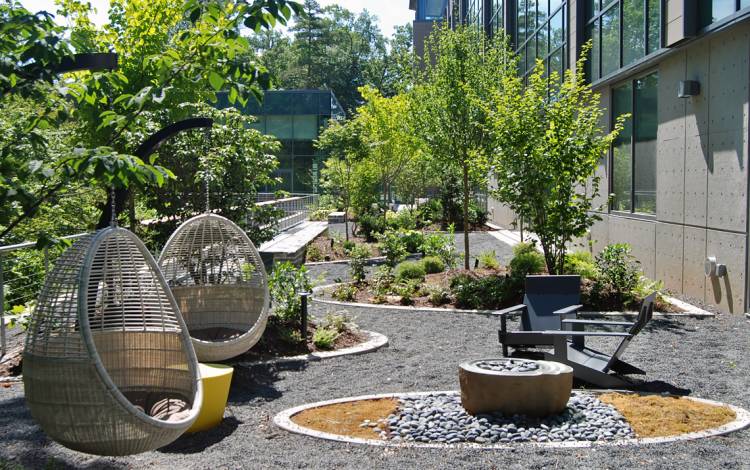 Murphy-Nimocks Meditation Garden
While some of these spots have been around for decades, the Murphy-Nimocks Meditation Garden is still very new.
Szigethy said the garden, which opened in the Duke Student Wellness Center in late February, was designed as a counterbalance to the bustling communal spaces on campus. And judging by the students he often sees curled up in the private egg-shaped chairs or resting on the tucked-away wooden benches, he feels the garden has reached its audience.
"The idea was to provide a contemplative space," Szigethy said. "There is so much space at Duke that is focused for the extrovert and large gatherings."