Blue Devil of the Week: She's a Rare Find
Kate Collins serves researchers in David M. Rubenstein Rare Book and Manuscript Library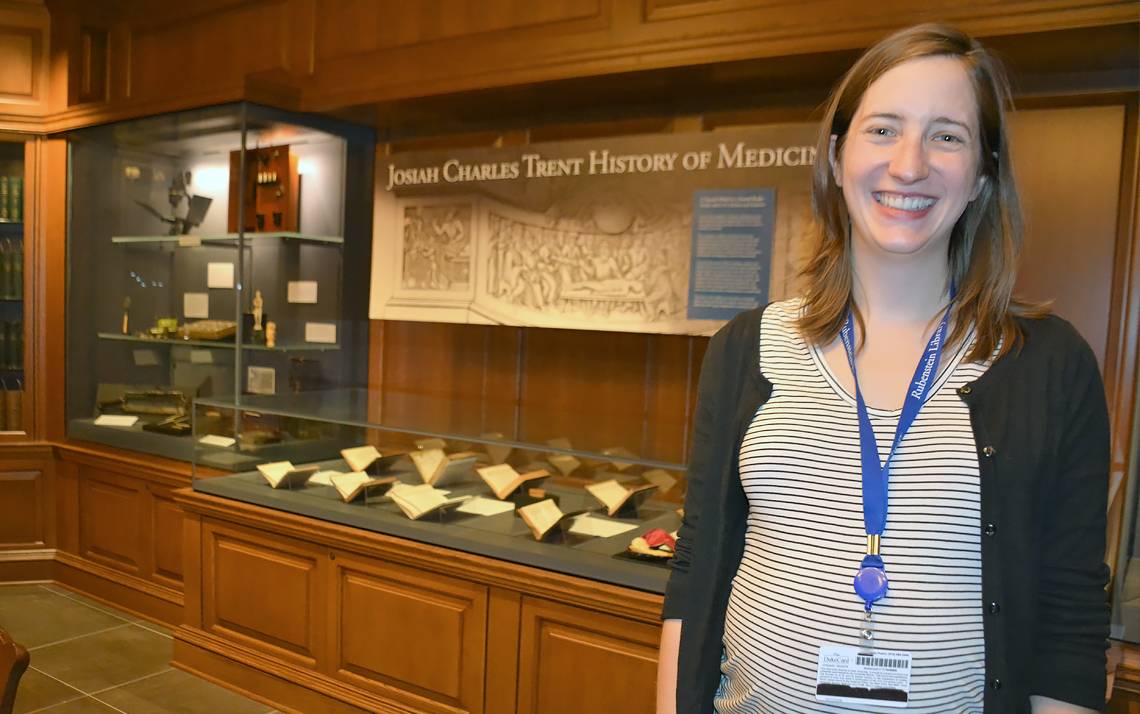 Kate Collins
Research Services Librarian in the David M. Rubenstein Rare Book and Manuscript Library
Years at Duke: Four.
What I do at Duke: Kate Collins assists researchers interested in rare books and manuscripts contained in the David M. Rubenstein Rare Book & Manuscript Library. Researchers run the gamut from local high school students to Duke faculty members and scholars from around the world. Because the library's collections and researchers who use them are so diverse, Collins has no "typical" day. "One day I might help a genealogist trying to track down an ancestor's diary, examine a 15th century book to answer questions for a book history scholar in Europe and meet with an undergraduate student researching activism the civil rights movement in North Carolina," Collins said.
What I love about Duke: "I'm a curious person. Being able to work somewhere where that curiosity is continually refreshed is great," Collins said. Collins studied history and English at Vassar College before receiving a master's in library science from University of North Carolina at Chapel Hill. She's delighted to work in a library with a prestigious and rare collection. The Rubenstein Library currently holds more than 350,000 rare books and 10,000 manuscripts, ranging from millennia-old clay tablets to information being tweeted out today. Some of Collins' favorite Rubenstein pieces include a collection of letters written by enslaved people in the antebellum South, as well as the library's "History of Medicine" collections, which feature centuries-old medical documents and instruments.
A memorable day at work: For Collins, diverse days full of lots of duties are memorable days. During a recent memorable day, she worked with a team digitizing business and personal papers from the 19th century in the morning. During the afternoon, she worked a desk shift in a very busy library reading room. In between, she helped a group of Duke students research short story publications in 1800s periodicals. Touching such history—literally – is a favorite perk of the job. "In one sense, it makes you feel very small and insignificant but also very connected," she said. "You're just one anchor in a long chain of history and you are connected to everyone else in that chain."
Historical food side project: An editor of the Rubenstein Library's blog, Collins started the "Test Kitchen" series in 2014. In the series, library staff test historical recipes they've encountered throughout the library's collections. Collins cooked one recipe, an 1870 recipe for sweet potato custard from The Rural Carolinian magazine. "We'd seen projects like "Cooking in the Archives" out of the Kislak Center at the University of Pennsylvania, and started thinking about all of the recipes we'd encountered in our collections and that it could be fun to try them out," Collins said.
First ever job: "I was a clerk at a farm stand produce market. It was my first job where I learned how to provide good customer service."
Best advice ever received: "To be the person you want to be. Put out into the world what you want to see."
What she reads: "Not surprisingly, I've been reading a lot of pregnancy books," joked Collins, who is expecting her first child, a baby girl, in July. A recent non-pregnancy favorite is Jhumpa Lahiri's "The Lowland."