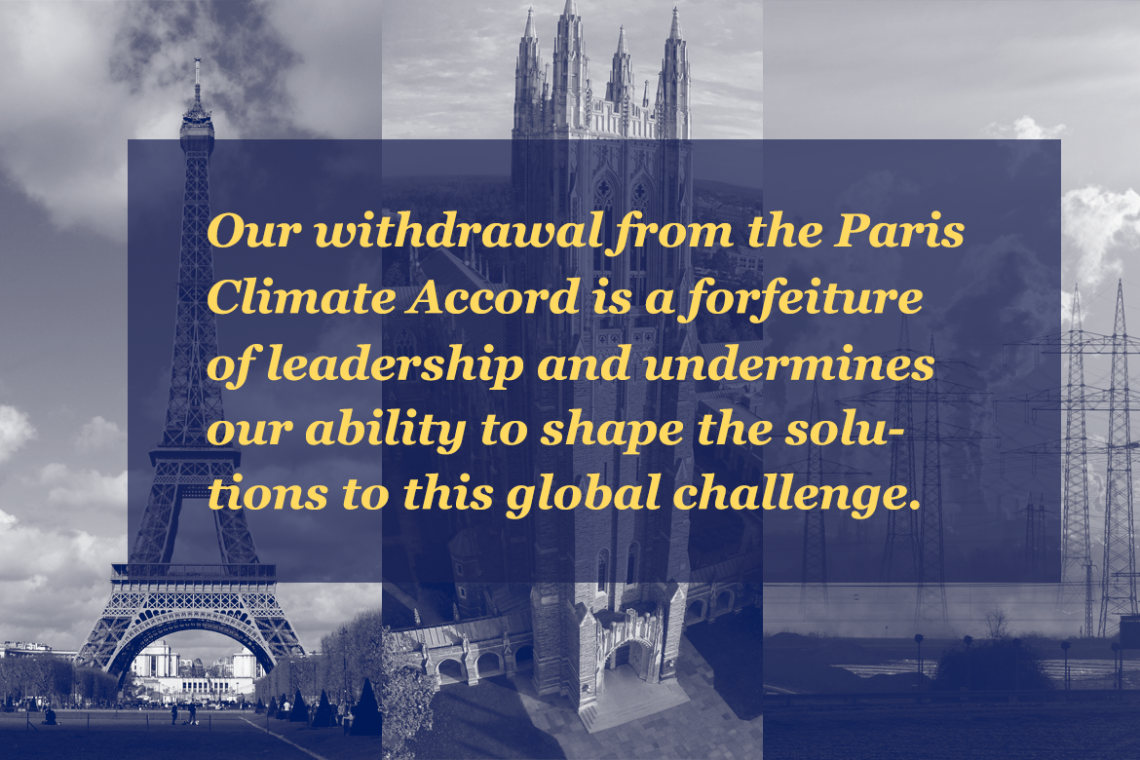 We are the leaders of four units at Duke University that collaborate on advancing an accessible, affordable, reliable, and clean energy system for our state, our country, and the world. We regard this challenge as one of the most pressing questions facing society in the 21st century, and one on which we should all be focused.
We pursue our goal by educating the leaders of tomorrow, conducting research that leads to innovative energy solutions, and engaging with decision-makers in the public and private sectors to turn this knowledge into practice.
Our approach transcends political ideology.
With that in mind, we are deeply concerned by the action that President Trump has taken to withdraw the United States from the Paris Climate Accord. The President's decision runs counter to prodigious evidence on the science and economics of climate change. This body of evidence indicates that the risks from climate change are real and that the benefits of actions mitigating these risks justify the costs. We believe that the United States, the world's largest economy and its second largest emitter of greenhouse gases, must lead in the efforts to counter the risks posed by climate change. Our withdrawal from the Paris Climate Accord is a forfeiture of that leadership and undermines our ability to shape the solutions to this global challenge.
We remain committed to identifying and advancing ways for energy to be produced and used more efficiently and cleanly, in a manner that will make our economy and environment prosper, while considering and accounting for the disparate impact of the energy transition across vulnerable populations. This mission endures through sudden changes in the political winds. We remain steadfast in our willingness to work with scientists, business leaders, and policymakers across the political spectrum to find energy solutions that create economic opportunities, improve lives, and protect our environment.
Kelly D. Brownell
Dean, Sanford School of Public Policy
Brian C. Murray
Director, Duke University Energy Initiative
Tim Profeta
Director, Nicholas Institute for Environmental Policy Solutions
Jeffrey R. Vincent
Stanback Dean, Nicholas School of the Environment