Ready to Save a Life
Duke installs automated external defibrillators in key buildings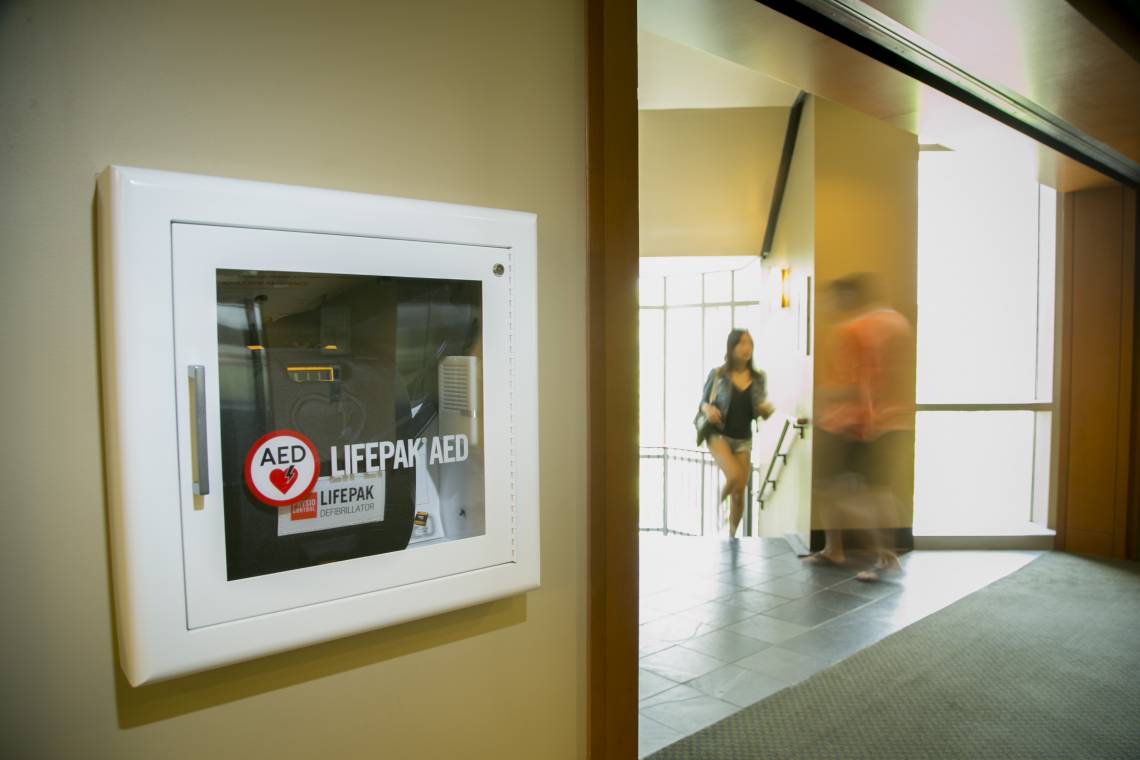 Deep in Perkins Library, tattered books sit on shelves in the Verne & Tanya Roberts Conservation Laboratory, waiting for their turn to be repaired.
Near a worn volume of Hieronymus Bosch's work, a beefy ledger of the "Transactions of the Zoological Society of London: June 1866-Nov. 1869" needs attention. Someone tried to repair it with packing tape.
Head of Conservation Services Beth Doyle and her crew have everything necessary to bring these books back to life.
Now, they've got something that can do the same for people there to read the materials: automated external defibrillators.
In 2015, George Grody, an instructor at Fuqua School of Business, suffered a heart attack just down the hall from Doyle's office. Three students, all Duke University Emergency Services volunteers, were nearby. They grabbed an automated external defibrillator (AED) from their Quick Response Vehicle parked outside and used it to save Grody's life.
The incident came at a time when university leaders were already taking a look at where to install additional AEDs on campus, a desire voiced by many in an assessment.
"Should we be doing something more just in case?" said Wayne Thomann, Duke's director of occupational and environmental safety, of the sentiment he encountered while working as a member of Duke's Emergency Management Steering Committee.
The committee's plan put AEDs in key campus buildings, placing a priority on those with the heaviest traffic. The first wave of installations is complete, and the committee is reviewing requests for more units.
If you're in an AED-equipped building like the Brodhead Center, formerly called West Union, or Duke University Chapel, you're less than a 90-second walk away from a device. The AEDs guide users with voice commands and, in some cases, automatically alert emergency responders.
Numerous university staffers – like Doyle – have received instruction on the device as part of hands-only CPR training.
"The training demystifies this," said Lou Ann Martin-Rogers, a human resources department manager at Fuqua. "… I've never had to use it, but I feel like I could."
Grody's story hit home with the Fuqua community. Associate Dean for Finance and Administration Jill Tomlinson said that after hearing about his emergency, she made sure Fuqua was among the first places to receive AEDs. Six now reside in the building's sunlit hallways.
"Thank goodness he was at the library when that happened because we would not have been as prepared," Tomlinson said. "Now we are."
At Perkins Library, there are four units. Near where Grody was teaching and where library conservators work, one waits for the moment when the device – along with anyone called upon to use it – can save a life.
"It's something I could do if I was in the wrong place at the right time," Doyle said.