Duke in DC 'Internship 101': A Master Class in Navigating the Capital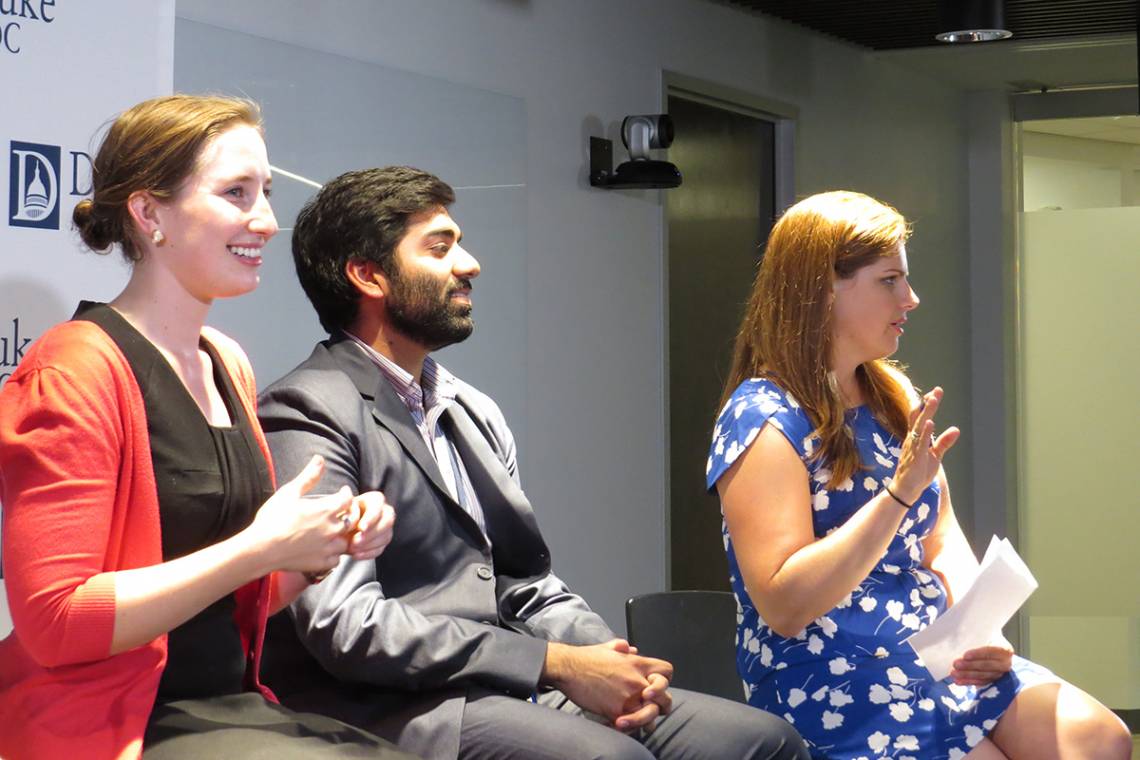 Duke students interning this summer in Washington, D.C., received a closed-door conversation on how to ace their internships at a Duke in DC's "Internship 101" panel on June 21.
Duke annually sends more than a hundred undergraduate students to the nation's capital each summer to gain professional experience. This year's cohort heard advice from several successful Duke alums working in Washington across different industries: Caleb Ellis (T'16) spoke about public relations, Becca Ward (T'12) shared life on the Hill, Vinesh Kapil (T'14) led the global health conversation, and Kim Hanauer (T'02, MA'14) shared her experiences working in K-12 college preparedness.
"Develop your elevator pitch. Develop your personal narrative. Because we're human, and we remember stories," said Ward, legislative assistant to Sen. Jeff Merkley (D-OR). Half the battle in networking is being memorable, Ward said, and she offered guidance on how to present oneself not simply as a person looking for help, but as a story with something to offer.
Speakers also emphasized how to develop professional relationships over an extended period of time. Kim Hanauer, director of college preparedness for District of Columbia Public Schools and a former Duke employee, offered tips about how to approach intimidating, highly successful professionals.
"It's OK to follow up later," Hanauer said. "It's OK to pursue someone from an event and make the effort to have a conversation. Relationships are about effort and putting in the time for other people."
The goal of the "Internship 101" panel was to help Duke students, who excel in skills such as computer programming, financial modeling, report writing and critical thinking that are all needed in Washington, and add professional training not regularly taught in university classes. The session helped students learn how to reach out to alums, follow up on coffee chats and pursue professional conversations. The expectation is by the end of the internship, the students will be on their way to successfully navigating the professional world.