Blue Devil of the Week: Keeping Duke In Power
High Voltage Specialist makes sure Duke's electric grid keeps running, growing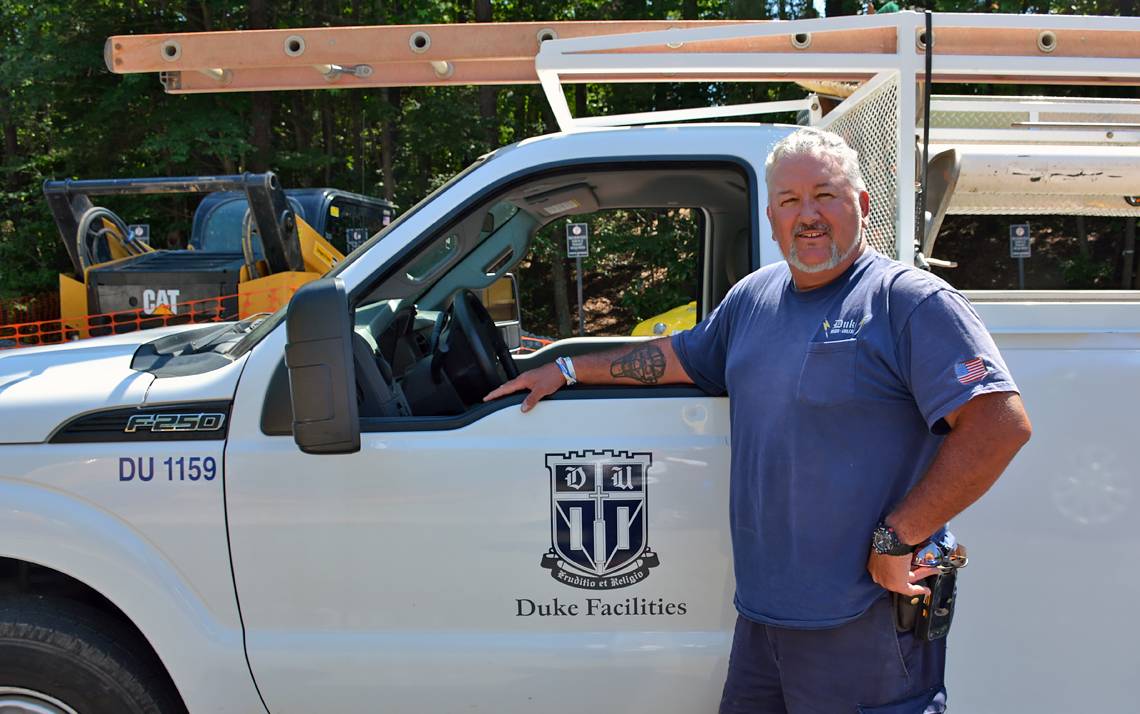 Name: Emmett Dullaghan
Position: High Voltage Electrician Specialist
Years at Duke: 31
Won the Presidential Award earlier this year for his outstanding job performance and contributions to Duke.
What he does at Duke: Coursing around Duke's campus and the Duke Health System is a loop of high voltage electric current. In order for it to be used, power from the loop, which is carried on heavy cables and hits seven substations, has to be broken down to lower voltages by transformers and fed into buildings and exterior lights. Making sure that grid is running perfectly, and that it adjusts to the needs of a growing campus, is the job of Dullaghan and the rest of his 10-person team.
"We do everything," Dullaghan said. "We put the pipe in the ground, we pull cables through them. We test the cables. We test the transformers. We install meters on the transformers."
What he loves about Duke: "I love being outside. I love the work that I do. I love the satisfaction of building the high voltage system and testing it. … Just the satisfaction of building a system, watching it work and knowing that it will help the Duke community keep its power running 24/7."
A memorable day at work: Dullaghan fondly recalls each step he took up the ladder of rank, picking up responsibilities – and even his own work truck – along the way. He can also point to the day, earlier this year, when he received the Presidential Award for exceptional service.
Another memorable day came last year when a transformer went bad on campus, causing a power outage in a building on the medical campus.
"We worked 26 hours straight rebuilding," Dullaghan said. "We had to get another transformer, pull new cables. We had to test. We did all that. On top of that, it rained on us. But, the entire crew stayed for 26 hours and we got it back on."
A special object/memorabilia in his workspace: When working with electricity, safety is the primary concern. So the tool that Dullaghan leans on the most – among other safety-related items - is called a Tic Tracer, a sensor mounted on a telescoping fiberglass pole that beeps if it detects electrical current.
"When we cut power off, the tracer will alert us if there is still power on," Dullaghan said. "We test it two or three times. I'll test it and then my partner will test it with his just in case one's not working properly. … Everybody on the crew has one. It's our saving grace."
First ever job: His first job was as an apprentice with Bryant-Durham Electric in Durham. He was there less than a year before landing a job at Duke.
"I had done some electrical trades classes in high school and I thought I'd give it a shot," Dullaghan said. … I just thought electricity was interesting, how you design it. In high school, we made little electrical boxes and we'd run pipe and stuff like that. I thought it was pretty interesting."
Best advice received: "Never take anything for granted, always check it yourself," Dullaghan said. "Even if I've been working with this guy my entire life and I trust him with my life, if he says 'That's off,' I'm going to get my tracer out and I'm going to hit it anyway. It's not out of disrespect, it's out of safety."
Something most people don't know about him: At one time, Dullaghan was a standout outfielder and hard-throwing right-hander for North Durham High School's baseball team. For more than 20 years, he's indulged his passion for the sport with his side job as an umpire for the North Carolina High School Athletic Association.
"You have to have a lot of time in the game," Dullaghan said about what makes a good umpire. "The only way you get better as an umpire is to learn from your mistakes, because every umpire makes mistakes on the field."