PUBLISHED
Matt Alston: Coding and Research With an Eye Toward Silicon Valley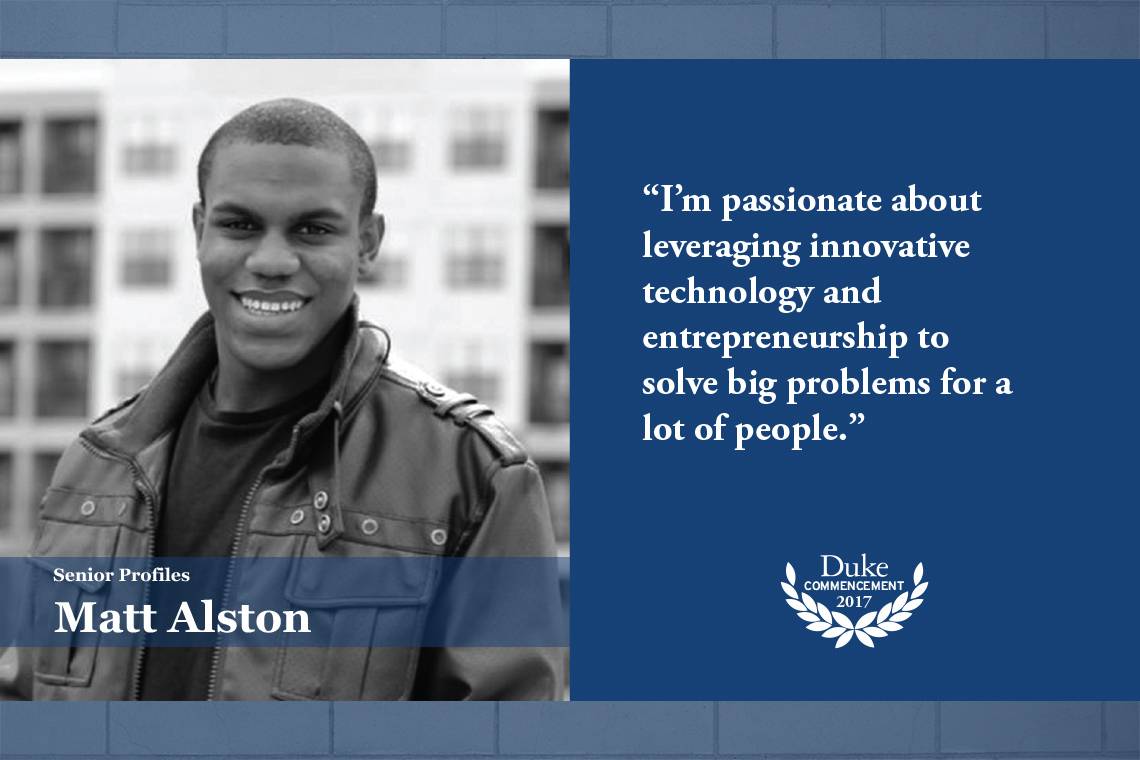 Matt Alston
Hometown: Atlanta, GA
Major: Computer Science (B.A)
Minor and any certificates: Innovation & Entrepreneurship certificate
Clubs/Organizations: Sigma Nu Fraternity, Catalyst, Duke Women's Basketball Practice Team
Post-Graduation Plans: Associate Product Manager (APM) at Uber and KPCB Product Fellow
Favorite Duke memory: My favorite Duke memory is spending the summer in Mountain View, CA, learning the disruptive innovation frameworks for entrepreneurship, and visiting several Silicon Valley tech companies through the Duke in Silicon Valley program.
When asked about what drives him, Matt Alston will tell you that it's all about the interface between humans and technology. "I'm passionate about leveraging innovative technology and entrepreneurship to solve big problems for a lot of people," he said.
This passion is evident in the activities Matt participated at Duke. Through internships, he's served as a growth analyst for a Silicon Valley startup named Zana, and as a business software engineer for Goldman Sachs in New York City.
Commencement Website
Matt, a Reginaldo Howard Scholar, is also committed to research. He was selected as a Howard Hughes Summer Research Fellow, and was placed in Warren Grill's biomedical engineering lab. It was here that Matt had his first experience as a coder, for a program to analyze pain maps of chronic back pain patients for spinal cord stimulation treatment. He came away from this experience excited about the problem-solving nature of programming and switched his major from neuroscience to computer science.
Upon graduation, Matt will join Uber in San Francisco as an associate product manager. Matt was also selected as a Kleiner Perkins Caufield Byers (KPCB) Product Fellow. According to its website, the KPCB Product Fellows Program is "dedicated to building and working on technologies, products, and companies that will help people and make a meaningful difference in the world that we live in."