PUBLISHED
Lauren Blanchette: Building Education Opportunities for Girls in Appalachia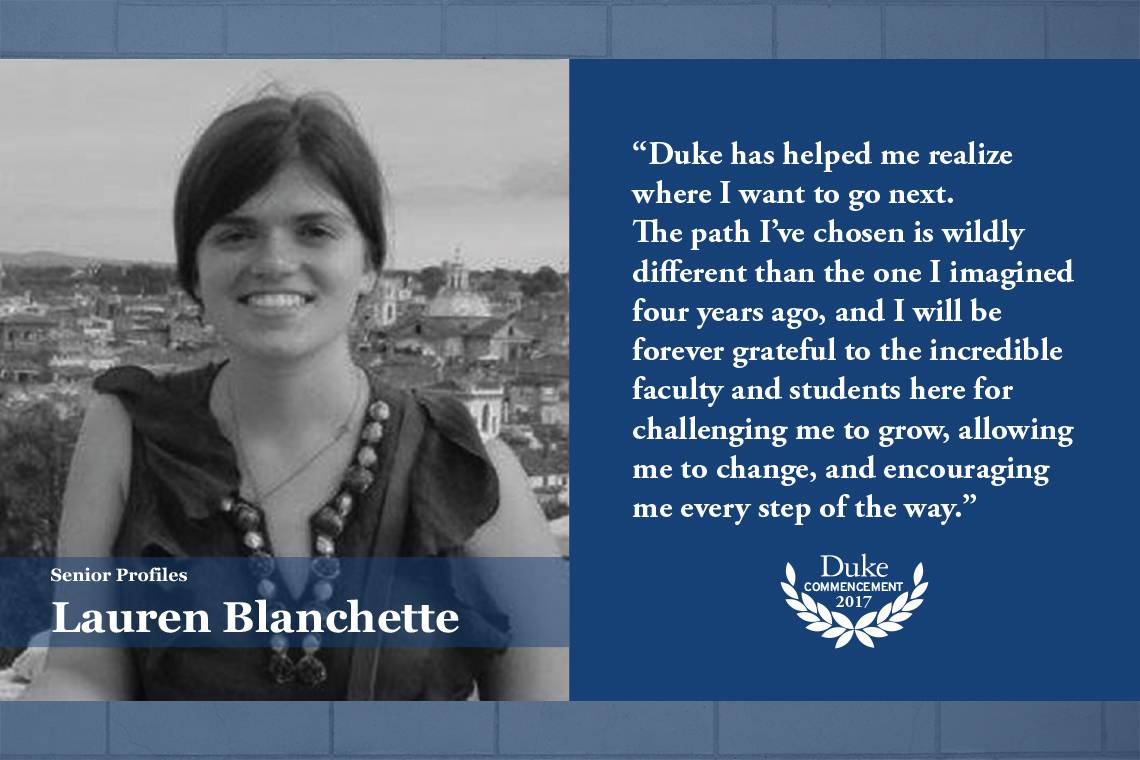 Lauren Blanchette
Hometown: Pomaria, SC
Major: Psychology
Minor and any certificates: Neuroscience and Spanish
Clubs/Organizations: Duke Adolescents Transitioning to Leadership and Success (ATLAS), DBS Raas
Any other activities you participated in: DukeEngage Kolkata, Duke in Madrid, Partnership for Appalachian Girls' Education
Post-graduation plans: Clinical psychology doctoral program at Rutgers University
What Duke has meant to you: Duke has helped me realize where I want to go next. The path I've chosen is wildly different than the one I imagined four years ago, and I will be forever grateful to the incredible faculty and students here for challenging me to grow, allowing me to change, and encouraging me every step of the way.
Though Lauren Blanchette grew up in a town of less than 200 people, the regional high school she attended was more suburban and had a high college attendance rate. Still, Lauren was keenly aware of the challenges facing her rural peers when contemplating their lives after high school. Lauren channeled this understanding into her work with the Partnership for Appalachian Girls' Education (PAGE), the project she worked on through her Bass Connections summer experience. PAGE seeks to inspire and empower underserved rural girls in the hollers and rural communities of the Blue Ridge Mountains, through education, and creates opportunities for educational enrichment through mentorship and summer programming.
Commencement Homepage
Lauren then built upon her work with underserved girls by spending a summer in India with DukeEngage Kolkata. During the two months in Kolkata, students work with nonprofit organizations dedicated to serving underserved youth and children with special needs. The program focuses on activities that develop and deliver education/literacy, economic development and life-skills training with emphasis on social enterprise. She documented her experiences in a blog (read here).
Attending Duke had been Lauren's dream since she was young, but it was her experiences away from campus that had the most impact. "Duke has meant more to me because of the other places it has allowed me to go and the people that I've had the chance to meet. From late-night chats over chai in Kolkata as the monsoon rains poured down, to exploring outdoor markets in Madrid, to hiking in the Appalachian Mountains, I've had incredible experiences with my fellow Dukies and the other people we've met along the way."