Blue Devil of the Week: Clinical Pharmacist Goes 'Extra Mile'
Jessica Hartman turned down a dance scholarship to study pharmacy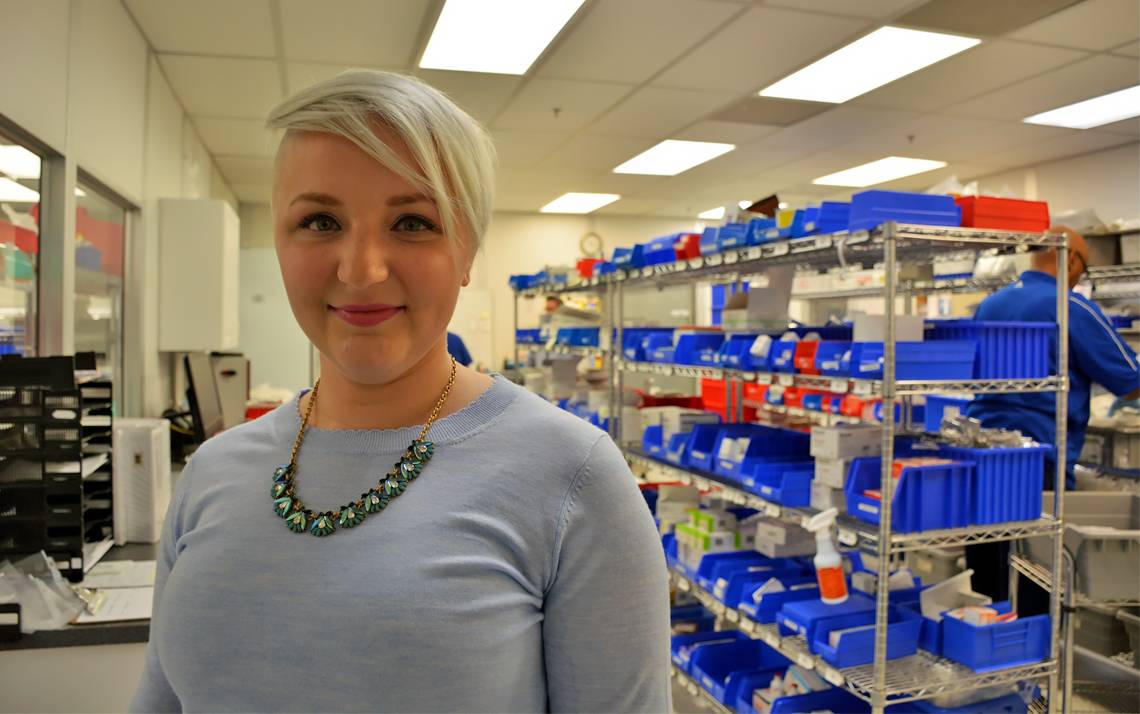 Jessica Hartman
Clinical Pharmacist, Duke HomeCare & Hospice
Years at Duke: Nine
What I do at Duke:
I manage a subset of patients that require IV therapy once discharged from the hospital. My focus is on infectious disease and cardiac patients. I focus not only on hospice patients but patients in the community with severe medical needs. My specific role here is to dispense IV preparations to manage lab results and communicate with patients and physicians. I also manage a group of IV technicians who prepare products, which are then delivered to patients' homes. They're getting medication from me for weeks to years. I get a consistent interaction with patients. You get to form a relationship. You get attached. It's awesome but rough at the same time.
What I love about Duke:
Duke gives me an opportunity as a pharmacist to see things from a pharmacy standpoint that you wouldn't get exposure to outside an academic medical center. We're given the opportunity to be creative and problem solve as pharmacists. Duke wants to see progress. They want to see the institution move forward and you don't move forward if you don't change. Duke fosters learning even in people who've been here a long time.
A memorable day at work:
I had one recently. A patient had a critical lab value which could result in some cardiac issues and we couldn't reach the patient to let them know they needed to come to the emergency room. I called the patient again and could hear them breathing on the phone but they wouldn't answer. The patient lived in a group home. I drove to the house and the patient was very unwell. I called EMS and stayed until they got there. They took the patient to the hospital and addressed their issues and they were discharged a few days later.
Something unique about my office:
All my co-workers. We work hard and play hard. We're like family that's why we all stay here so long. We always say they'll have to pry these keyboards out of our cold, dead hands. And my Abominable Snowman (figurine). I came home from work in a white "bunny suit" (a sterile jumpsuit sometimes used in lab work), and my husband said I looked like the Abominable Snowman and so he bought me the figurine.
First ever job:
I worked at a coffee shop in my hometown of Brownsville, Pa. No one ever came, and I ate a lot of muffins by myself. I grew up in a ghost town, a remnant of the steel industry.
Best advice ever received:
A quote I have on my door, 'Don't let someone dim your light simply because it's shining in their eyes.'
Something most people don't know about me:
I had a scholarship for modern dance and theater to Point Park University in Pittsburgh. My mama said 'Girl, you don't like to struggle.' So, I turned in my application to the University of Pittsburgh for pharmacy, but I danced all through college while I was in pharmacy school.