PUBLISHED
Students Talk Research on Advocacy Day on Capitol Hill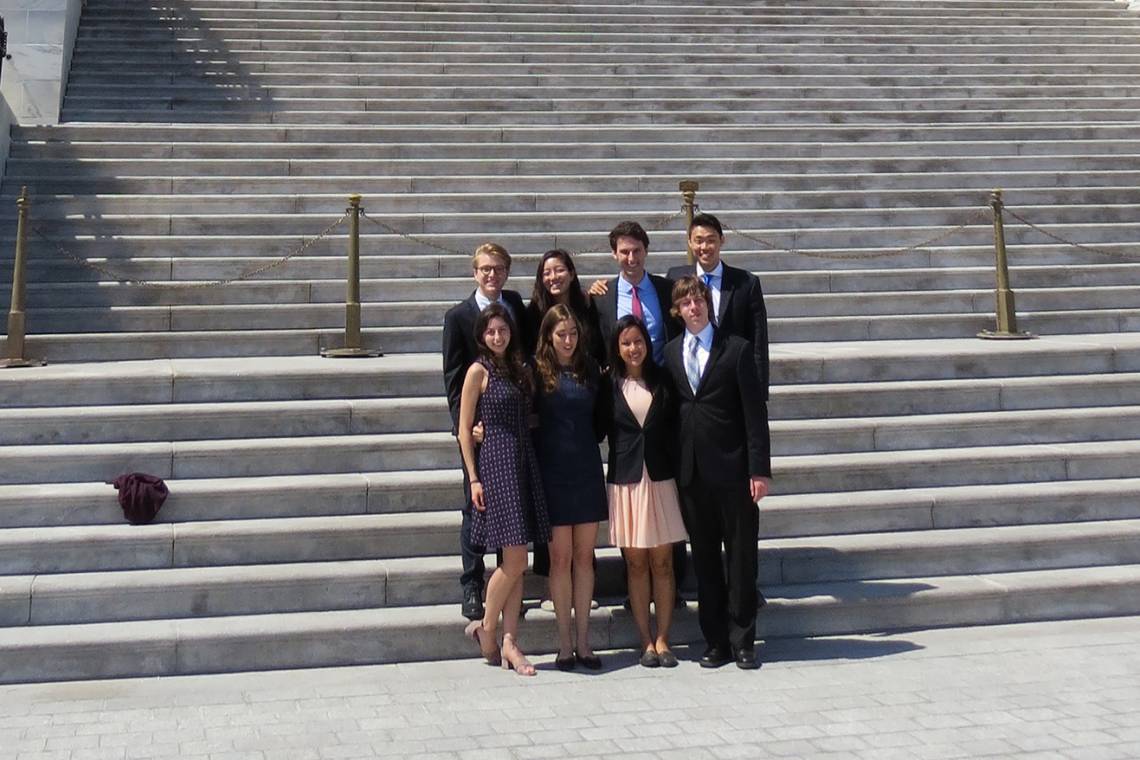 Sophomore Jacob Glasser led his fellow students on an advocacy day to Capitol Hill April 10. Through a program called YOUnite that advocates on behalf of young people and college students, they spoke with congressional staffers about the need to support research funding in the upcoming budget process.
The students stressed both the theoretical and quantitative effects of research, arguing that it furthers our understanding of the world, drives innovation and informs policy. In addition, they spoke with congressional staffers about how research endows students with formative experiences and essential job skills. Investment in education and research has a multiplier effect as high-tech jobs catalyze a chain of economic effects.
One of YOUnite's platforms argues that a lack of government investment in STEM research makes the US less competitive with peer nations advancing in science and technology as well as training the next generation of young people to be competitive in a high-skilled, dynamic workplace.
Their conversations included support for specific bills.
They asked representatives to co-sponsor H.R. 1579: The Secure and Resilient Water Systems Act that requires community water systems to submit water to vulnerability assessments to mitigate the risks of local water crises such as the one seen in Flint, Michigan; H.R. 607 Voter Access Protection Act that prevents local, state, and federal election polling stations from requiring photo ID to cast a ballot; and S. 856 the Campus Accountability and Safety Act (CASA), which would require schools to publish sexual assault statistics and verdicts for sexual assault cases, to appoint confidential advisers to sexual assault victims, and to revise protocols for handling these cases.
Glasser and his team also promoted H.R. 1127 the Student Loan Fairness Act that allows certain types of student loan forgiveness, caps the interest rates of federal student loans at 3.4 percent and creates refinancing options for private borrowers. The students argued that this bill would ensure a more equitable access to a university education without forcing undue burden on students vulnerable to high student loan rates.
"We advocate on behalf of young people and college students, and we're here at the Capitol to talk to members of Congress about issues we care about," Jacob said. He added that spending a day spent engaging in "live" coursework on Capitol Hill will be one of the memorable experiences of his team's Duke education.