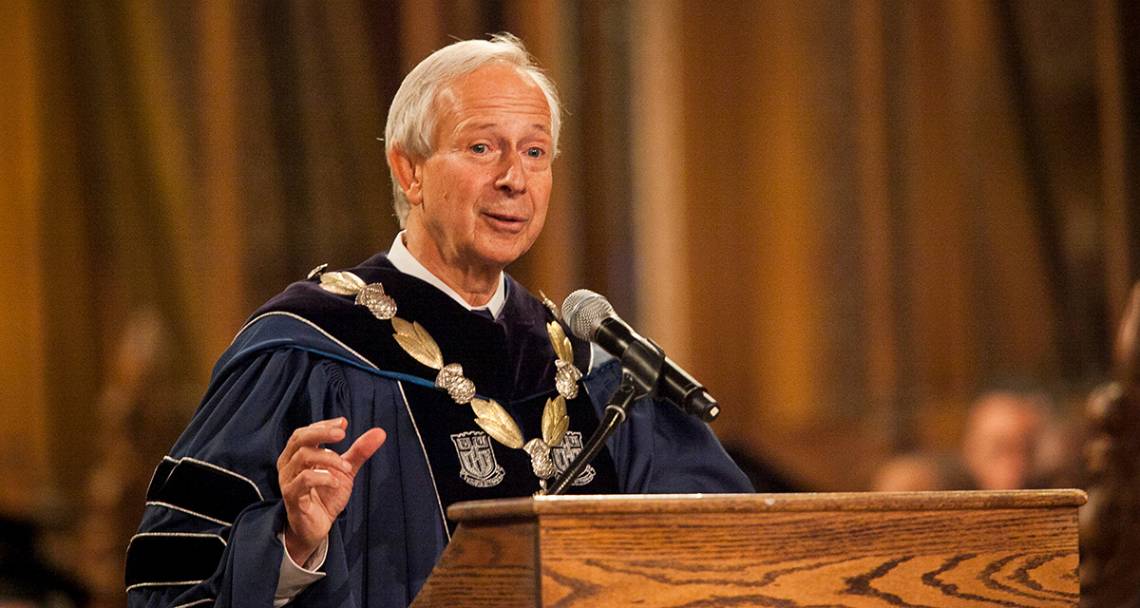 Duke President Richard Brodhead gave the speeches compiled in a new book, but, he says, "they are not about me."
The main character is, rather, Duke University.
In "Speaking of Duke: Leading the 21st Century University," published this month by Duke University Press, Brodhead compiled more than three dozen of his speeches, statements and interviews from his 13 years as university president. The occasions range from Brodhead welcoming students at the start of the 2004 academic year to his appearance discussing the future of the humanities with comedian Stephen Colbert on "The Colbert Report."
However, in its variety, the collection offers Brodhead's perspective on the key issues facing higher education, as seen through his perspective as leader of Duke University during a remarkable period of growth and expansion for the university.
"The story is of an ambitious university navigating its way forward through difficult currents in ever-changing weather," Brodhead writes in the preface. "I hope, however, that a few things will be clear about the author: how grateful I remain for the privilege of serving Duke, how engaging I found the challenges of this job from first to last, and what confidence I have that Duke will continue to flourish long after I have passed the baton."
Arriving at Duke in 2003, Brodhead said he benefited from a moment in which Duke was ready to explore interdisciplinary strengths, increase engagement with society and expand its international reach, and had the resources to do so. He writes that the first years of the new century "were a bright time for higher education, especially in private institutions."
"Financially there was some margin for investment (never enough), so these years allowed for renovation, innovation, and experiment. But as they advanced in some directions, universities found themselves facing new forms of difficulty in these years, Duke along with every other."
President Brodhead addresses the faculty in 2010 on recovering from the financial downturn.
In the speeches, he returns to several of these challenges: access and affordability to higher education; the value of the liberal arts; preparing students to be valued global citizens; and issues of race and diversity.
The book includes a 2012 address to the Duke faculty on "Duke and the Legacy of Race," in which Brodhead states the university's commitment to becoming a place that is "so manifestly and exuberantly diverse." He also addressed the significant work yet to be done on race and inclusion, not just on campus but in the wider community.
In addressing both the successes and the work to be done, Brodhead emphasized that Duke's commitment to diversity over the past five decades is a fundamental factor in its accompanying rise in academic stature and excellence.
"We embrace [values of diversity, inclusiveness and respect] first because they are the bases of any decent, healthy community, and second because they are key to what we do. Work teams are more productive when they embrace a variety of viewpoints and make each player feel included. Classes and daily interactions are more instructive when we engage with minds coming from many different places. That's also crucial preparation for the world our students will be living their lives in."
Panelists discuss "Speaking of Duke" at a Franklin Humanities Institute Bookwatch session.
In addressing larger issues, Brodhead used his platform as co-chair of a national Commission on the Humanities and Social Sciences, which in 2013 issued a report urging the country to maintain national excellence in those fields.
That message comes through in several of the talks in "Speaking of Duke." On "The Colbert Report," Brodhead emphasized how American liberal arts education is a model for the world. And in a talk given to honor Congressman David Price as he was presented with the John Tyler Caldwell Award for the Humanities, Brodhead starts by describing a trip to Mississippi following the trail of Eudora Welty and continues through to share lessons he learned from post-Civil War era African-American writer Charles Waddell Chesnutt.
"The humanities aren't a luxury good to be enjoyed by those with high discretionary incomes and long pedigrees in school," he said. "They're a fundamental need of our humanity. They enrich us as persons and enable our life with others. When access to them weakens, we pay a major cost."
Below, President Brodhead appears on The Colbert Report. (Program begins following a short advertisement.)