Scenes from the Battle in Bull City Exhibition Game
More than 1,000 Duke community members watch Blue Devils and Bulls square off
There was no away team on Tuesday night.
In what was dubbed the Battle in the Bull City, the Duke Blue Devils and Durham Bulls squared off in an exhibition baseball game at Durham Bulls Athletic Park, the downtown stadium the teams share.
And with most of the 4,218 fans on hand – more than a quarter of which were Duke community members who got free tickets with their DukeCard ID – cheering for both teams, each side felt at home.
As the teams were introduced, Bulls mascot Wool E. Bull and the Blue Devil shared the field. Afterward, Miss Durham sang the national anthem.
The Bulls, who open their season Thursday night on the road, took a 2-1 win, but Duke faculty and staff didn't leave disappointed.
Here are a few scenes from the game: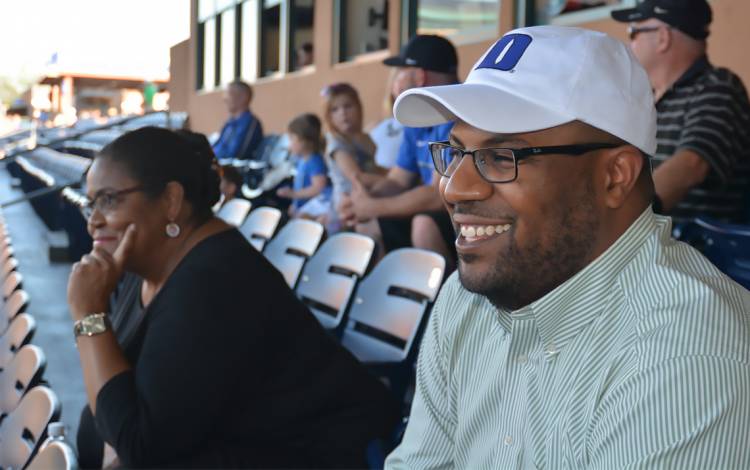 Cedrick Coleman, above, who works in resource acquisition and hospitality for Duke Athletics, used his free tickets to take in the game with his mother and a friend. While he makes it to several Bulls games each summer, when asked what team he was pulling for, he had an easy answer.
"Duke, of course," Coleman said.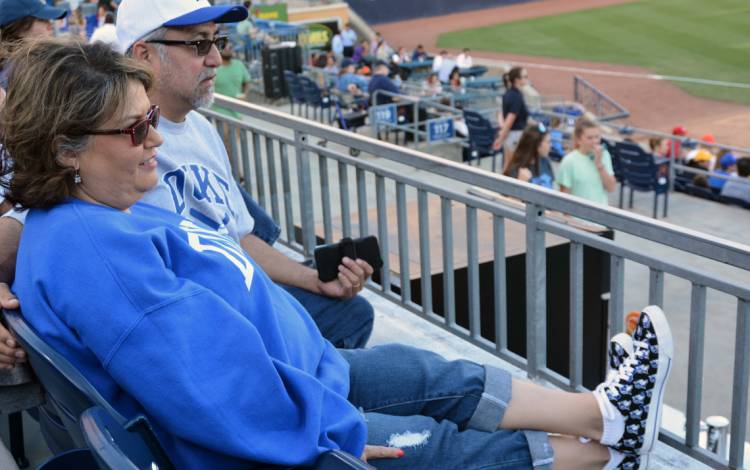 Edward De La Garza, above, director of Campus Mail Services, watched the game alongside his wife, Ellen, who wore black sneakers emblazoned with Blue Devils logos.
"We were planning to come, but then we got the email about the free tickets and we thought 'This is even better,'" De La Garza said. "It's a great opportunity to come see a ballgame. Perfect weather. Perfect time to see the Bulls and the Duke team as well."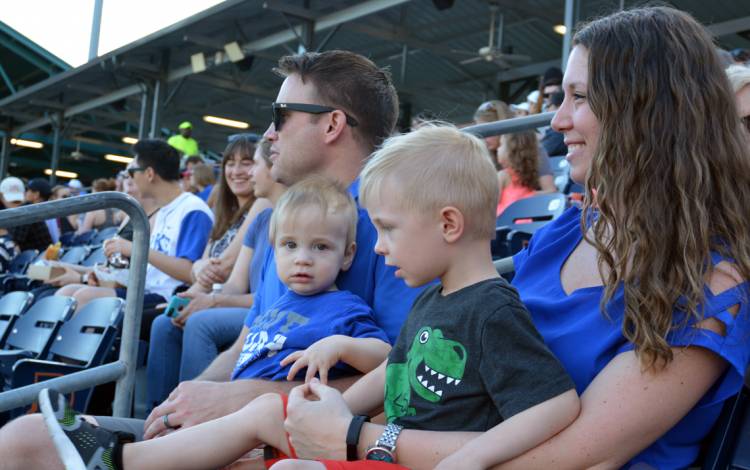 Victoria Sutler, above, a financial reporting manager at Duke, had her husband and two sons meet her at the game after work. This was the first trip to the DBAP for 11-month old Griffin and second for three-year old Dex. "Especially with two little ones, it's hard to get out," Sutler said. "When it's free, it's easy to say 'OK, he's tired, we can go home.' "
Krista Gingrich-White, above at right, a physician assistant with Duke Orthopaedics, and Lauren Rice, a development officer with Duke Law, played basketball at Duke, helping lift the Blue Devils to the 1999 NCAA title game. But as evidenced by Rice's Bulls shirt – "it's blue," she said – there are divided loyalties at play.
"We're cheering for both teams tonight," Gingrich-White said. "We come to Durham Bulls games a lot and obviously we're die-hard Dukies, so it's a win-win tonight."