Journalism Among Spooks: The Challenges of Reporting Spy Stories
Times reporters: High risks, big stakes in covering espionage, Russian interference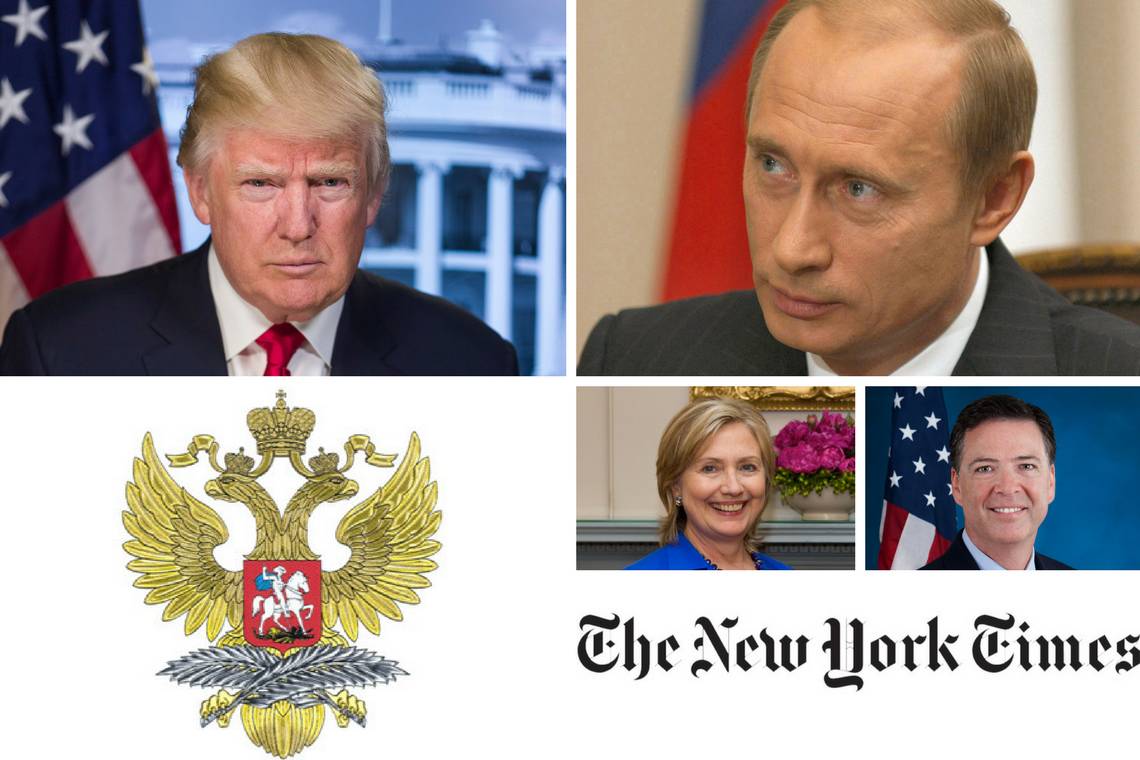 New York Times reporters Matt Apuzzo and Adam Goldman have years of experience reporting on all manner of malfeasance. They're deeply sourced, well regarded and boast, among their many awards, a coveted Pulitzer Prize.
And yet, the duo acknowledged Monday, their current work has them challenged anew.
After all, writing about spies is no straightforward endeavor.
"It's the most secretive aspect of the most secretive beat," Apuzzo told a Duke audience Monday during a discussion of the duo's reporting on espionage and Russia's interference in the recent U.S. presidential election. "It's stressful and the most difficult thing I've done."
Speaking at Duke's Sanford School of Public Policy, Apuzzo and Goldman discussed the murkiness of reporting Russia's role in the recent election. Determining what's real, the duo said, is harder than ever.
"There's this whole underworld," Goldman said. "The facts are elusive. This is a grey world."
Apuzzo and Goldman appeared at Duke a day after co-authoring – with two other Times writers – an exhaustive story about the role FBI Director James Comey played when he told Congress just 11 days prior to Election Day of a new investigation into Democratic nominee Hillary Clinton based on the discovery of emails on a laptop owned by the husband of her aides.
It disclosing the investigation, Comey violated his own bureau's practice, as it is abnormal for the FBI to reveal an ongoing investigation or influence an election. But he did so, according to the Times story, in an attempt to protect the FBI from criticism from Republicans following a presumed Clinton victory. (He didn't want to appear to Republicans that he'd gone too easy on Clinton, the Times reported. While noting the Clinton investigation, Comey failed to mention that the FBI was also investigating the Trump campaign's ties to Russia, another sure stop-the-presses moment had it been announced at that time.)
Comey's revelation put Clinton on the defensive at a crucial moment just prior to the election. The Times led much of the that high-profile late October reporting, which Goldman and Apuzzo defended on Monday.
"That was a bombshell like nobody has seen bombshells before," Apuzzo said. "If we don't go big with that on the front page? We should just go write in our diaries."
About a week after Comey's big reveal, he followed up to announce his new investigation had turned up no damning evidence. But many felt the damage to Clinton's reputation – in the eyes of voters about to head to the polls – had been done. Clinton herself has blamed Comey in large part for her loss.
Prior to the New York Times, Apuzzo and Goldman worked at the Associated Press, where they shared the 2012 Pulitzer Prize for Investigative Reporting with AP colleagues Eileen Sullivan and Chris Hawley for revealing the New York Police Department's practice of spying on Muslim communities.
On Monday, they emphatically disputed criticism that the Times – and other major national media outlets – are responsible for Trump's victory because of the amount of column inches devoted in 2016 to Clinton, her use of a private computer server, and the embarrassing emails excavated from it and published on the web. Apuzzo pointed to investigative work his newspaper and others did on Trump's taxes, the many charges of sexual assault women have lodged against him, his financial struggles and other issues.
"Anyone who thinks Donald Trump got elected because the New York Times or the Washington Post didn't do their vetting, they just weren't reading," Apuzzo said.