Duke in Pics: Farmers Market Opens 17th Season
Fresh strawberries, grilled burgers, goose eggs and more draw employees
The aroma of grilled burgers and portabello mushrooms filled the courtyard outside the Trent Semans Center for Health Education on Friday as shoppers milled around stands stacked with strawberries, goat cheese, bread, olive oil, and more during the opening of the 17th season of Duke Farmers Market.
The market's new location allowed for Duke employee shoppers and others to meander around pockets of local produce stands and to sit at tables and enjoy a grilled lunch from NOSH or wrap from CORE Catering.
"The Farmers Market promotes conciousness of decisions of the food we eat," said Cassandra Callas, health education specialist and market coordinator with LIVE FOR LIFE, Duke's employee wellness program. "It's a first step in making healthy choices for yourself."
The market is held from 11 a.m. to 2 p.m. every Friday through the end of September.
Here are some views from Friday's market.
Faye Woods, right, an administrative assistant for neurosceience services, got to the market early to buy a 5-pound basket of strawberries from Lyons Farms. She plans to use her grandmother's recipe to make a strawberry cobbler. We'll need to get that cobbler recipe from Faye.
Ron Evans, chef with NOSH, grills burgers for a hungry lunch crowd.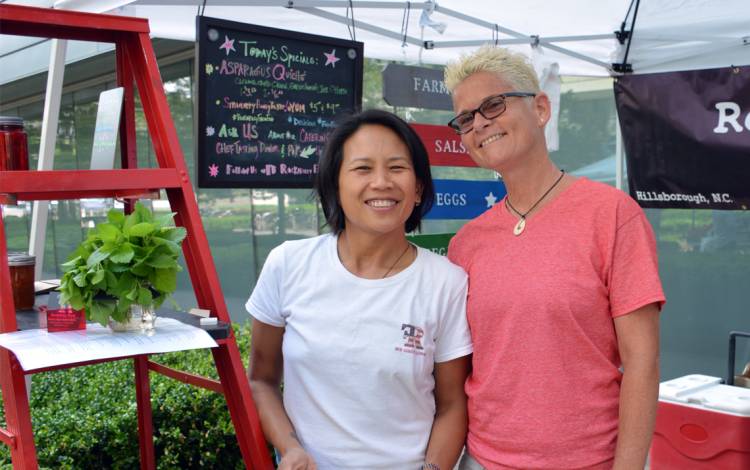 Owners of Hillsborough's Rockabilly Farm Anni Saludo, left, and Deborah Stanton fielded questions ranging from their goose eggs (one goose egg is about three regular eggs) to their pepper jelly. Robin Dunkins, respiratory care practitioner at Duke, bought a jar of the ghost pepper jelly. "It's so good," she said. "I'm gonna eat it with some crackers. I like the heat."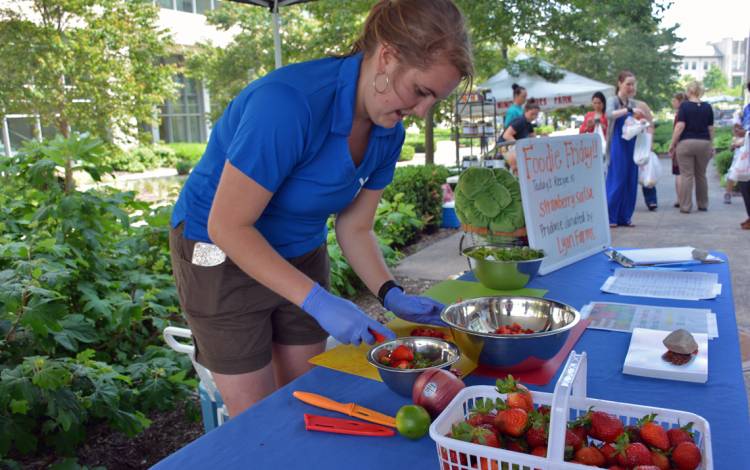 On the last Friday of each month, LIVE FOR LIFE will conduct a food demonstration with produce from the stands. This Friday, Anna Baggett, an intern with LIVE FOR LIFE, fixed strawberry salsa. "We're going to do sampling just as soon as I get it made," she said.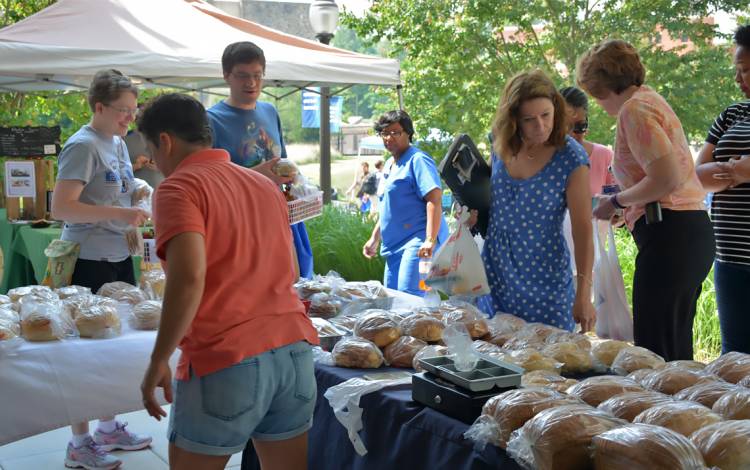 Carb lovers, there were loaves, loaves and more loaves. Cathy Bailey of Great Harvest Bread Co. stands behind the table handling purchases for potato chive, caraway rye, classic nine grain and more.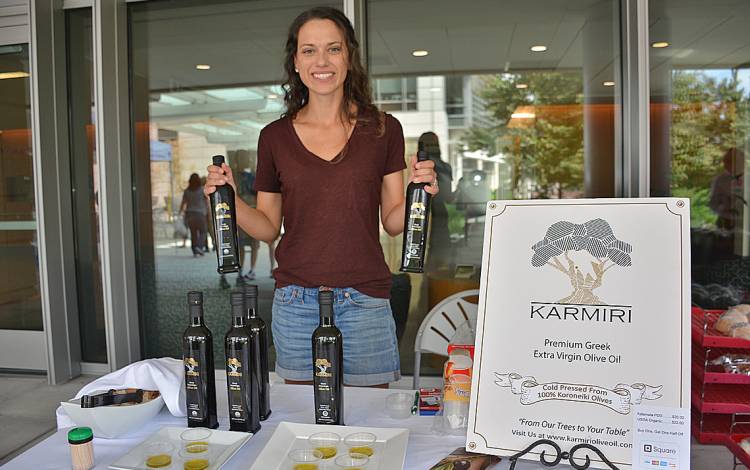 If you bought the bread, you need olive oil, right? Sophia Papadeas, owner of Karmiri olive oil company, holds bottles of her Greek extra virgin olive oil. The Karmiri (her mother's maiden name) farm olive groves are in Greece and owned and operated by Sophia. The olive oil is imported to the U.S. "I love pouring the olive oil on fish," she said.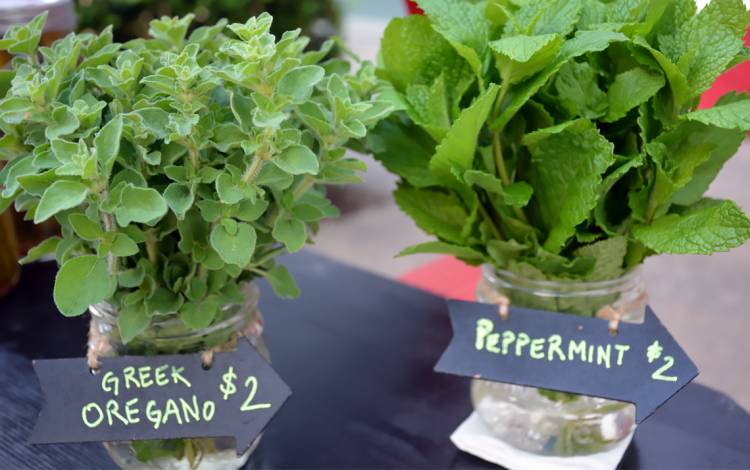 Fresh herbs from Rockabilly Farm.
Decorate your meal table or plant some flowers with an arrangement from Fernrock Farm in Hillsborough.
Fresh beets sat among aspargus, potatoes, okra and more.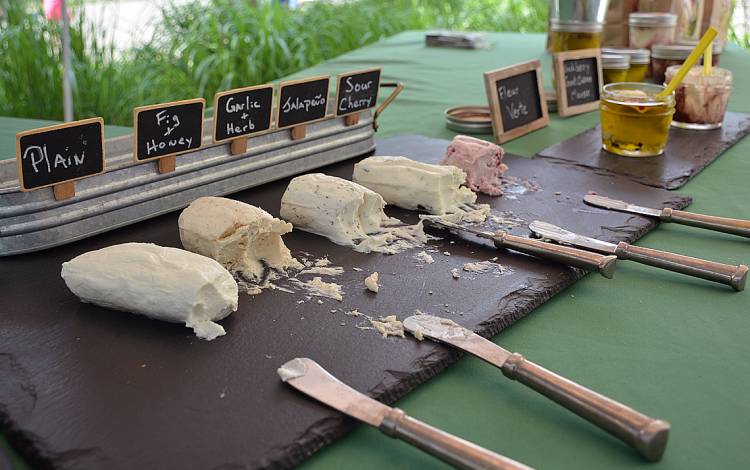 Bread, olive oil and now your board is complete with goat cheese from Rougemont's Elodie Farms, which has 43 adult goats and 41 babies. The jalapeno goat cheese is a winner to us.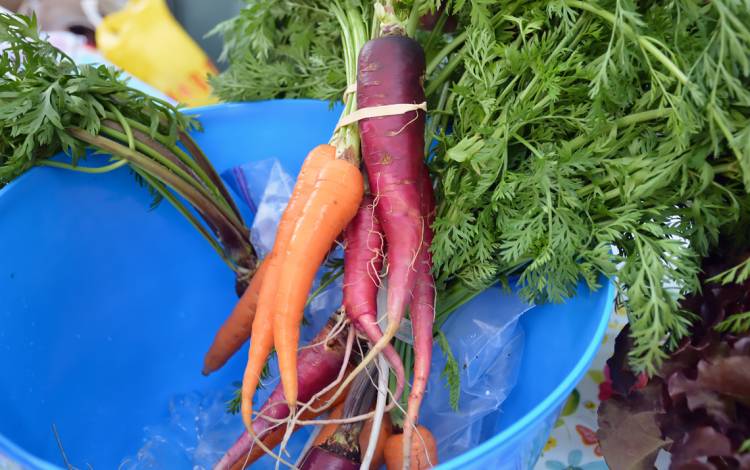 Add some colorful carrots to your natural antioxidant intake.