Duke in DC Conference Focuses on Pandemic Preparedness
Goal of quarterly event is to deepen Duke's engagement with federal policymakers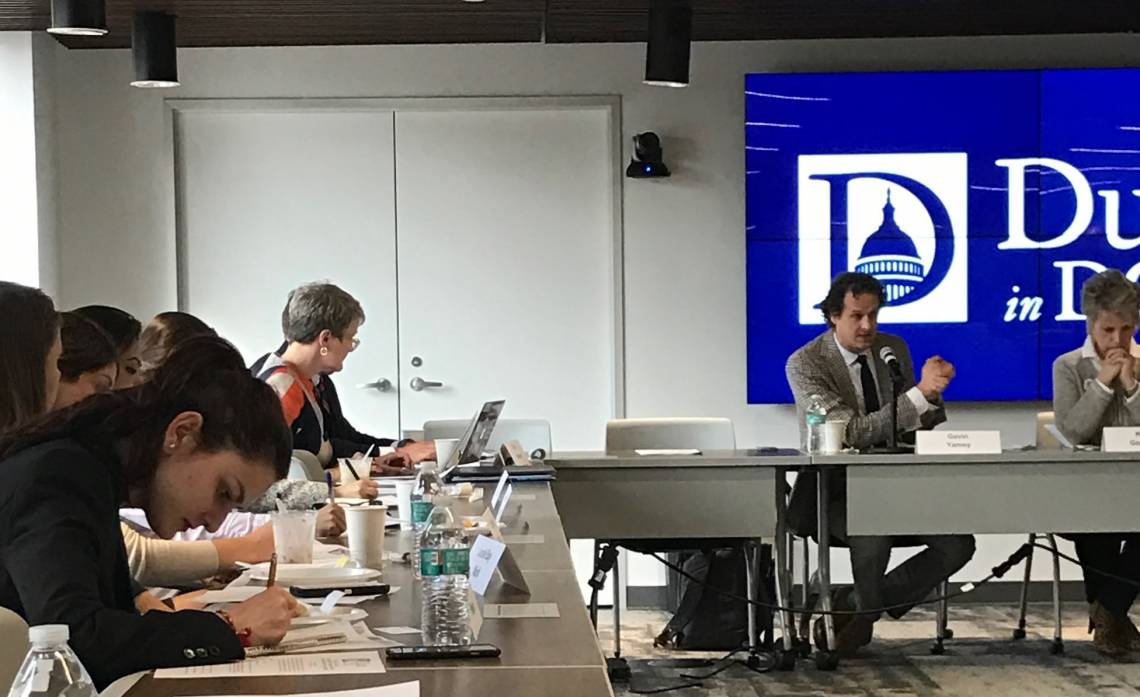 Duke in DC's inaugural Beyond Talking Points conference focused on pandemic preparedness for the next administration.
Beyond Talking Points, a quarterly seminar series launched April 7, exposes government officials from Capitol Hill and the administration to in-depth discussions on critical issues facing America and the world.
U.S. leadership in global health remains one of the most critical ways to ensure a safe and secure nation. Funding the research and development of cutting edge drugs and promoting public health campaigns help prevent crises in an economically viable way. It is increasingly important to understand what tools and mechanisms Congress and the administration have at their disposal to respond quickly to crises but also to prepare in advance to limit the effects of a pandemic outbreak.
"One major goal in launching Beyond Talking Points is to deepen Duke's engagement with policymakers in the federal government," said Jeff Harris, director of Duke in DC. "Duke offers not only world-class research, but also the ability to convene leading actors across various policy spheres in an engaging, educational setting. Beyond Talking Points is just one of the many ways we want to fulfill Duke's mission of knowledge in service to society."
The conversations focused on what specific policy tools the executive branch has as a guiding institution and what financial tools Congress has as the legislative organ of government.
Traditionally, responses to a pandemic require leadership and direction to come from the White House. The agencies and departments which respond to a pandemic outbreak are varied and diverse, typically requiring a guiding vision from the president in order to tackle a large-scale global health crisis.
However, that leadership alone cannot bring the government's diverse factions together without the resources to sustain a response long enough to fight an emerging pandemic. Congress, too, plays a role in providing long-term funding for crisis response efforts.
The conversation around pandemic preparedness was not limited to how the nation should react to and prepare for a pandemic. It also centered on framing global health as a national security issue. Pandemic preparedness requires actively engaging with global partners in diverse environments, from labs in Brazil to NGO's in Sierra Leone.
When it comes to existential threats to American lives, pandemic outbreaks like Zika and Ebola present a far greater risk calculus than the more commonly feared potential of a terror attack.
Panelist Amy Pope, former deputy assistant to the president at the National Security Council, the White House and the Department of Homeland Security, spoke at length about the ties between national security and pandemic prevention.
"I didn't come to the NSC thinking global health presented the biggest threat to the US. I left thinking it is," she said.
(If you or one of your colleagues is interested in participating in a similar program through the Duke in DC offices, please reach out to dukegovernmentrelations@duke.edu.)