Blue Devil of the Week: People-person Cashier Ready with a Smile
Nettie Allen rings up cheer as well as medicine at Duke Clinic's Outpatient Pharmacy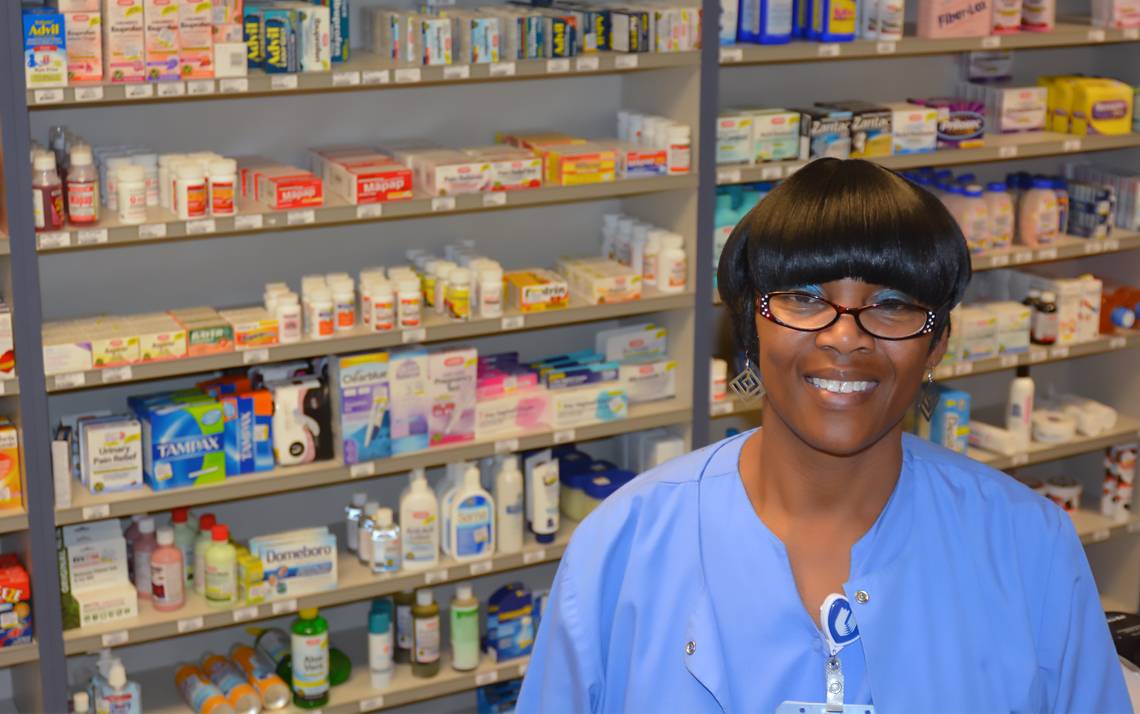 Nettie Allen
Cashier, Outpatient Pharmacy at Duke Clinic. 32 years at Duke, including with Duke Dining in various positions for 15 years.
What I do at Duke:
I cashier. I ring out patients. I file prescriptions. I call patients to let patients know medication is ready. I order all the over-the-counter medications that we need.
What I love about Duke:
I love that you can meet all types of people. I'm a people person and nobody's a stranger to me. I just like working and being here.
A memorable day at work:
I had one patient that came in and didn't speak a lot of English and I could tell that she really wasn't feeling good. I called for transportation so they could take her to the emergency room. Maybe a week later she came back with her son who spoke English and told me she really appreciated me helping her out because she was really sick. Turns out she had been in a car wreck and had a concussion.
Something unique about my office:
I keep my grandkids' pictures on my locker and also different sayings I like to go by, like Bible verses.
First ever job:
Duke was my very first job and I've been here ever since. I came here right out of high school. I worked at the East Campus Grill as a cashier and doing various things about 15 years, then I came to the pharmacy. My mother and husband worked here and now I've got a daughter that works here too. My daughter takes in patients at Duke Radiology.
Best advice ever received:
People always tell me 'Just keep on smiling. Every time we see you you're always smiling and you always have something good to say.' When you're angry or mad, it's not going to change your situation. I always just make the best of it.
Something most people don't know about me:
Most people don't know that I'm a loner. If I don't have my grandkids, I'm sitting at home on the porch, relaxing and getting that quiet time.
If someone wanted to start a conversation with me they should ask me about:
My grandkids. I have five from ages two to 15. They keep me busy. We go to the park. We go to the beach.
Music I like:
R&B and gospel. I like Tamela Mann. She's gospel. She's a singer and an actor. I like old-school R &B like Ginuwine.
If I could have one superpower, it would be:
I guess strength, like super strength, so I could help others if they needed me to do things for them that I couldn't do without the power, like build somebody a house.
Nominate a colleague to be the next Blue Devil of the Week.