30,000 and Growing: Lilly Library DVD Collection Celebrates Milestone
Duke staff, faculty and students can take advantage of inexhaustible list of titles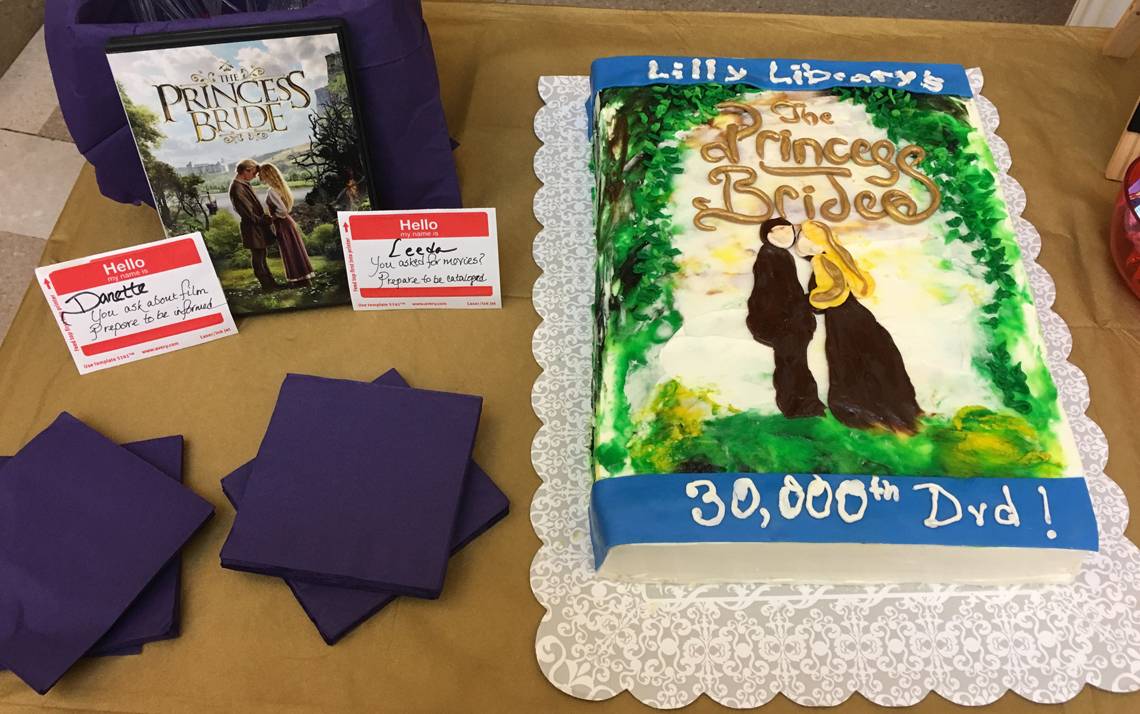 Ask Duke staffer Jae Furman for the best things he's seen from Lilly Library's DVD collection and you won't get an easy answer.
"There are so many good ones, it wouldn't be right to just give you a few," said Furman, a higher education analyst.
Furman, who's worked at Duke for 16 years, is a self-described "cinephile" and usually watches at least a movie a week. When he finally settles on a few recommendations, they range from the 2015 Matt Damon flick "The Martian" to "Mostly Martha" a 2001 romantic drama from Germany.
"I really have such diverse interests, I really appreciate that Lilly Library has such a vast collection," Furman said.
Last week, Lilly Library celebrated a milestone when its DVD collection soared past 30,000 titles, all of which are available to employees and students to borrow. The 30,000th addition was "The Princess Bride" a much-beloved fairy tale comedy from 1987 that blends romance and adventure. The library staff celebrated the benchmark with a DVD-shaped cake and a showing of the film at East Campus Union.
About 23,000 titles are housed at Lilly Library, some in shelves a few steps away from the front desk and others in deep storage a floor below. The rest are tucked away in the Duke University Library Service Center, an off-campus storage facility.
That's where you'll find DVD No. 1. The disc, which was acquired by Duke in 1998, was an earlier iteration of the technology that didn't store as much data. Records show it's titled "Bu Dai Xi" and shows a style of puppet theatre native to Taiwan.
The first copy of The Princess Bride was added in 2001. It was DVD No. 7,955. There was a second one that was purchased later, but it was damaged after being checked out 61 times.
The timing of the library's acquisition of a third copy of The Princess Bride was no accident. Members of the libraries' student advisory board suggested the movie should be title No. 30,000.
"This is sort of timeless and it crosses generations," said Danette Pachtner, the librarian for film, video and digital media. "… It still holds up."
As evidenced by the boxes of new additions in front of Pachtner's desk, the collection has now blown past the 30,000-DVD mark.
Part of Pachtner's job is to keep new titles rolling in. Faculty and students can request films for her to track down to help with research or a class. But she said she's also adding new films and television shows based on cultural relevance, critical acclaim or simply what members of the Duke community – including staff members - tell the library that they'd like to see.
This approach has led to the collection including the arcane Anime pieces in the basement, the black-and-white classics buried on the shelves and crowd-pleasing new releases on the two racks of devilDVDs in the lobby.
"It's kind of all over the map, which is neat," Pachtner said. "One of the reasons our collection is so eclectic is because it was based on faculty need and it sort of grew out of that."
Pachtner said changes in technology have led to the library beefing up its streaming video offerings, but that for faculty looking for films to use in class – or anyone looking for a movie to watch at home – DVDs remain a popular option.
And with new titles coming all the time, it won't get any easier for film buffs like Furman to edit down their list of favorites.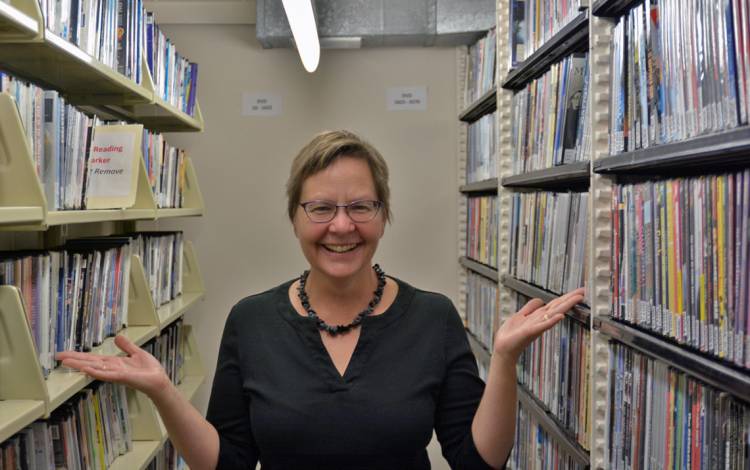 Danette Pachtner, librarian for film, video and digital media. Photo by Stephen Schramm.