Take a Walk with a Doctor
Program connects Duke and Durham with Duke Health professionals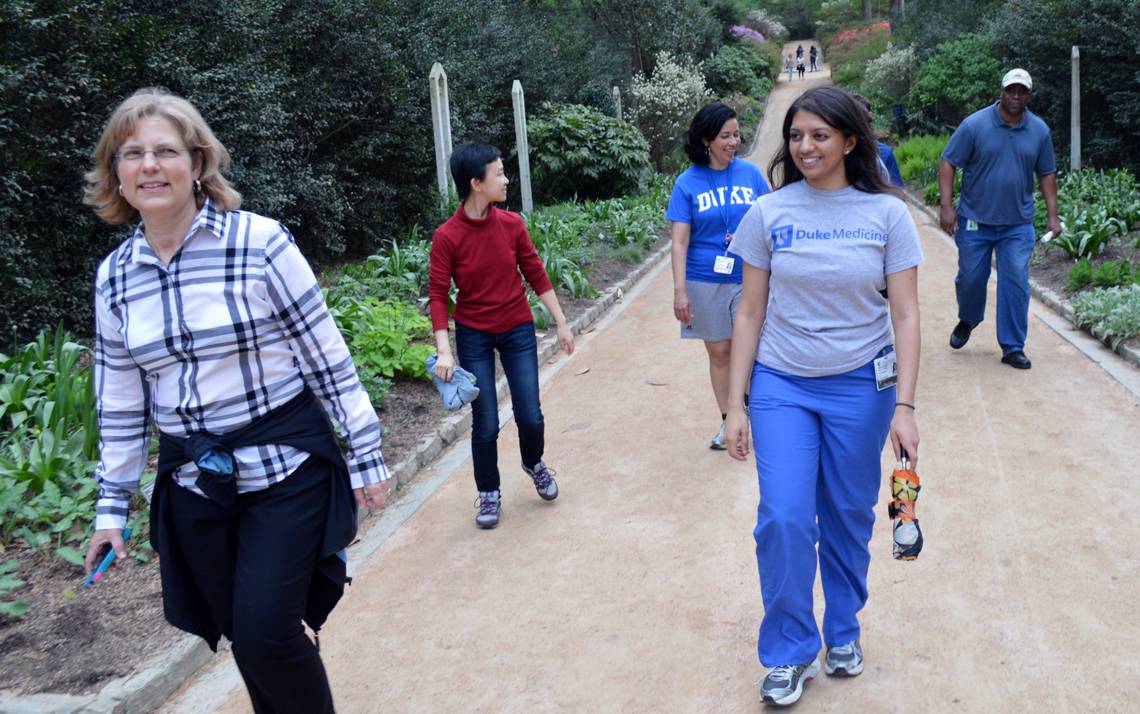 Two-by-two, a group of six walkers briskly paced the sidewalk along Trent Drive, heading toward Sarah P. Duke Gardens.
Each pair chatted about families, jobs and hobbies until eventually talk turned to medicine and the whole group shared experiences about what recently brought them to a doctor's office. Some hypotheticals on the future of patient care were mentioned, like whether video chats could replace in-person doctor-patient interaction.
The conversations were part of "Walk with a Doc," a free monthly event hosted by the Duke Family Medicine Center. At 5:30 p.m. on the second Tuesday of each month, rain or shine, Duke and Durham community members are invited to join Duke healthcare providers who lead an organized walk of just over a mile through West Campus. The next meeting is April 11.
In the fall and winter, walkers typically remain on the cleared sidewalks of the University and Health System. During warmer months, the path winds through Duke Gardens. No matter the route, each session presents an opportunity to chat with health professionals through exercise.
"It's a great way for people to get to know us outside of the clinical setting," said Dr. Preyanka Makadia, a resident physician at the Department of Community and Family Medicine and leader of the program. "It prioritizes healthy habits not just for our patients, but for ourselves, too."
The program is part of a national "Walk with a Doc" program originally started in 2005 in Ohio. There are now about 300 healthcare locations across the country that hold regular walks to connect healthcare providers with those they care for in a more casual way. Duke's program started in 2014 after Dr. Jonathan Bonnet came to Duke from Ohio, where he took part in some original events.
Dr. Donna Tuccero has participated in the walks since their inception and this fall, the get-togethers helped her get back into shape after breaking her ankle. Tuccero, associate program director for the Duke Family Medicine Residency, said she enjoys the opportunity to literally "walk the walk" she suggests patients follow to stay in shape.
"What better way to improve the health of the community than offering a safe place to walk and a way to learn more about being healthy?" Tuccero said. "Plus, it's always nice to meet people outside the office."
Among those participants has been Keith Bailey, a Durham resident who receives his primary care at Duke. He's joined the "Walk with a Doc" gatherings since April, when he spotted a flier in a Duke Clinic waiting room.
"There's definitely an attraction of being outside and seeing Duke and Duke Gardens," Bailey said. "It's also nice to be sociable with Duke doctors while you get some fresh air."
Search the Duke Events calendar for upcoming Walk with a Doc meetings.