PUBLISHED
FERC Chairman Shares Perspective On Energy; One Event Interrupted By Protesters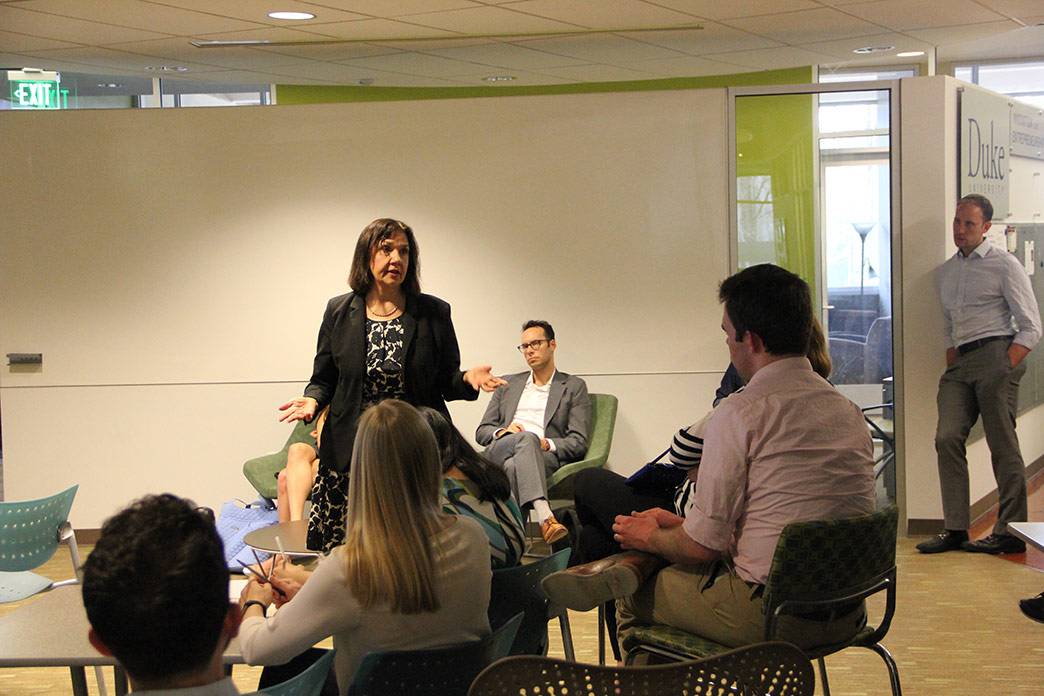 A talk by Federal Energy Regulatory Commission (FERC) Acting Chairman Cheryl LaFleur, scheduled for Tuesday afternoon at Duke, was interrupted by protesters.
The event, hosted by the Nicholas Institute for Environmental Policy Solutions, Duke University Energy Initiative and Sanford School of Public Policy, was open to the public. Two people not affiliated with Duke held a protest banner in the front of the room where LaFleur's talk was scheduled and refused to move, even after several people -- including some in the audience -- asked them to give LaFleur a chance to speak.
When it became clear that the protesters were determined not to move, event organizers announced LaFleur's scheduled public talk would not continue. The protesters were escorted from the building, leaving quietly and without further incident.
LaFleur subsequently met with about two dozen Duke students and engaged in conversation with them for more than an hour.
LaFleur, who has served on FERC since 2010, shared her perspective on energy in the United States with the students.
"It is a time of great change," she noted, "and I don't see that change stopping. It is being driven by technology and cost more than by policy."
She observed that residential solar has doubled every year, pointed out that growth in renewables is complemented by advances in energy storage, and challenged students to help "crack that code."
"If there is enough storage, it can really change markets because you don't have to balance everything in real time," she said. "You don't need as many gas plants to ramp up when the (variable renewable power) goes down because you have the storage."
On Tuesday, President Trump signed an executive order proposing, among other things, to roll back the Clean Power Plan, which sets limits on carbon dioxide emissions from existing fossil-fuel fired power plants. LaFleur said that even if a "simple" carbon tax isn't possible, states are beginning to come up with their own rules. She noted that as states and the country determine "the right balance" of energy sources, three critical considerations come into play: cost, reliability, and environmental health.
"I don't think that baby boomers are going to solve this challenge … We truly need new ideas and new voices," LaFleur added.
Student Janesha Hassaram said afterward, "I walked away from our meeting with Chairman LaFleur realizing that energy may be the next big thing, much the way dot-coms exploded in the 90's, or NASA expanded in the previous decade."
Earlier in the day, LaFleur met with students enrolled in a public policy course as well as with a group of about 15 Duke faculty and staff representing several schools, initiatives and institutes.
"We were able to apprise her of some of the energy work happening at Duke," said Brian Murray, interim director of the Energy Initiative. "Several Duke alumni work at FERC, and it was gratifying to learn from Chairman LaFleur that she appreciates the well-rounded, interdisciplinary training that students receive here."
"I'm so glad that Duke entities were able to collaborate to bring a top federal official to our campus to speak about important energy issues," Murray added. "In the end, we were able to accomplish most of our objectives, but not all of them.
"Part of our mission is to engage those beyond the university in dialogue about tough issues, to facilitate the exchange of information. It's disappointing that the public talk was shut down by protesters from outside the university who didn't give Chairman LaFleur the opportunity to speak."