Music Student Wins Young Composers Competition
Scott Lee discusses his experiences with Symphony in C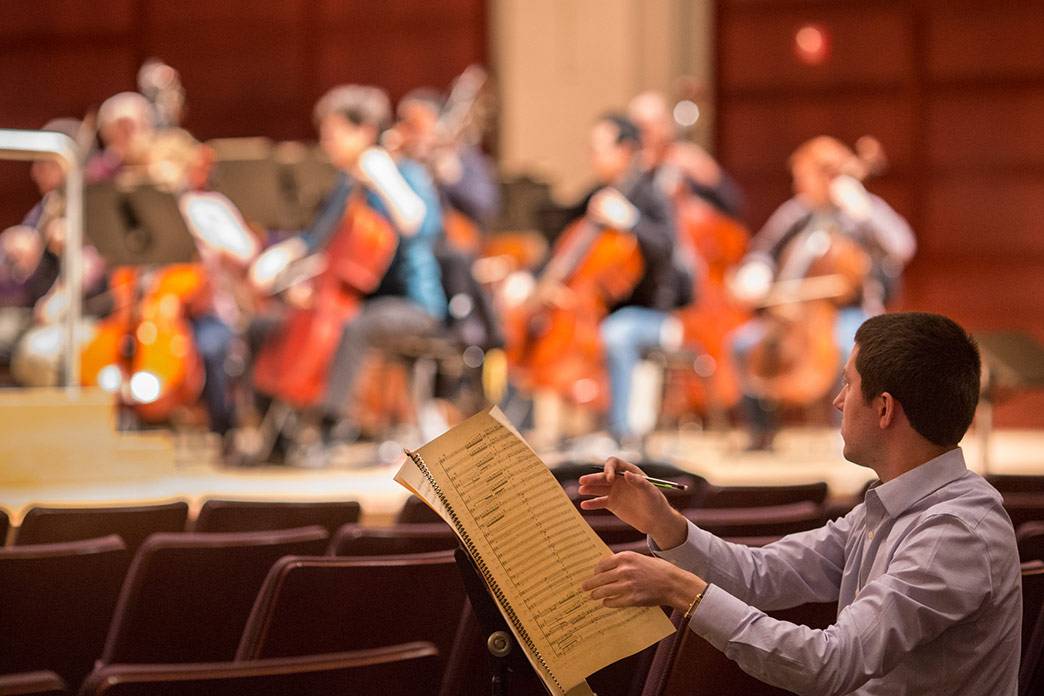 Scott Lee is a Ph.D. composition candidate in Duke's music program, and the second Duke student to win Symphony in C's Young Composers' Competition. His winning piece, "Vicious Circles," was played and recorded privately in March 2016 by the North Carolina Symphony and performed publicly in January 2017 by Symphony in C – a New Jersey-based organization that provides training for budding orchestral musicians, composers and music directors.
In addition to his success with Symphony in C, Lee has been granted admission as a Composition Fellow at the 2017 Aspen Music Festival.
He spoke with Duke Today recently about the experience with Symphony in C.
As someone with several musical achievements already, what is the significance of Symphony in C to you?
LEE: Symphony in C is one of a few training orchestras in the US that are made up of mostly students and recent graduates, in this case from neighboring conservatories like Curtis and Juilliard. Many of these players are preparing to audition for full-time orchestras or are planning to pursue careers as chamber musicians or soloists.
The youthfulness of the players by no means detracts from their playing, and in fact gives the orchestra a sort of exuberance and energy that many other orchestras can't match. I was thrilled to be chosen as the winner of their Young Composer competition, as it meant that my piece Vicious Circles would be premiered for a real audience.
Public performances of new orchestral music (especially for up and coming composers) are rather rare and Vicious Circles had only been rehearsed/performed in private. I have had other orchestral pieces premiered before, but the higher profile of this ensemble along with the large size of the crowd definitely made this a highlight.
When did you write Vicious Circles? What is it about?
LEE: I wrote Vicious Circles between September 2015 and February 2016 for a reading opportunity with the North Carolina Symphony [a reading is basically a private rehearsal of a piece that lets a young composer hear the orchestra play his or her work]. A Duke PhD alumnus in composition, Penka Kouvena, who is now a lead orchestrator in Los Angeles for movies and video games, gave a gift to the department so a few of us could have these readings.
While I was extremely grateful for the opportunity, the hour-long reading session felt like it was over in a nano-second compared to the hundreds of hours it took to write the music. That I now got to share it with a music-loving audience is a very rewarding feeling, one that makes all of the hard work all worthwhile.
Vicious Circles is a nine-minute orchestral work that explores a number of cyclical music ideas, each looping back on itself. The title refers to a chain of events in which the response to one difficulty creates a new problem that aggravates the original difficulty, resulting in an endlessly repeating loop.
Tell me about your admittance as a Composition Fellow at the 2017 Aspen Music Festival. What does that entail?
LEE: I've been applying to Aspen for 7 years or so, and I'm very excited to finally have the opportunity to attend. The festival is eight weeks long, and I have been offered a fellowship that covers tuition, room, and board. I will be writing a few new works for the festival, including a piece for string quartet to be premiered by a group in the Center for Advanced Quartet Studies, and a new orchestra piece to be read by the Aspen Conducting Academy Orchestra.
Along with weekly private lessons, I'll attend seminars three times a week with the composition faculty members Stephen Hartke and Christopher Theofanidis, and have the opportunity to participate in masterclasses with visiting composers. On top of that, there are countless concerts that I'll be able to attend.
What are your plans post-Duke?
LEE : I'm hoping to eventually find a position teaching composition and music theory at a university or conservatory, where I can continue writing. That being said, I'm open to a number of other possibilities, including more administrative artistic opportunities. I'm currently having a great time co-directing a new music ensemble here in Durham that my fiancée and I founded called WireTap New Music, so finding a similar job directing an ensemble is appealing to me as well.