Faces of Diversity
How employees move Duke's commitment to inclusion forward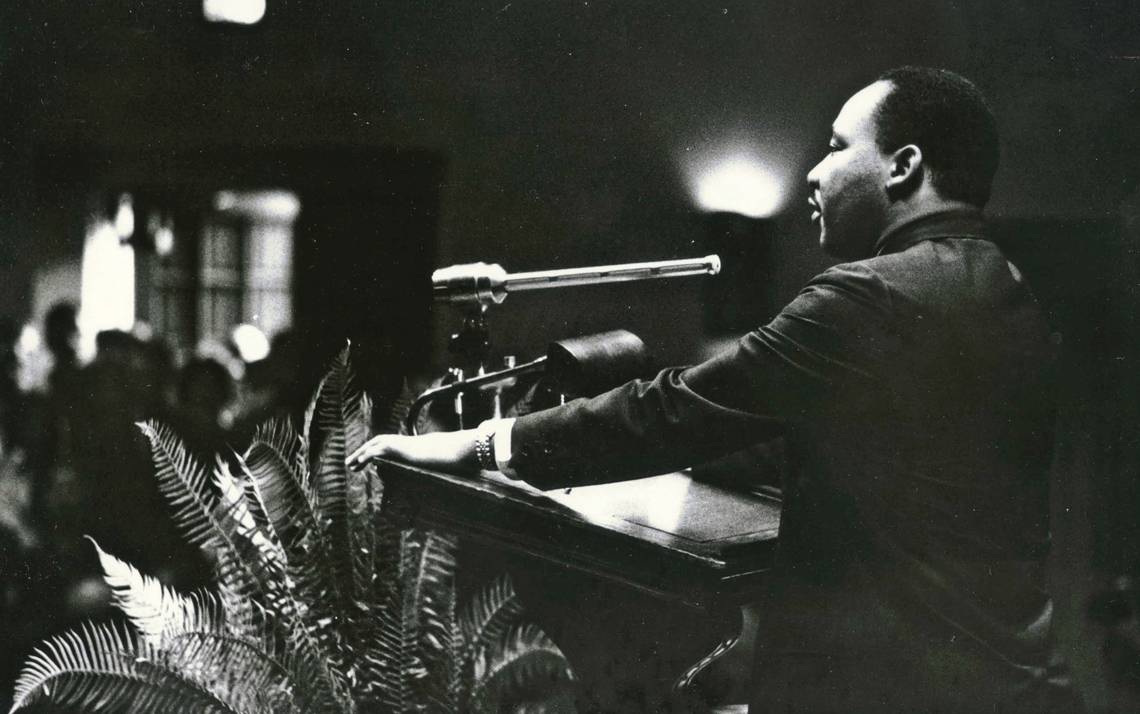 Martin Luther King Jr. stepped to a lectern in Page Auditorium and addressed a crowd that overflowed onto the lawn and wooded area outside.
During that speech at Duke on Nov. 13, 1964, King spoke to a need for the forces of "goodwill" to unite communities to support laws that would benefit all people.
"The time is always right to do right," King said.
Slightly more than four months later, the Civil Rights Act of 1964 was signed into law.
Four years later in 1968, Duke introduced an interdisciplinary course, "Women in American Society," one of several steps that grew efforts to educate about gender. The class helped lead to 1983's creation of a Women's Studies academic program. That same year, the Mary Lou Williams Center for Black Culture was established.
Other historical moments are more recent, from the 1989 founding of the Women's Center to last year's celebration of African-American architect Julian Abele, who designed more than 30 buildings and spaces on West Campus. Together, these points in time offer an opportunity to reflect during Black History Month (February) and Women's History Month (March) on what the milestones mean moving forward at Duke.
"Excellence, diversity and inclusion are inextricably linked," said Provost Sally Kornbluth. "The best institutions of the future will be the ones that can attract and retain the full range of human talent, and for the best faculty, students and staff to see Duke as a destination, we must continue to foster an environment where everyone feels appreciated and valued."
Duke's strategic plan calls for a focus on diverse hiring of employees and recruitment of students in the decade ahead. How do faculty and staff emphasize the value of diversity? Working@Duke sought out employees to highlight efforts.
Diversifying library collections
One of Kelly Wooten's favorite books in Duke University Libraries' collections, "Wrongly Bodied," tells the story of Jake, who is transitioning to male in contemporary Denton, Texas, paralleled with the story of a black woman who escaped slavery disguised as a white man.
Wooten, the research services and collection development librarian for Duke's Sallie Bingham Center for Women's History & Culture, searches for materials to diversify Duke's collections. Recently, she worked with other curators to acquire handmade zines and other materials documenting experiences of queer and trans people, people of color, and other underrepresented groups.
She also serves as co-chair of the Libraries' Diversity, Equity and Inclusion Council, which works on policies and strategies to help strengthen the Libraries' commitment to diversity.
"One thing that I do in all areas of my life is connect people with ideas and help people understand and have empathy for experiences that they may not be familiar with," said Wooten, who has worked at Duke since 2006. "The Libraries is obviously a perfect place to share ideas."
Diversifying STEM fields
In advanced high school courses, throughout college and while studying for a Ph.D., Johnna Frierson was usually one of a few students of color in a room.
As a black woman with a doctorate in microbiology and immunology, who has published papers in scientific journals and worked in a lab studying viral brain disease, Frierson is an ally to underrepresented students and employees in Duke's Pratt School of Engineering.
Frierson, who is Pratt's first director of diversity and inclusion, has organized a boot camp for about 40 female students and students of color interested in engineering, among other events to assess how diversity can be engrained in Pratt's culture.
She said her main goal is empowering students who may have been told that STEM (science, technology, engineering, and mathematics) "isn't their thing."
"Students from underrepresented backgrounds need to know that we see them for who they are and the talents that they have, not for the stereotypes that people may have of their particular demographic," Frierson said.
Diversifying doctor's offices
Dr. Kevin Thomas meets patients who look a lot like him. Some are young, black men. They are facing health problems that can lead to sudden cardiac arrest and even death.
Thomas, 44, a physician and associate professor of medicine in Duke Cardiology – Electrophysiology, studies health disparities in relation to race and ethnicity. He recently uncovered how black patients have a higher risk of experiencing sudden cardiac arrest but fewer opportunities to receive a defibrillator, which corrects the heart's rhythm and saves lives. As a result, Thomas has helped create standardized videos that discuss sudden cardiac arrest risk factors and include patients talking about defibrillator experiences. The videos can be shown to patients considering the treatment.
Last fall, Thomas participated in "Black Men in White Coats," an ongoing video series produced by DiverseMedicine, a national organization promoting diversity to inspire black students to consider medical careers. He is also the School of Medicine's first assistant dean for underrepresented faculty development, working on ways to foster career development among diverse faculty members.
"Everybody has different life experiences, and bringing all that to the table allows you to take care of patients better, to be more relatable to patients, and can create new, fertile ground for research focusing on broad areas," Thomas said.
Diversifying community resource centers
Angel Collie is prepared for topics that may arise over coffee chats – family tension, lack of support, and religious and political divisiveness – because he has experienced them all.
Collie, assistant director for Duke's Center for Sexual and Gender Diversity, came out as transgender when he was 14 in a rural North Carolina town. He faced bullying and pressure from his church until he moved away.
At 16, he started testosterone and transitioning to male.
He spent much of his time as an undergraduate transgender student at the University of North Carolina at Chapel Hill in the school's LGBTQ+ center. At Duke, he leads training on LGBTQ+ issues and hosts center events. Above all, he wants to establish a safe, welcoming space for individuals.
"Maybe this is the first time they've ever reached out to someone and shared their experience," said Collie, 31. "For some students, I've found that walking through these doors can be really difficult. … I very much want to create the spaces that I needed or had, that shaped who I am."